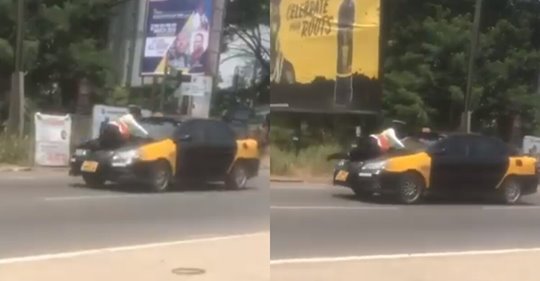 Taxi driver who sped away with cop hanging on to bonnet sentenced to prison
A 37-year-old taxi driver who sped with a police officer on top of his bonnet has been sentenced to two years in prison by the Koforidua Circuit Court.
Daniel Ofori was convicted to serve six months on count one for dangerous driving contrary to Section 1 of Road Traffic Act, 683, and 24 months on count two for resisting arrest contrary to Section 226 of the Criminal Offences Act 1960, (Act 29).
Both sentences are to run concurrently.
The court was of the view that the sentence will serve as a deterrent to other recalcitrant drivers, who fail to abide by traffic regulations.
Aside from the jail term, his driver's licence has been withdrawn for five years.
Court records show that the convict sometime in February 2020, was seen in a widely circulated video, driving on top speed for 300 metres with a police officer on his bonnet.
The incident reportedly happened in the Eastern Region. According to police, the driver attempted escaping arrest after disregarding road safety regulations.
The prosecutor Inspector Geshon Dafeamekpor told the court that the taxi driver who was being monitored by the police MTTD for other road traffic infractions was spotted at the Galloway traffic and ordered to park, but he refused to do.
The prosecution said he then drove away with Sergeant Asante Peprah who jumped on the bonnet in an attempt to stop being run over by the taxi driver.
The convict was however forced to stop after another driver blocked his path, leading to his arrest.
There have been worrying incidences of civilian attacks on Ghana police officers recently especially the MTTD officers.
A similar incident happened on February 28, 2020, when a commercial minibus driver ran over a policeman at Trinity Avenue near Menpeasem in the East Legon area of Accra. The driver was trying to avoid arrest over an alleged traffic offence.