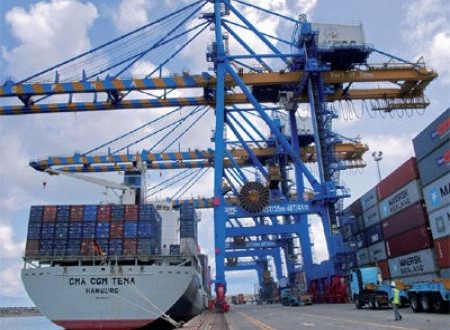 Textile importers reject gov't single entry point for importation
Textile Importers at the major markets in the Central Business District of Accra have been kicking against moves by the government to use a single corridor for the importation of textile prints.
According to the small-scale importers, the move will have an adverse effect on their business because they don't have the capacity to import on the large scale through Tema port. They have been agitating at the last of a series of sensitization workshops for dealers in Accra.
The decision to introduce the single corridor importation for textile manufactures has been agreed by a committee set by the government to work out for solutions to deal with the influx of pirated textiles into the country.
After a series of stakeholder engagements across the country, the Minister of Trade and Industry, Alan Kyeremanteng led a delegation from the committee working on the implementation of the textile tax stamp to hold a final engagement with importers, traders and dealers at the Central Business District of Accra.
After a presentation from the stakeholders and the Minister, Alan Kyeremanteng, some of the importers oppose the policy saying it will impede on their business because they lack the capacity to import large quantities which will require the use of the Tema port.
"This policy must be cancel because it is not good for us. I can't get huge sums of money to go to China or other European countries to import textile prints in large quantity," one Trader noted.
"How can I use the Tema port with these little quantities that I get from Lome, Togo, why can't they get the tax stamp at the Aflao border to check the quality and import duty," an importer asked.
However, the Minister in a response assured that government will put in measures to see a successful implementation of the policy.
"We have done it before and it worked so we will give ourselves some time and get it done. Naturally, every new thing will expect some resistance but the policy will be part of the solutions for the textile woos" Alan said.
The government has set the middle of November to start the implementation of the policy irrespective of the agitations.
In a related development the Trade and Industry Minister, Alan Kyeremanteng has disclosed that government is in talks with some of the foreign textile manufacturers to establish in Ghana.
This he thinks can also generate employment for the citizens as well as curbing the unfair competition in the industry.
He noted, "Government is also in talks with some of these textile manufacturers to relocate their factories to Ghana so that it can generate some form of employment for our youth" he ended.
source: Joy Business