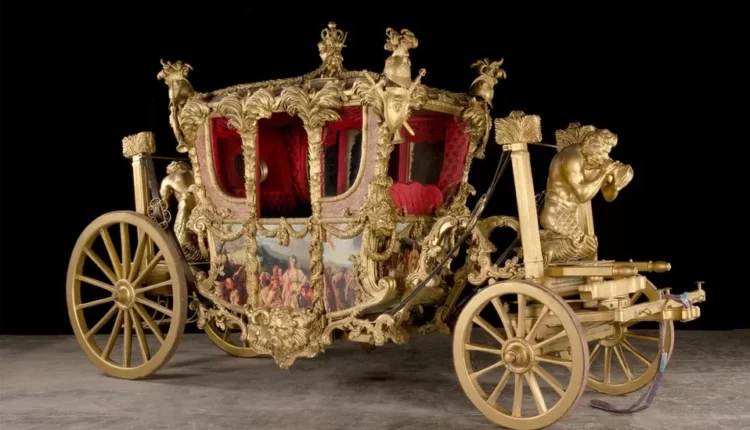 The Crown: Sets, costumes and props to be sold in London
A number of props – including a replica of Princess Diana's so-called "revenge" dress – from TV programme The Crown are to be auctioned.
A façade of the front of Number 10 Downing Street and a golden coach will also go under the hammer.
Two sales, one online and one live, will be held by Bonhams auction house in February.
An exhibition of the sets, costumes and props will tour New York, Los Angeles, Paris and London ahead of the sale.
Proceeds from the live auction will go towards establishing a scholarship programme at the National Film and Television School, Bonhams said.
'Revenge' dress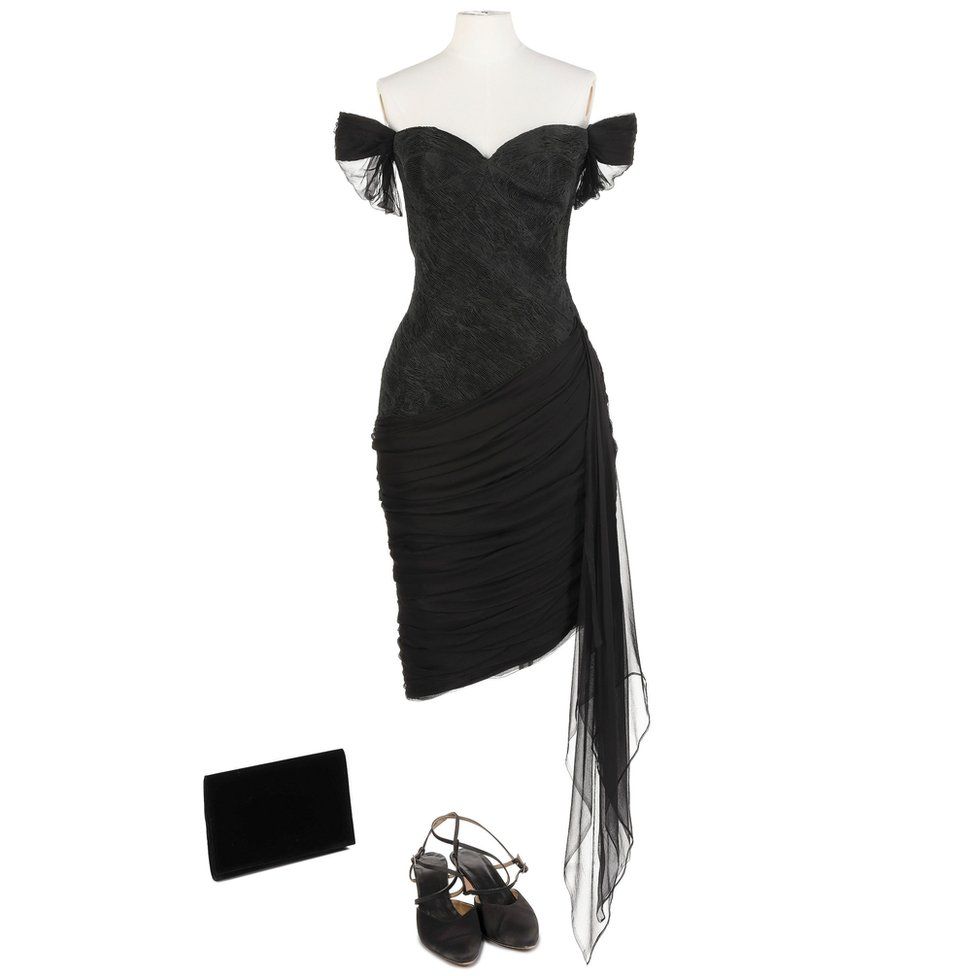 Inspired by the 1991 original by Christina Stambolian, this is a custom made off-the-shoulder pleated black silk and chiffon cocktail dress with mini chiffon train.
Princess Diana wore the dress to the Vanity Fair party at the Serpentine Gallery on 20 November 1994, the same day Charles's affair with Camilla Parker-Bowles had gone public.
People interpreted the choice of the figure-hugging black mini-dress as the princess showing her resilience and drive to take back control of her life.
State coach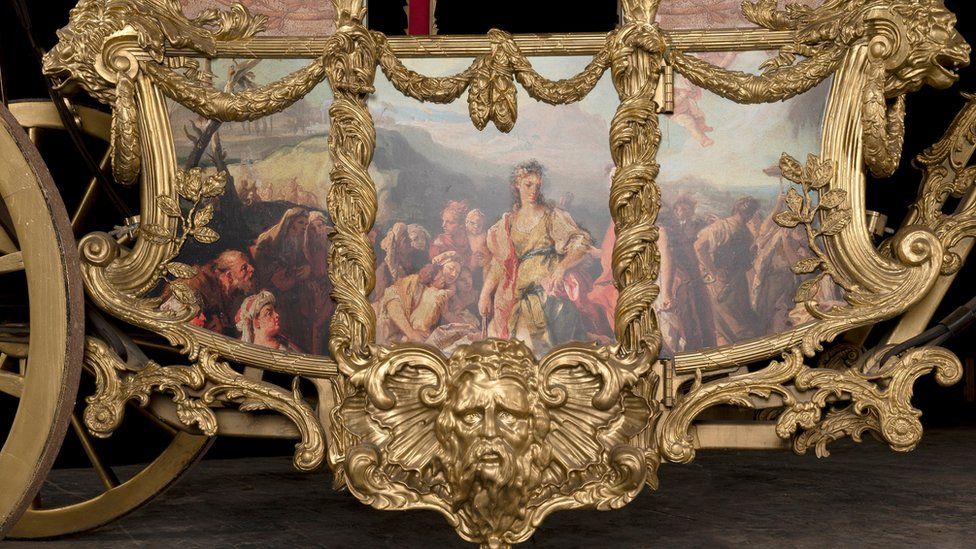 Built in 1762 for King George III, the original Gold State Coach has been used at every coronation since 1831 when King William IV succeeded to the throne. The coach is made of gilded wood with elaborate carvings and is upholstered in velvet and satin.
It weighs four tonnes and requires eight horses to pull it, so is restricted to walking pace.
A combination of 3D printing and fibreglass casting was used in making the carriage that bore The Crown actress Olivia Colman et al. The prop company also made offset steel hinges and brass handles featuring lion's head details to tie in with the carvings on the main body.
Downing Street doors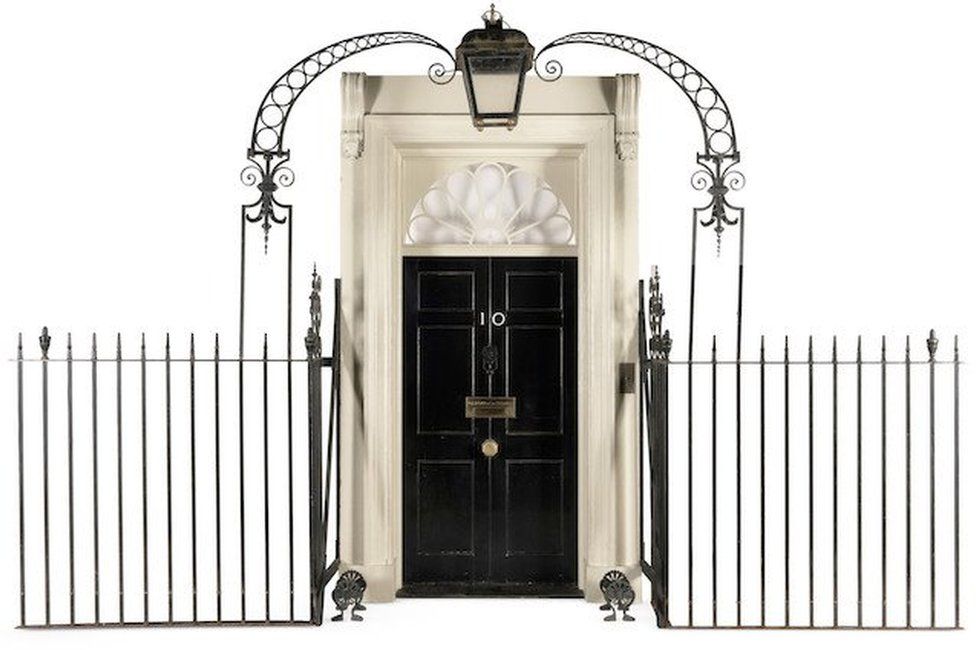 The door of 10 Downing Street was copied from the original and is enclosed within a composite fibreglass painted architrave "flanked by scrolled acanthus leaf corbels" and surrounded by black-painted iron railings.
The knocker should work – but potential buyers should be aware of the "faux doorbell", which might leave members of your cabinet (or delivery order) cooling their heels on the doorstep.
The door of Number 10 had to be scaled up during the first two seasons of The Crown, when John Lithgow played Winston Churchill. The actor is considerably taller than the former prime minister.
Beswick china dogs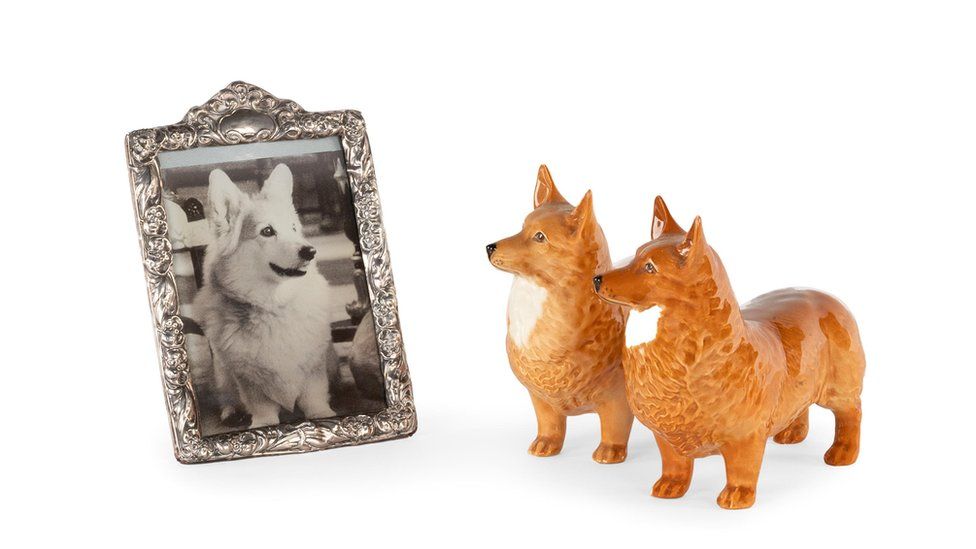 These are not reproductions, in that they are actual Beswick china dogs – but they did not belong to the late Queen.
The auction lot is estimated at £200 to £300 – but it is fairly easy to get hold of a Beswick corgi without TV connections for about £10.
Picnic set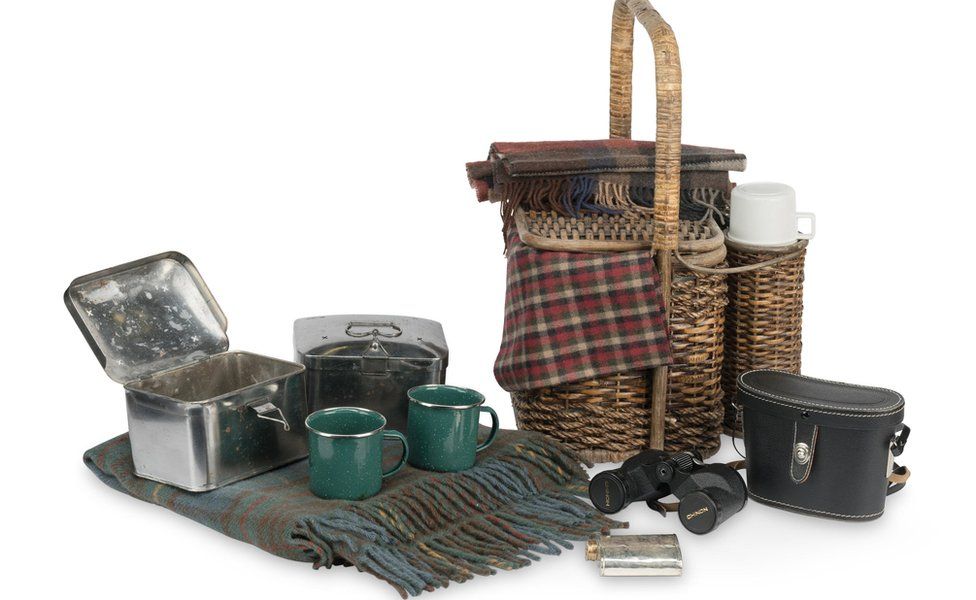 This picnic set is another genuine vintage item dressed by the set decorating department. It could be yours for an estimated £200 to £300.
The highest bidder will get a hinged basket; a tartan blanket and scarf; two chromium steel sandwich boxes; a white-metal hip flask with brass cover imitating a cartridge base; two enamel tin mugs; a thermos flask; and a pair of field glasses.
Inhospitable weather, inescapable midges and an irascible Prince Philip will have to be supplied by the buyer.
Bar props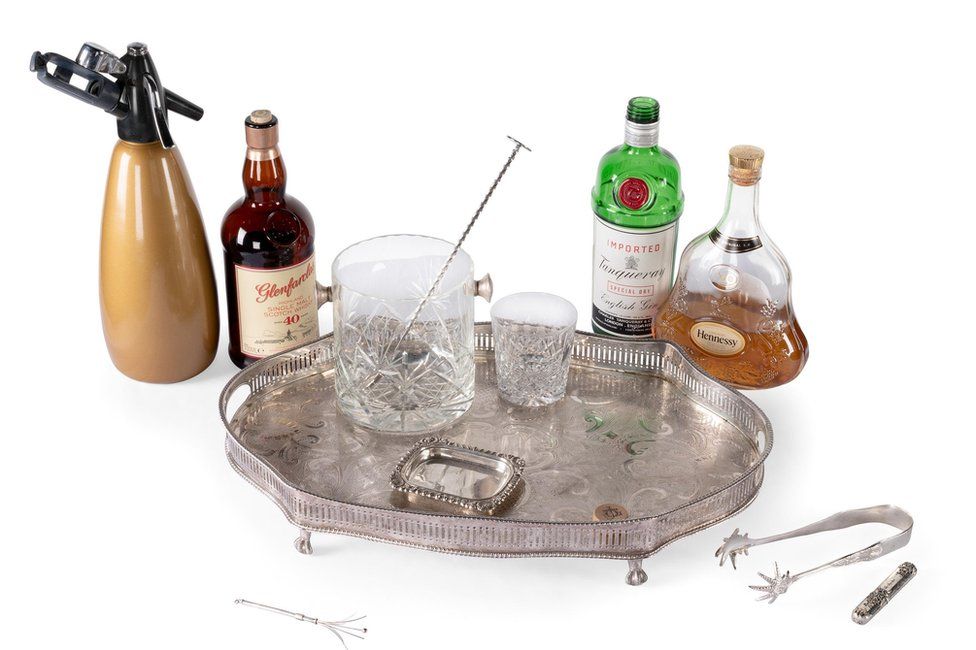 This is listed as "The Queen Mother: A selection of character bar props" and has a guide price of £60 to £80.
"A gadroon rim above a pierced gallery leading to a foliate and scroll decorated body surrounding a plain central cartouche, raised upon four claw and ball feet" is a fairly elaborate way of describing "a tray".
Also included are a champagne swizzle stick and a metal-mounted foliate cocktail stick holder.
Exhibition: 11 January – 5 February 2024, London
Live auction: 7 February 2024, London
Online auction: 30 January – 8 February 2024