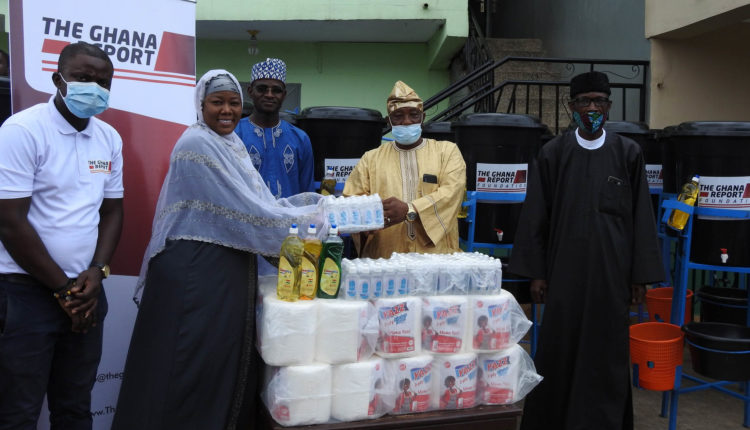 The Ghana Report Foundation supports Chief Imam's office to help combat COVID-19
The Ghana Report Foundation has donated sets of anti-coronavirus items to the Office of the National Chief Imam, Sheikh Dr Osmanu Nuhu Sharubutu, in the wake of the deadly coronavirus pandemic.
The items are to be distributed to the households of Imams within the Zongo communities to help avert the possible spread of the deadly coronavirus.
The items donated included 30 pieces of Veronica buckets;  100 pieces of hand sanitisers;  30 packs of tissues;  30 basins;  50 pieces of nose masks; and soaps among others.
Receiving the items at a brief ceremony held at the Chief Imam's office in Accra, the Spokesperson for the National Chief Imam, Sheikh Aremeyaw Shaibu, said the donation had come at an opportune time.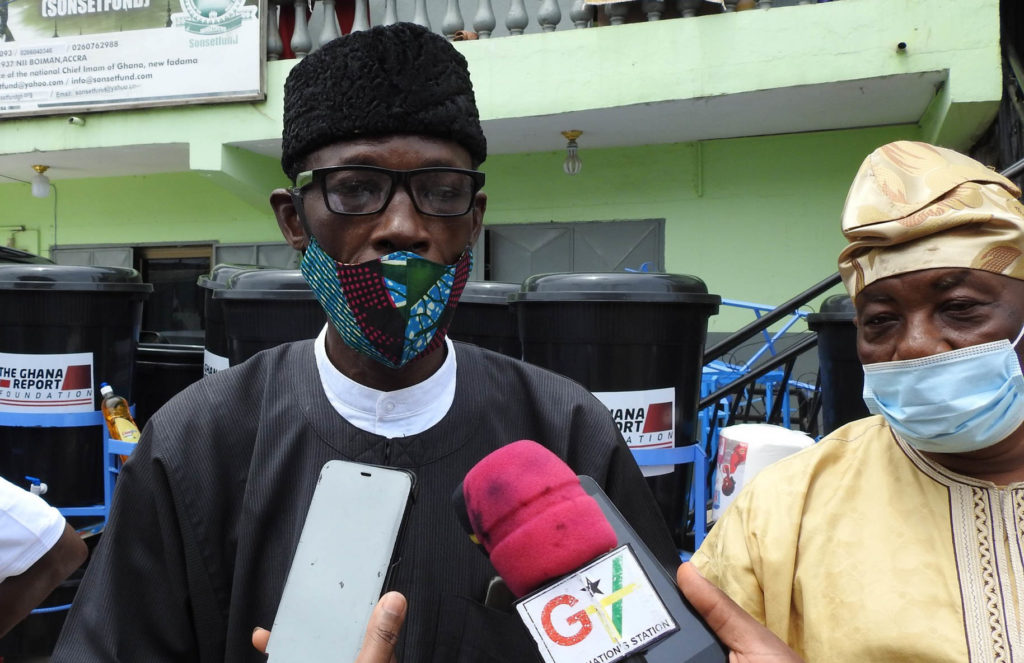 "The donation by The Ghana Report Foundation is coming at the right time because the COVID-19 has changed our lives and orientation, especially within this Ramadan period.
"These items provided by the foundation will really help the Chief Imam and other scholars under him. The Muslim leaders are the centre of attention, they serve the community so these items will be very useful.
"We will position them in front of the Imminent Chiefs' homes so anybody who comes will wash their hands very well before entering the homes," he stated.
Sheikh Aremeyaw Shaibu commended The Ghana Report Foundation for what he described as a "kind gesture."
The Managing Director of the Foundation, Madam Rashida Saani Nasamu, said it was crucial to donate the items to the office of the country's number one Islamic cleric at a very critical time for Muslims across the world.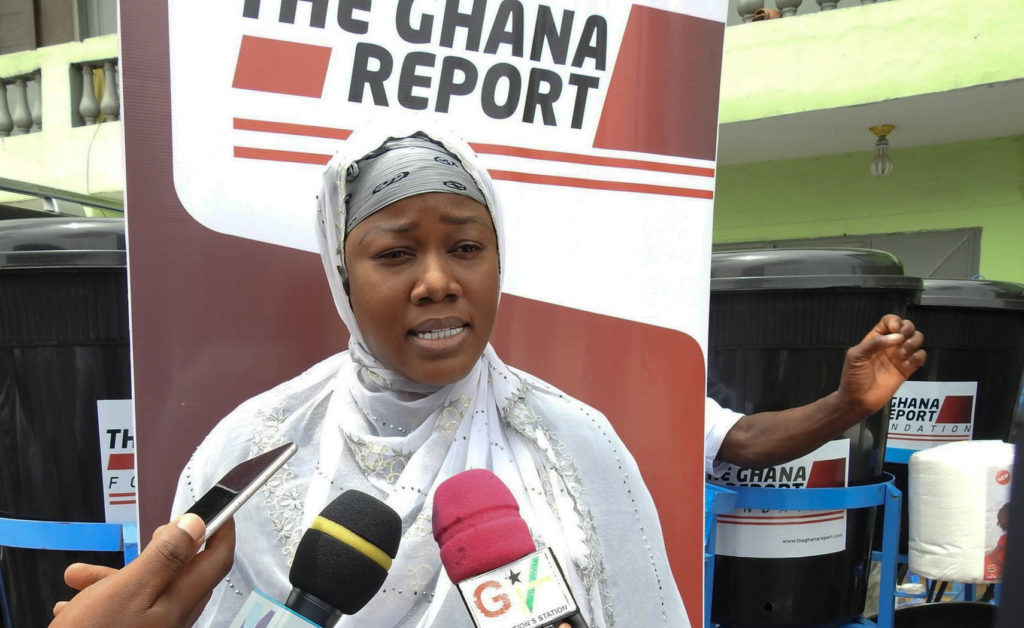 "Islam has always preached communism and togetherness, especially in this month of Ramadan, as we fast together. Unfortunately, that cannot be done in mosques because of the coronavirus outbreak.
"This is a time when most people would have to go to their external family homes to break the fast, and by this, we thought an onward distribution of Veronica buckets through the Chief Imam's office should be a good preventive mechanism to aid in the fight against COVID-19 in Ghana," she said.
Madam Nasamu also advised the Muslim community to observe the safety protocols prescribed by the government.
"In as much as we would love to pray together in mosques, we need to observe the protocols and maintain social distancing in order to be safe," she said.
She added that theghanareport.com through its foundation had undertaken numerous projects in the wake of the outbreak,  and in that light called on the general public to visit the news portal as well as recommend organisations that might be in dire need of support.
The Ghana Report Foundation is the corporate social responsibility arm of theghanareport.com, an online news portal.
The Foundation on March 21, 2020, supported the Ghana Journalists Association with personal protective equipment to be distributed across all media organisations in the country.
The Ghana Report Foundation supports Ghana Journalists Association with Covid-19 safety materials