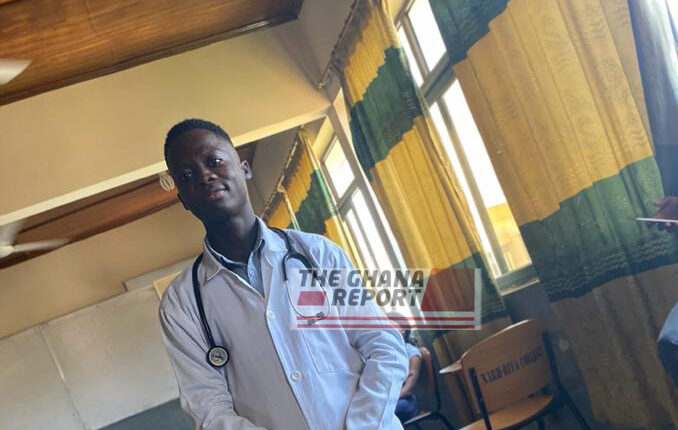 The 'homeless' security guard building a career in the medical field
Emmanuel Binditi fantasised about white coats and a stethoscope around his neck, but his yellow uniform and truncheon gave him a reality check.
In 2015, he was a security officer protecting lives at SSNIT, but 2021 would usher him to saving lives from a hospital's consulting room.
The journey has been tortuous; the scars of suffering are evident from head to toe, but the 26-year-old is determination personified.
In 2007, he landed in Accra as a nine-year-old boy.
From Bogni, a village in the Nanumba North District, he was sent to live with his granduncle at Agbogbloshie in Accra, Ghana's largest foodstuff market.
"My father is a yam farmer, and my mother is a hairdresser, but they wanted me to have a better education, so they brought me here to school," he told theghanareport.com.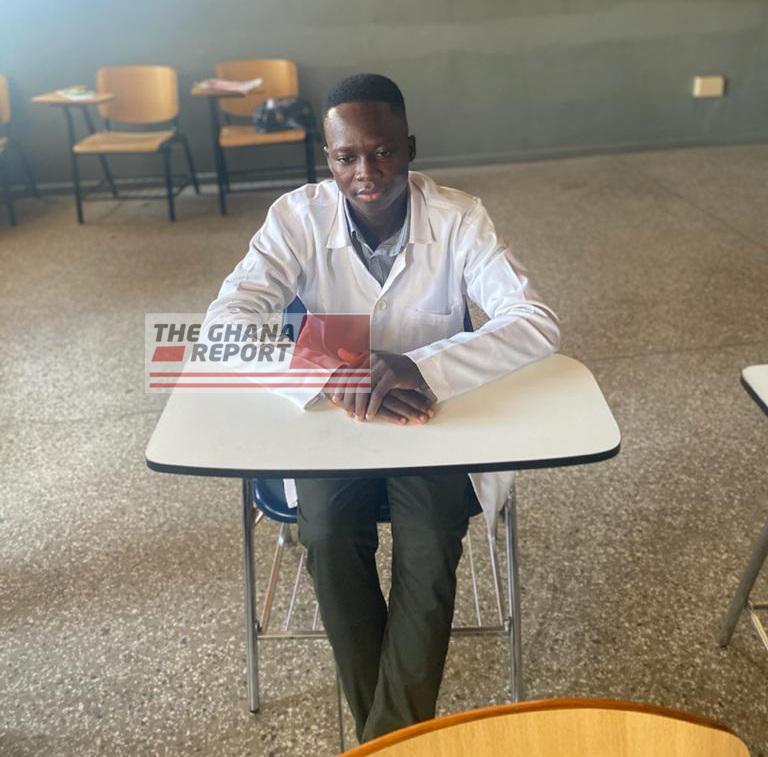 He managed to complete the Bethel ECG School in 2011 and enrolled at the Kadjebi Asato Senior High School.
"After secondary school, things were difficult at home. Even though I passed my WASSCE, there was no money to see me through the university," he narrated with a sad face. "I wanted to pursue medicine. I have always wanted to be a medical doctor, it is my passion to help people, so I decided to hustle".
Life for many at Agbogbloshie means nothing short of dealing in scraps, menial jobs and other forms of hustle.
The reward is a far cry from Ghana's minimum wage.
But Binditi is one in a million to escape that shackle of hardship, poverty and hopelessness.
The oldest of seven siblings was left to find his feet through the hustle and bustle of the city.
"I needed to raise some money. Before someone can help you, the person will ask, what do you have? And I didn't want to look unprepared when asked that question," he explained.
Soon he secured a job as a security guard with a private security company.
"I joined Obrad Security Service in 2015. I was posted to the SSNIT Pension House in Accra…there I worked for two years," he added.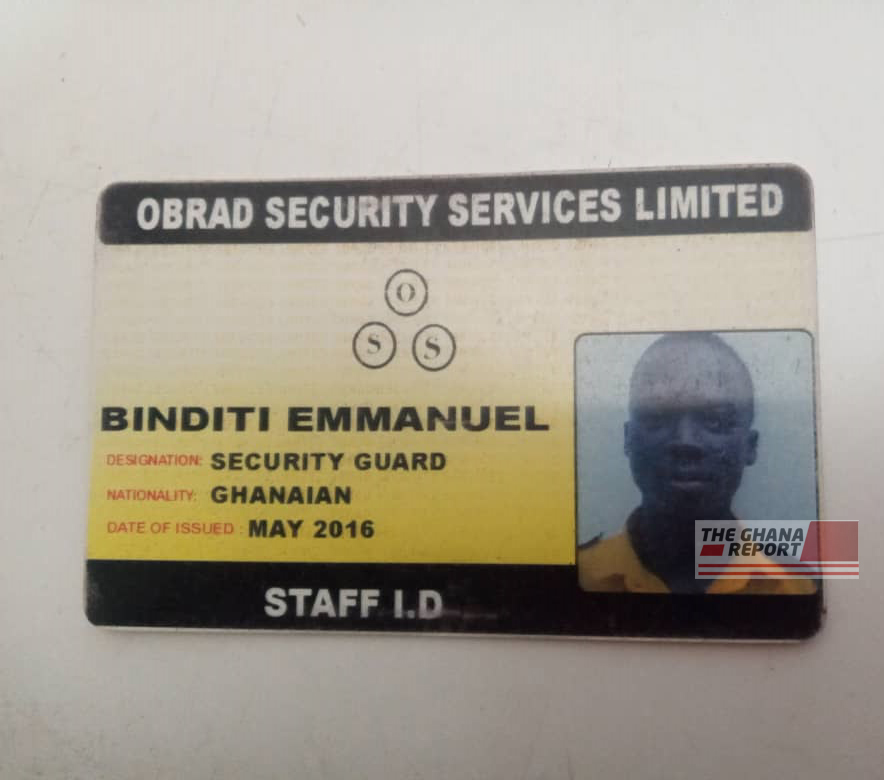 Life as a security guard
Typical of many Ghanaian homes, Emmanuel was required to support his family once he started working.
"I wasn't paid much, but I had to contribute to the upkeep of the house, fend for myself, and save for school," he noted.
He managed to tuck away GHC150 of his GHC220 monthly salary for the sole purpose of university education.
"I had to spend less, so I could save more, so in some months, I saved GHC150 and other times I saved all my salary and depended on the benevolence of the workers…sometimes, someone will send you and give you a tip".
Other times, he survived on food bought by others at the office.
Emmanuel walked 30 kilometres for two hours between Agbogbloshie and the SSNIT Pension House every day for the two years he worked as a security guard.
Homeless
In a small wooden shack detached from the main house of his granduncle, Emmanuel shared a room built for one person with seven others.
"The number of people accommodated in that one room was suffocating, so some of us decided to move out and rent," he narrated.
But he didn't have enough for the skyrocketing prices of accommodation in Accra.
Torn between the devil and the deep blue sea, he had no choice but to settle for the lesser evil by living on the streets for months.
Going back to school
After saving for a year, Emmanuel applied to the University of Ghana in 2016.
He gained admission but had to forfeit the opportunity because he could not raise the fees – a little over GHC 3000.
"Another reason why I could not accept the admission was my student status, I was made a distant student, and there was no way I could afford that," he added.
Unperturbed by the challenges, he applied to the University of Cape Coast, the University of Health and Allied Sciences and Narh-Bita College the following year.
"UCC offered me Environmental Science, then UHAS offered me Physiotherapy, but due to financial constraints, I couldn't raise the money for admission before the deadline elapsed, I lost both offers," he recounted.
Faced with an insurmountable mountain to climb, Emmanuel prayed to "God to bring me a helper".
Determined not to lose the third and last offer, he emptied his investment account for his admission fees.
The sum of his life's savings and investments was GHC1500.
With help from his parents and a good Samaritan, he managed to get GHC5000 to enrol for a four-year Physician Assistant degree programme at Narh-Bita College.
"God being so good, here I am, in my final year," he said, beaming with smiles.
Surviving in school
To survive in school, Emmanuel had to juggle between part-time jobs and studies.
He got a private teaching job that paid GHC 350 monthly, and that is how he fends for himself.
"My parents do support me once in a while, but I am surviving on my teaching job," he said.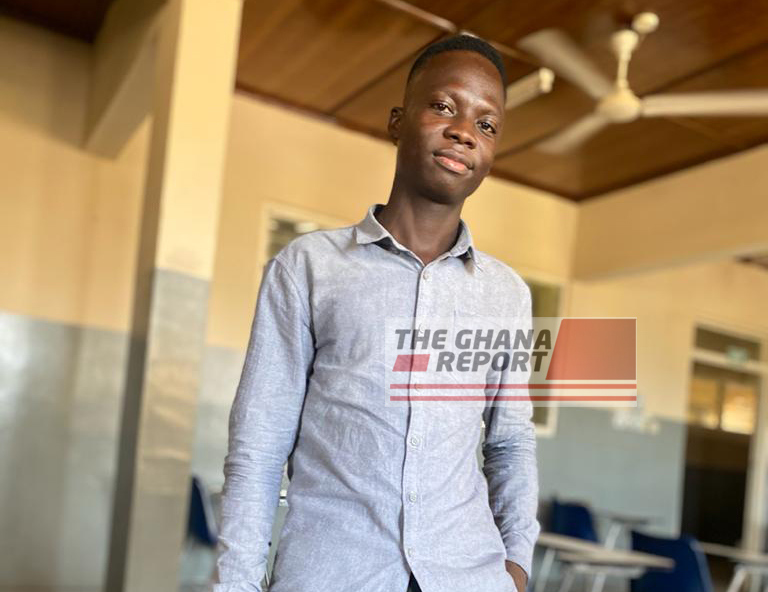 "Currently, I am doing clinical at the Tema General Hospital, but I still have the desire to study to become a medical doctor," he revealed his plans for the future after graduation this year.
Challenges
Juggling between work and school is Emmanuel's biggest struggle.
"It is difficult, but I cannot complain. It is hard, but I guess that is the price I have to pay."
He had to devise a means to sneak in and out of lectures throughout his four years in school.
Every examination presented another difficulty, with school authorities chasing him to pay arrears before writing the papers.
"Sometimes during exams, they will come and sack me, then I will have to write letters, begging the school authorities to extend the deadlines for me, it has not been easy, but God being so good I have never had a referral."
"Sometimes, I feel like dropping out, but when I realise how far I have come, I do not want to risk losing it all. I would rather suffer now and pave the way for my younger siblings…. I know that someday my labour will pay off if I stay true to the course and sacrifice for the future. This has been the pushing force for me."
"In life, we shouldn't give up on ourselves; we are the Architect of our own destiny. When you set a goal, be determined, and you will surely get there," he advised