The Okoe-Boye story: How PRESEC boy who scored 12 'Ones' nearly dropped out of school
The Deputy Health Minister, Bernard Okoe-Boye, has shared emotional experience of how he narrowly missed secondary school education because of financial constraints.
The Member of Parliament for Ledzokuku constituency in Greater Accra region said but for the resilience of his parents, he would have been a school dropout.
A difficult start to life
"I had 12 one's in my BECE but my parents could not afford to take me to school… I remember following my mother to sell her utensils she had gathered for the past 20,30 years before I could go to Presbyterian Boys Secondary School (PRESEC)" he said.
He recalled that "even at PRESEC, my mother had to take a loan from ADB every term to pay my fees."
Bernard Oko-Boye would go on to obtain admission at Kwame Nkrumah University of Science and Technology.
He would obtain a BSC in Human Biology, Medicine and later a Masters Degree in Public Health (MPH) from Hamburg School of Applied Science in Germany.
Dr Oko-Boye had his house job at the Ghana Health Service from 2009 to 2012. He then continued as a Medical Officer in the same Institution for four years.
He worked as a Physician at Lekma Hospital, a government health facility located at Teshie before jumping into frontline politics.
Okoe Boye was elected MP for Ledzokuku Constituency in 2016 and gained attention for his political communication skills.
As Ghana battled covid-19 and its misinformation, the president tapped him for a deputy health ministerial post. Until the appointment, he was the board chair of the Korle-Bu Teaching Hospital, the biggest in the country.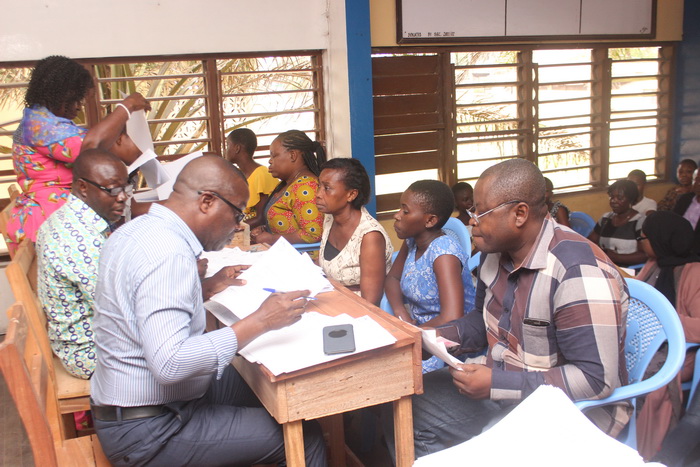 How much fees have parents being saved through free SHS?
Parents and guardians have pocketed GH¢2.2bn in monies which they would have paid as school fees for their wards in Senior High School.
The savings is a result of the government's flagship social intervention policy, Free Senior High School which is in its fourth year of implementation.
The Finance Minister, Ken Ofori-Atta, revealed the savings accruing to parents and guardians when he read the 2020 mid-year supplementary budget.
Some 90,000 would not have made it into SHS because of financial barriers, the government has said.
Under free SHS, students are entitled to; free meals (Both boarding and day); free boarding accommodation; and free textbooks," he stated.
Averagely, a parent with a ward in a boarding senior high school is expected to pay GH¢2,000 a year. Such a parent would have saved GH¢6,045 over a three-year period under the free SHS (FSHS) programme.
Okoe-Boye touts free SHS policy
Touting the benefits of Free SHS policy, a flagship program by the Akufo-Addo government, the MP said the policy has given people opportunities they would have never dreamt of.
"There are many people walking the streets of Chorkor, Labadi, Teshie who are like Okoe-Boye but for money, they will be like me….so, when we talk about a president who has decided to absorb the fees of over one million pupils…who told you that the parents and family of these children will not be grateful and support the NPP government?" he said on Peace FM's Krokroko monitored by theghanareport.com
About 1.2 million pupils have benefited from the Free SHS policy with the first badge of beneficiaries completing Senior High School on September 4, 2020.
The deputy Health Minister said even the controversial decision to introduce the Double-Track system to deal with crowded classroom showed the determination of the president to ensure no student is left behind.
"This is why I tell people that Nana Akufo-Addo has not only competence but compassion and woe unto you if your leader is knowledgeable but does not have a good heart" he added.
Wading into the call for debate between former president Mahama and President Akufo-Addo he said "Let's speak to the debate of works and not of words".