The top 10 ritual murder cases that struck fear across the country
Many Ghanaians are still in shock over the gruesome ritual murder of a 10-year-old boy in broad daylight at Kasoa.
It is not the first of such cruel and barbaric acts.
However, the latest case has sparked a nationwide outrage because the perpetrators were teenagers.
Worse of it is that the witch doctor who allegedly issued the instruction is a nursing mother in her twenties with about one-month-old baby.
Ritual sacrifice for wealth, power and protection has been a long-held belief by some Ghanaians and predates the colonial era, although criminal.
Within the last three decades, hundreds of mutilated bodies of children and women, especially, have been found at various locations in the country with suspicions of rituals.
It is an open secret that strangers do not go to certain areas alone nor stay out after dusk in some few locations in the country.
Often, people are reported missing without a trace. Where the bodies of victims are found, various parts such as breasts, private parts, tongue or the head would have been severed.
This has been fuelled by society's reverence for the rich without questioning the source of wealth.
In the wake of the latest case, theghanareport.com brings you a catalogue of similar events that gripped the nation in fear.
================================================================
Elmina chieftaincy dispute and ritual murder 
The Journal of African History documents the ritual murder of a 10-year-old girl in Ghana as far back as WWII.
On March 19, 1945, the body of Ama Krakraba was found on the beach at Akotobinsin close to Elmina in the Central Region.
Her upper and lower lips, cheeks, eyes, and private parts had been removed.
She had been missing and got murdered so that her body parts could be used to help the Regent's faction win a court case that was critical for their political standing in Elmina.
On 24 March, after a preliminary investigation, murder charges were brought against Kweku Ewusie, the Regent of the Edina State, and four others from Elmina: Joe Smith, Herbert Krakue, Nana Appram Esson, alias Joseph Bracton Johnson, and Akodei Mensah.
They were tried at the Accra Criminal Assizes found guilty of first-degree murder, sentenced and hanged.
   2. The story of Kofi Kyinto and other ritual murders in the 80s
Perhaps the most chilling which made headlines on the front pages of newspapers at the time.
In the case of Kofi Kyinto in the Sefwi Bekwai murder case, it was his uncle, Benjamin Affi, a 28-year old farmer, who lured him to be killed.
Benjamin Affi witnessed the actual execution of his nephew.
The boy was beheaded by contract killers under the instructions of Nana Akwasi Agyei of Akaasu.
The culprits were arrested and executed.
The 80s recorded several ritual murders, which included the following:
-In January 1981, the body of Kingsley Ackaah, alias Kwame Kaya, a 15-year-old schoolboy and native of Baakrom near Sefwi Bekwai, was found without his head. –
-Again, in November 1981, the body of nine-year-old Kwasi Gyimah was found at the outskirts of Sefwi Bekwai without his head.
-Similarly, in November 1984, Kwaku Nkrumah, a 65-year-old palm wine tapper of Sefwi Bekwai, was found dead in the bush without his head.
-Also, in May 1986, 13-year-old Akwasi Ampomaning, a schoolboy from Sukusuku near Sefwi Bekwai, was found dead with his arms missing.
-Again, Kumade Mensah Zormelo was killed for a sacrifice that is required annually, in accordance with traditional practices, to enable the fishermen of Kedzi, to have a bumper fishing season.
 3. Hunchbacks under threat and the Bibiani murders
Between 2008 and 2009, there was a new wave of killings involving hunchbacks where their humps were removed to perform rituals.
Hunchbacks who died of natural causes were not spared, with reports of their bodies being exhumed and parts of their bodies removed for various charms.
"Within a spate of seven months (January to July), nine alleged murders have been recorded within Bibiani and its environs," Bibiani District Police Commander Sampson Anane-Appiah, told the Ghanaian Times in 2008.
In 2009, residents heaved a sigh of relief when police were able to arrest four people involved in ritual murders in the same area.
Prior to that, the mantra in the town was "one head, one KIA", where "If you produce one human head for ritual purposes, you walk away with one KIA truck."
4. The case of occultist Dr Beckley 
Dr Yoggi Ram Beckley, who was a medical doctor, was linked to allegations of missing schoolchildren in 1994.
Police found blood-stained skulls and other strange items in his house at New Fadama.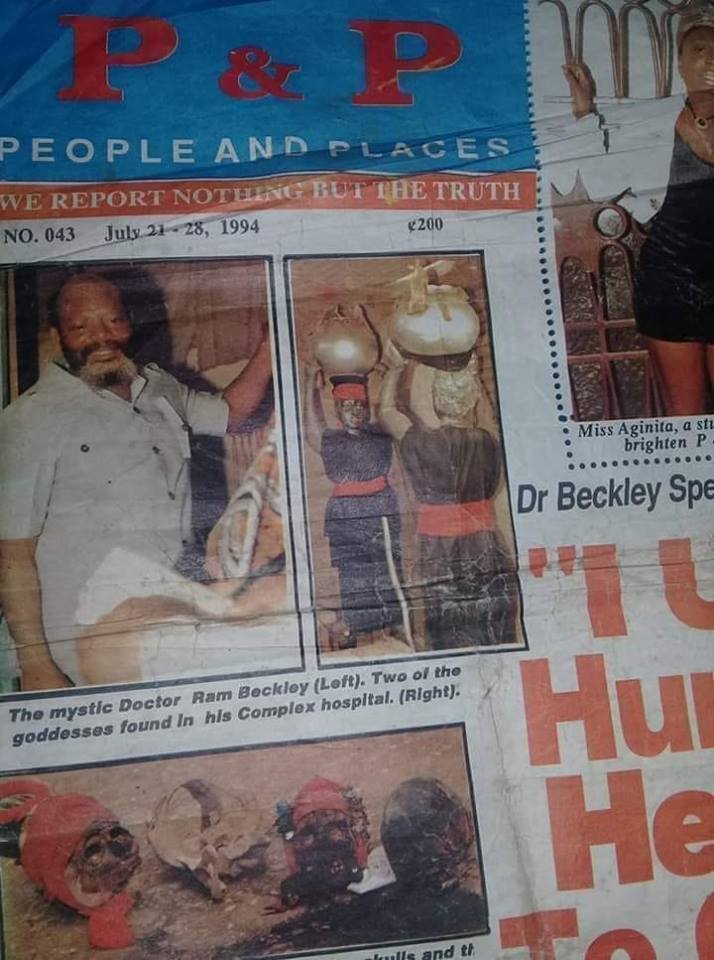 Residents burnt down his house after he was arrested, but the case died.
He emerged again in 2002 after police arrested him in connection to the kidnap of two girls.
However, the Attorney-General at the time discontinued the trial, and he was set free.
His house and properties were vandalised by an angry mob, and he later appealed to the government for compensation.
In 2005, his daughter, Ms Olive Beckley, was in the news for alleged refusal of the Ghana Immigration Service to grant his father a passport to travel to India.
She maintained that her father had been cleared by a competent court of judicature hence it was inappropriate for authorities to mistreat her father.
5. 'The Accra Killings' and demo after deaths of 34 women
In the late 90s and early 2000, several people were murdered, especially women, particularly at Mataheko and its environs in Accra.
The era struck fear in citizens as the bodies of the women were found stripped, body parts removed, and syringes scattered at the crime scene.
The Guardian reported about 34 women being killed at the time resulting in a demonstration led by former First Lady Nana Konadu Agyeman Rawlings after police were unable to clamp down on the crime.
"After so many deaths, there are no clues whatsoever; it is strange. The police are not moving fast enough," Elvis Aryeh, a former editor of the Daily Graphic, was quoted at the time.
6. Fetish priest kills eight, including his ex-wife
In 2013, a fetish priest in the Central Region confessed to killing eight people, including his ex-wife, after he was arrested.
Yaw Agbebu led police officers to exhume the body of his former spouse, Afisah Salami, whom he had killed on December 2 and secretly buried near Agona Swedru, about one hour's drive west of Accra.
Police said that Agbenu murdered the woman when she went to collect money to pay their son's medical bill, the Ghana News Agency reported.
Police also found some bones behind Agbebu's house and in a nearby bush.
7. Sefwi ritual murders
In 2015, police had a tough time preventing a suspected ritualist from being lynched by residents of Sefwi Boako, a farming community in the Sefwi Wiawso Municipality.
A non-resident was believed to have hit the town and killed three people within two weeks, including a mentally unstable man and an eight-year-old girl.
In the case of the mad man, the body was found in a bush with his eyes and other parts missing.
The third victim was a security man of a popular boutique in the area who was also found dead in front of the boutique.
The attacker was found by some farmers who raised the alarm.
He was arrested in a bush with bloodstains on him. After he was sent to the chief's palace, he allegedly confessed that he was hired to get some human parts by someone who wanted to use them (parts) for 'blood money.'
8. Fifteen deaths, including a Caucasian woman at Keta
About 15 mysterious deaths are reported to have occurred between 2013 and 2018 within the Keta Municipality in the Volta Region.
The attention of the public was drawn to the mysterious deaths after the death of an identified caucasian woman believed to be in her 30s.
The body of the deceased was deposited at the mortuary of the Keta Government Hospital for an autopsy.
Human excreta was later found near the spot where the victim was discovered, a development some superstitious residents believed was meant to foil attempts to track perpetrators of the heinous crime.
Residents attributed the killings to rituals and called on authorities to deal with the matter.
The Chairman of the Dzita-Anyanui Zonal Council, Oswald Etsey Kpodzo, has therefore appealed to the government to intervene and to help bring the perpetrators to book.
"We are living in fear every day because of the killings in the area," the Assembly Member for Atiteti and Chairman of the Dzita-Anyanui Zonal Council, Oswald Etsey Kpodzo, was quoted by Joy News.
9. Fathers behead their children and other relatives
A buyer in Kumasi reportedly offered the man GHC35,000 cedis ($24,000) to
produce a human head that he could use for ritual purposes. The father was
arrested, and an investigation continued at year's end.
On August 2, 2009, the Daily Graphic reported that a man had killed his brother and butchered his 15-year-old daughter at Techiman.
The suspect, Weah Kontomah Seidu, confessed to decapitating his 25-year-old brother for spiritual protection.
The 40-year-old farmer had planned to take the head of his brother to Lawra in the Upper West Region.
He had gone to the farmer with his brother, but his daughter asked about the whereabouts of her uncle when the father came home alone.
The father ended up slashing the daughter mercilessly.
A woman found the body of the daughter when she went to dump refuse and called neighbours who rushed her to the hospital.
The suspect was later arrested by police, and he confessed his actions.
Father kills son for rituals in Asankrangwa
A 36-year-old man, Abdul Salam, was arrested by the Asankrangwa Police for murdering his six-year-old son for rituals in 2017.
A 46-year-old man, Kwabena Oppong, was arrested by police at Nsuta in the Ashanti Region for murdering his 10-year-old son for rituals.
Police retrieved the lifeless body from a fertilizer sac and found multiple deep wounds at the neck, the throat and the arm, but there was no blood oozing from these body parts.
10. Three Fetish Priests Remanded Over Murder Of Biochemist
Three traditional priests who allegedly caused the death of Edward Quartey Papafio, a 64-year-old bio-Chemist at Adeiso in the Eastern Region, were arrested and put before the Kaneshie District Court in 2020.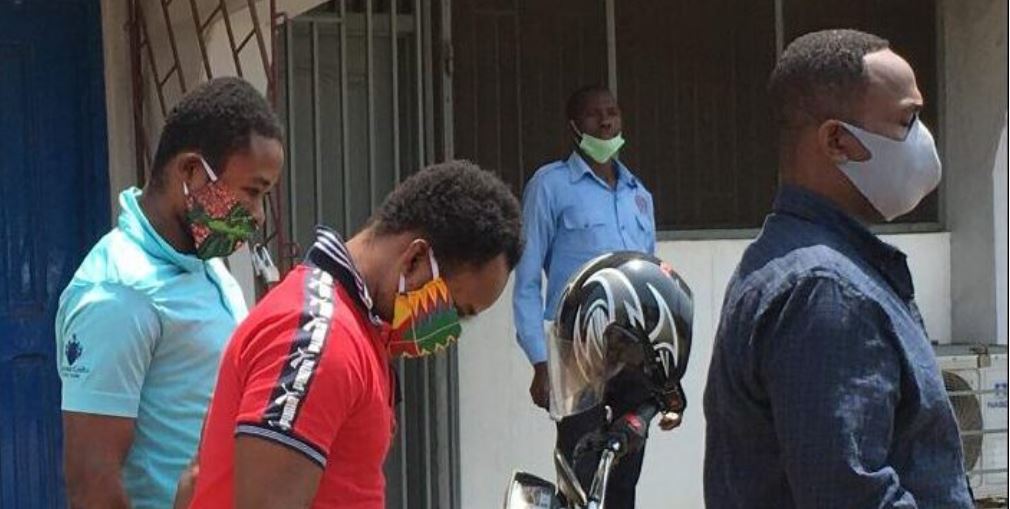 After the murder, the blood of Edward was drained into a gallon together with another victim who had been killed by the suspects.
Christian Awoe Gamelie, aka Power One, 40, Famous Adukonu aka Scorpion, 37, and Yaw Azamate, 27, were charged with conspiracy to commit a crime to wit murder and murder.
In January 2020, the complainant reported that her husband, Mr Quartey Papafio, was missing. He had left his residence at Kasoa on January 15 at about 7:30am and had not been found.
The same Power One was arrested together with another spiritualist by armed police and military personnel in May for alleged ritual murder, fraud, and the production of fake currencies.
Which other cases do you remember, and what have you heard about ritual murders? Share your thoughts in the comment section below.