Theghanareport.com picks three honours at 25th GJA Awards
Theghanareport.com picked up three recognitions at the 25th Ghana Journalist Association Awards held at the Movenpick Ambassador Hotel in Accra.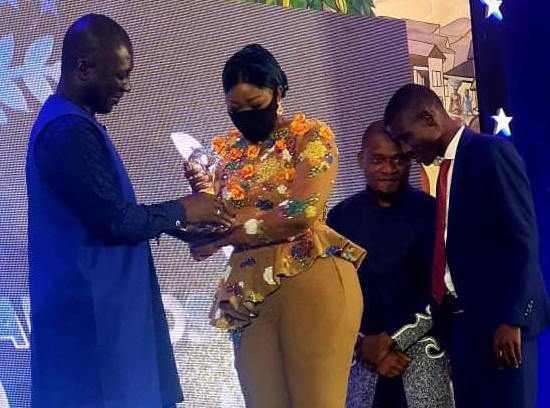 At a well-attended ceremony Saturday night, the news portal was adjudged the best online news portal category for the year under review.
At the same time, the editor, Edwin Appiah, was awarded the Best Online reporter.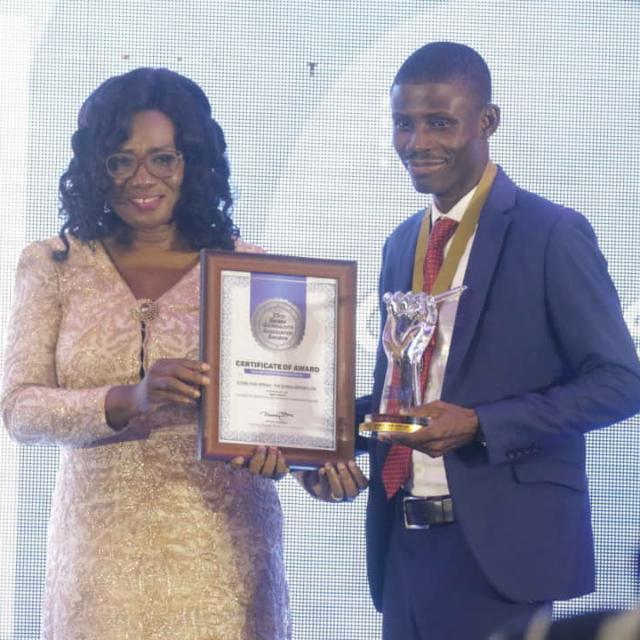 For its support in providing logistics to media houses during the height of the fight against coronavirus, the portal was awarded the best in corporate social responsibility.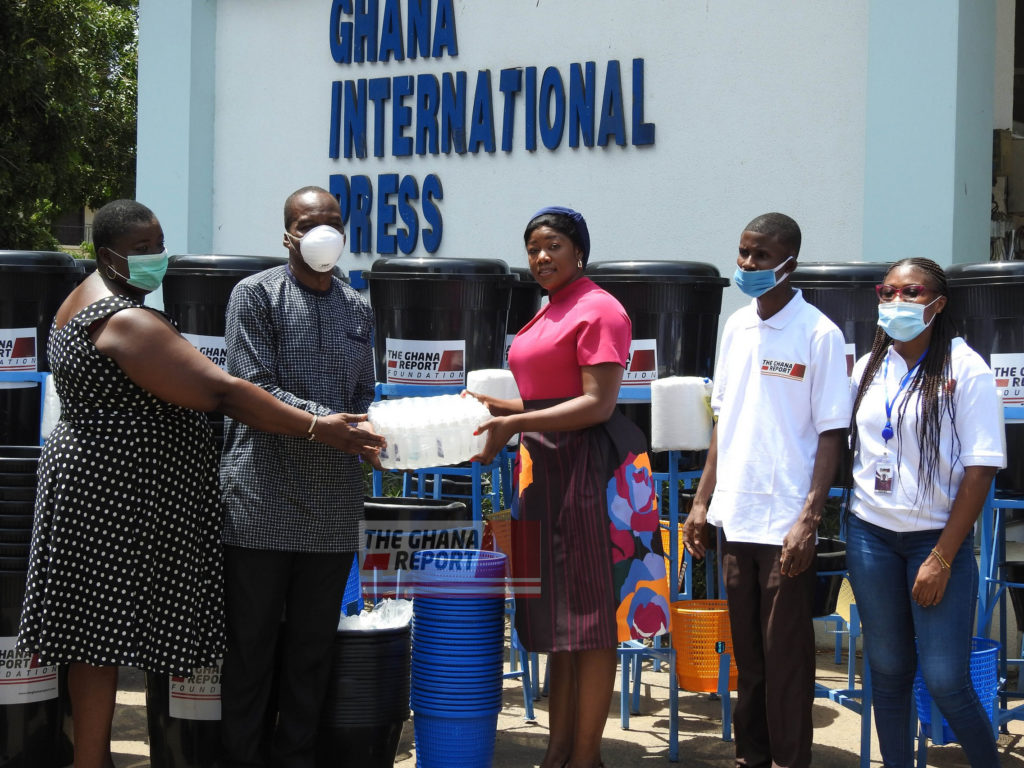 News editor, Seth Bokpe, also picked up two awards for work he did at the Daily Graphic before joining theghanareport.com last November.
He was recognized as the Transport and Road Safety reporter of the year and best in news reporting (print category).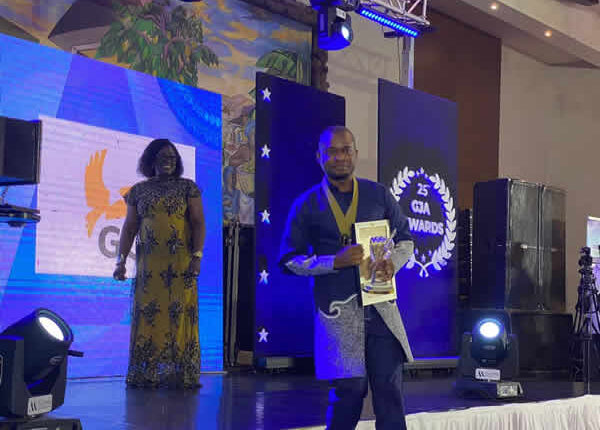 Since entering the digital media space in 2018, the website has become one of the fastest-growing media brands in Ghana.
With a focus on special reports, data-based analysis, and creative writing, the website works to offer readers a unique brand of online news reportage.
Theghanareport.com is a brand under the I-Zar Group. Its Chief Executive Officer is Rashida Saani Nasamu, a strategic communications consultant and a decorated entrepreneur.
Reflecting on the awards, she expressed the determination of the board to resource theghanareport.com to become a trusted and most credible online news portal in Ghana.
'We are in for the long haul,' she stressed.
Full list of award winners:
NEWS REPORTING: PRINT
SETH BOKPE – DAILY GRAPHIC
NEWS REPORTING: ELECTRONICS
AKUA OFORIWAA DARKO – GTV
NEWS REPORTING FEATURES: PRINT
REBECCA KWEI – DAILY GRAPHIC
NEWS REPORTING FEATURES: ELECTRONICS
PEGGY AMA DONKOR – GTV
PHOTOJOURNALISM
DAVID ANDOH – MYJOYONLINE
ARTS / ENTERTAINMENT
GABRIEL AHIABOR – DAILY GRAPHIC
DOMESTIC TOURISM
EMMANUEL ADU GYAMERAH – DAILY GRAPHIC
SMALL & MICRO SCALE ENTERPRISE (SMEs)
KWAME ANUM – ADOM TV
ENVIRONMENT: PRINT
MOHAMMED FUGU – DAILY GRAPHIC
HEALTH REPORTING
AFIA AMANKWAH TAMAKLOE – ADOM TV/FM
HEALTH REPORTING: PRINT
PROSPER K. KUORSOH – GHANA NEWS AGENCY
SPORTS: PRINT
JOHN VIGAH – GHANAIAN TIMES
SPORTS: ELECTRONICS
KODWO MENSAH ABOROAMPA – ADOM TV
EDUCATION
ALFRED AKROFI OCANSEY – TV3
SMALL SCALE MINING (GALAMSEY)
TIMOTHY NGNENBE – DAILY GRAPHIC
NESTLE SPECIAL AWARDS FOR NUTRITION
ANTHONY ADONGO APUBEO – GHANA NEWS AGENCY
DEVELOPMENT JOURNALISM FOR FURTHERING THE SDGS
BEATRICE SENADJU – GTV
CHILD PROTECTION & PARTICIPATION: PRINT
RAISSA SAMBOU – GHANAIAN TIMES
CHILD PROTECTION & PARTICIPATION: ELECTRONICS
KINGSLEY KOMLA ADOM – JOY NEWS
CRIME & COURT REPORTING
ALBERTO MARIO NORETTI – THE SPECTATOR
HUMAN RIGHTS (WOMEN & CHILDREN)
ALBERT SORE – JOY NEWS
SANITATION & HYGIENE: PRINT
CAESAR ABAGALI – GHANA NEWS AGENCY
SANITATION & HYGIENE: ELECTRONICS
EMEFA NANCY DZRADOSI – JOY NEWS
DISABILITY: AKAN
SAMUEL ALFRED AMOH – ADOM TV
DISABILITY: ENGLISH
WENDY ATSWEI LARYEA – TV3
DISABILITY: ENGLISH
ZOE ANITA ODEI -TV3
BEST ONLINE REPORTER
EDWIN YAW APPIAH – THE GHANA REPORT.COM
SCIENCE: PRINT
ALBERT OPPONG ANSAH – GHANA NEWS AGENCY
SCIENCE: ELECTRONICS
PORTIA GABOR – TV3
OIL and GAS
MOSES DOTSE AKROBUTU – DAILY GRAPHIC
MARITIME REPORTING
JOSEPHINE ANTWI-ADJEI
RURAL REPORTING
NABIL AHMED RUFAI – GHONE
ADB SPECIAL AWARD FOR AGRIC REPORTING
PRINCE APPIAH – JOY NEWS
TELECOMMUNICATIONS
LINDA TENYA AYETTEY – DAILY GUIDE
TRANSPORT & ROAD SAFETY: ELECTRONIC
KODWO MENSAH ABOROAMPA – ADOM TV
TRANSPORT & ROAD SAFETY: PRINT
SETH BOKPE – DAILY GRAPHIC
TRANSPORT & ROAD SAFETY: PRINT
HENKING ADJASE – DAILY GRAPHIC
DEMOCRACY & PEACEBUILDING
SAMSON LARDI ANYENINI – JOY NEWS (NEWS FILE)
GENDER RESPONSIVE REPORTING (GIFTY AFENYI DADZIE AWARD)
SARAH APENKROH PARKU-TV3
SPECIAL AWARDS ON COVID-19 COVERAGE
AMA SARPONG KUMAKUMA-UTV
SPECIAL AWARDS ON COVID-19 COVERAGE
DICKSON TWENEBOAH KODUA-UTV
SPECIAL AWARDS ON COVID-19 COVERAGE
EMEFA APAWU-JOY NEWS
SPECIAL AWARDS ON COVID-19 COVERAGE
AKUA BOAKYEWAA YIADOM-ADOM TV
SPECIAL AWARDS ON COVID-19 COVERAGE
ALBERT FUTUKPOR- GHANA NEWS AGENCY
SPECIAL AWARDS ON COVID-19 COVERAGE
ERIC AMOH –GHANA NEWS AGENCY
SPECIAL AWARDS ON COVID-19 COVERAGE
REGINA ASAMOAH-ATINKA TV
SPECIAL AWARDS ON COVID-19 COVERAGE
PORTIA GABOR -TV3
SPECIAL AWARDS ON COVID-19 COVERAGE
JOSEPH ARMSTRONG-TV3
SPECIAL AWARDS ON COVID-19 COVERAGE
IBRAHIM KWARTENG-GTV
SPECIAL AWARDS ON COVID-19 COVERAGE
RIDWAN KARIM DINI OSMAN-GHONE
MEDIA HOUSES ON COVID-19 COVERAGE
GTV
MEDIA HOUSES ON COVID-19 COVERAGE
METRO TV
MEDIA HOUSES ON COVID-19 COVERAGE
TV3
MEDIA HOUSES ON COVID-19 COVERAGE
JOY NEWS
MEDIA HOUSES ON COVID-19 COVERAGE
ADOM TV
MEDIA HOUSES ON COVID-19 COVERAGE
GNA
MEDIA HOUSES ON COVID-19 COVERAGE
GH ONE
MEDIA HOUSES ON COVID-19 COVERAGE
TV AFRICA
MEDIA HOUSES ON COVID-19 COVERAGE
ATINKA TV
BEST IN CORPORATE SOCIAL RESPONSIBILITY OF THE YEAR 2019
THE GHANA REPORT.COM
REGIONAL BEST FM STATION
GREATER ACCRA REGION- OBONU FM
REGIONAL BEST FM STATION
SPACE FM- BONO REGION
REGIONAL BEST FM STATION
CLASSIC FM-BONO EAST REGION
REGIONAL BEST FM STATION
LORLONYO FM- VOLTA REGION
REGIONAL BEST FM STATION
BEYOND FM- OTI REGION
REGIONAL BEST FM STATION
ANGEL FM- ASHANTI REGION
REGIONAL BEST FM STATION
AKYEMANSA FM-EASTERN REGION
REGIONAL BEST FM STATION
TWIN CITY RADIO- WESTERN REGION
REGIONAL BEST FM STATION
ATL FM –CENTRAL REGION
REGIONAL BEST FM STATION
DIAMOND FM-NORTHERN REGION
REGIONAL BEST FM STATION
SUCCESS FM – AHAFO REGION
REGIONAL BEST FM STATION
NKILGI FM – SAVANNAH REGION
REGIONAL BEST FM STATION
EAGLE FM – NORTH EAST REGION
REGIONAL BEST FM STATION
RADIO PROGRESS WA – UPPER WEST REGION
REGIONAL BEST FM STATION
YEM RADIO – UPPER EAST
OUTSTANDING EDITOR
DAVE AGBENU –GHANAIAN TIMES
OUTSTANDING EDITOR
JUSTICE MINGLE-GBC
OUTSTANDING EDITOR
ALHAJI ABDUL RAHMAN ALHASSAN GOMDA-DAILY GUIDE
OUTSTANDING EDITOR
BEATRICE ASAMANI SAVAGE-GHANA NEWS AGENCY
OUTSTANDING EDITOR
EBO QUANSAH-THE CHRONICLE
OUTSTANDING EDITOR
EFUA MENSAH-UTV
OUTSTANDING EDITOR
KOBBY ASMAH-DAILY GRAPHIC
SPECIAL AWARDS FOR PHOTO JOURNALISTS & CAMERAMEN
EMMANUEL QUAYE- DAILY GRAPHIC
SPECIAL AWARDS FOR PHOTO JOURNALISTS & CAMERAMEN
DANIEL NII DOODOO AMOO- GHANAIAN TIMES
SPECIAL AWARDS FOR PHOTO JOURNALISTS & CAMERAMEN
PATIENCE ADJAYE LARTEY- INFORMATION SERVICES DEPARTMENT
SPECIAL AWARDS FOR PHOTO JOURNALISTS & CAMERAMEN
JOJO AGYARE – UTV
SPECIAL AWARDS FOR PHOTO JOURNALISTS & CAMERAMEN
PEARLVIS ATSU KWADEY – GTV
SPECIAL AWARDS FOR PHOTO JOURNALISTS & CAMERAMEN
ROBERT TETTEH – ATINKA TV
SPECIAL AWARDS FOR PHOTO JOURNALISTS & CAMERAMEN
SETH ADU AGYEI
POLITICAL PROGRAMME OF THE YEAR RADIO
EKOSII SEN- ASEMPA FM
MORNING SHOW 2019: RADIO
ENGLISH –CITI FM BREAKFAST SHOW
MORNING SHOW 2019: RADIO
AKAN- KOKROKOO-PEACE FM
MORNING SHOW 2019: TELEVISION
ENGLISH- GOOD MORNING GHANA-METRO TV
MORNING SHOW 2019: TELEVISION
AKAN-UTV
RADIO STATION OF THE YEAR 2019
ENGLISH-CITI FM
RADIO STATION OF THE YEAR 2019
AKAN- PEACE FM
TELEVISION STATION OF THE YEAR
ENGLISH – TV3
TELEVISION STATION OF THE YEAR
AKAN- UTV
ONLINE PORTAL OF THE YEAR 2019
THE GHANA REPORT.COM
FEMALE JOURNALIST OF THE YEAR 2019
REGINA ASAMOAH –ATINKA TV
MOST PROMISING KOMLA DUMOR JOURNALIST OF THE YEAR 2019
RAISSA SAMBOU- GHANAIAN TIMES
P.A.V. ANSAH JOURNALIST OF THE YEAR 2019
SAMSON LARDI AYENINI- JOY NEWS
CITATIONS:
HONORARY AWARD
CAMEROON DUODU
HONORARY AWARD
SAMUEL KYEI BOATENG
HONORARY AWARD
DR. EMMANUEL SROFENYOH – CEO RIDGE HOSPITAL
HONORARY AWARD
BETTY APAU OPPONG
HONORARY AWARD
JUSTICE OFORI – COMMISSIONER, NATIONAL INSURANCE COMMISSION
HONORARY AWARD
AGRICULTURAL DEVELOPMENT BANK (ADB)
HONORARY AWARD
CEO OF CLASSIC FM
HONORARY AWARD
INNOLINK
HONORARY AWARD
AGRICULTURAL DEVELOPMENT BANK (ADB)
HONORARY AWARD
GHANA BROADCASTING CORPORATION (GBC)
HONORARY AWARD
GLOBE PRODUCTIONS