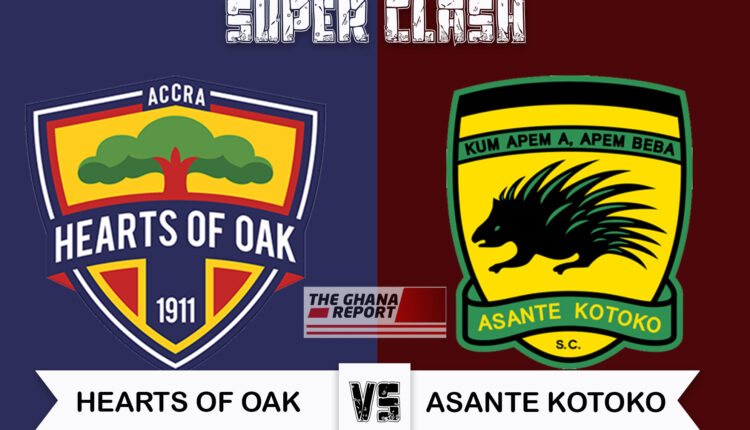 Three Reasons Why Super Sunday Will Go The Way Of Hearts Of Oak
It is said that no two football games are ever the same and that can sound like a cliche but on Sunday, June 27, the clash between Accra Hearts of Oak and Kumasi Asante Kotoko will hold true for the saying.
For one thing, this is easily the most anticipated game in nearly a decade between Ghana's two most successful local clubs. It may also be the most emotionally charged meeting 20 years since the infamous stadium stampede of May 2001.
In fairness, it is pretty difficult to remain neutral even for fans who are not necessarily fans of either club. Just like AC Milan and Juventus in Italy, Hearts and Kotoko are the second clubs of most Ghanaian fans.
But what makes this particular upcoming game special is not rocket science. Hearts, for the first time since 2009, are challenging for the league title they won that year. The club has barely featured in Africa too in the last 10 years.
Hearts' legendary status has been questioned in the face of these facts. "Smaller" clubs such as Wa All Stars, Berekum Chelsea have won the Ghana Premier League since 2009 with Aduana Stars even doing that twice, in 2010 and 2017.
All of this adds to the pressure that the Phobians are feeling at this moment. With four games to go in a 34-game-season, the Rainbow Club are on top on goal difference, with archnemesis Kotoko in second place.
Most people believe whichever team that prevails at the end of this game will most likely win the league title. That conviction may be misplaced but it is also not as if Hearts-Kotoko games only have three points at stake.
Hearts can afford a draw although a win gives them a better edge. So why should their fans have confidence that Sunday will go the way of their darling club?
Hear three reasons:
==========================================================
The present over history
Hearts have not beaten Kotoko since 2018 and the Porcupine Warriors will be counting on this as a psychological advantage. But what advantage does history have over the present?
The Phobians are the most in-form top-flight team in the country over the course of the last 10 matchdays. They have either been first or second on the table for two months.
Hearts are the highest-scoring side (42) and are only second to their rivals on Sunday in terms of goals conceded (20). They tend to score in the first half too, a sign that they are enthusiastic starters.
==========================================================
Passion overflow
Hearts of Oak were not expected to come this far. Everyone, even some among their most ardent fans, had given up on the club's ability to win a league title.
What is happening at the moment is partly the beautiful consequence of low expectations.
Naturally, as it has become clear that the team could actually win its 21st title, expectations have dragged up the pressure too. But the Phobian players have met this challenge with passion – nothing but tireless and triumphant passion.
It does not seem as if the Hearts players need more than what they have been doing over the last three or four months. Challenging for all the balls everywhere on the pitch and wearing their hearts on their Rainbow shirts.
Tactics will most likely be secondary on the day. It is a Hearts-Kotoko game, after all.
===========================================================
Daniel Afriyie Barnieh
The complicated and poor management of Ghanaian football clubs would mean that Daniel Afriyie Barnieh would most likely not be playing in the Ghanaian football league come next season. Odds are that he will be sold for money badly needed by Hearts.
But while he is here, he will be key to delivering what Hearts need on Sunday. He is a pacy forward who can dribble too.
His movements in the final third have given cause for concern for defenders throughout the season and it is no coincidence that he was voted the best player at the CAF U-20 African Championships earlier this year.
Strangely enough, he is yet to get the praise other teammates such as Benjamin Afutu Kotey, Salifu Ibrahim and Emmanuel Nettey earn. But that is why he will be important.
Afriyie's charm will be the difference because he is overlooked.