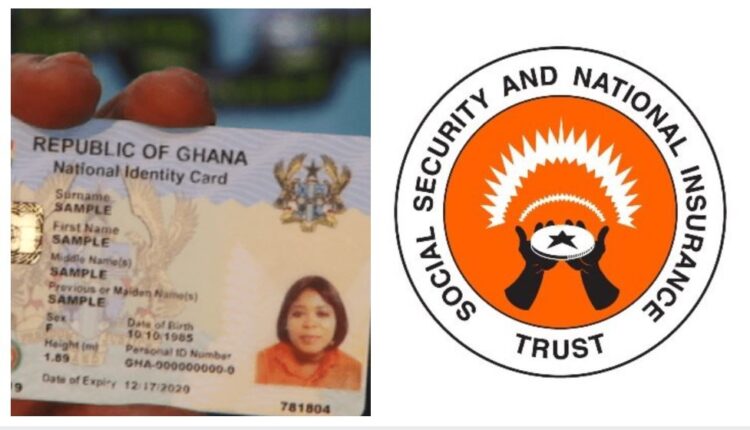 Three Things You Must Know As Ghana Card Replaces SSNIT Number
Ghana is on the path to synchronising all forms and needs of national identity with the purpose of the National Identity Card (Ghana Card) and this process includes your social security number as well.
From June 28, 2021, there will be no need for the Social Security and National Insurance Trust (SSNIT) to issue you a unique identity number. Rather, your Ghana Card number will be enough.
The ambition, as stated by Vice-President Mahamudu Bawumia, is to vest the Ghana Card with all the needs of identification by a Ghanaian.
The vice-president, who has announced and largely overseen this government's efforts to compile correct information about inhabitants in the country as well as synchronise their identifications, continues to tout the merits of the Ghana Card.
The National Identification Authority (NIA) was set up in 2003 for the very purpose that has taken nearly two decades, cost huge sums of money and troubled a lot of well-meaning Ghanaians. But as it appears, progress is slowly being made on this front.
As follows are three things you must know as you begin to merge your SSNIT identification with the Ghana Card.
=========================================================
You can do the merger from the comfort of your home
According to a statement by the NIA that was released over the weekend, existing SSNIT members can simply perform the activity of merging their SSNIT and Ghana Card profiles from the comfort of their homes.
The statement said "[t]o merge [your] SSNIT and NIA numbers, members are to dial *711*9# and follow the prompts…Alternatively, members may log onto the SSNIT website and follow the instructions to merge their numbers".
=========================================================
No more SSNIT numbers
Effectively, this innovation brings to an end the era of SSNIT numbers. It is important to recognise that this is not the same as the end of SSNIT as the institution currently exists for Ghanaians.
What will happen is that, going forward, it will be inconceivable to have social security in Ghana without a Ghana Card. Indeed, from July 15, new entrants into the SSNIT scheme will be registered with their Ghana Cards.
From January 2022, SSNIT will only accept Ghana Cards and not SSNIT Cards.
=========================================================
The Ghana Card will be the only one
All of Ghana's digitisation drives with regards to citizenship is bound to make sure that the Ghana Card will be the last card standing. The merger with SSNIT identification is simply one of many mergers.
Already, it is impossible to access nearly all financial and governmental services without one's Ghana Card.
The Ghana Revenue Authority (GRA), Passport Office as well as the Driver and Vehicle Licensing Authority (DVLA) all require the Ghana Card now and will insist on that particular form of identification going forward.
Experts have said that the Electoral Commission (EC) will in the future also rely on the Ghana Card and not a Voter's ID for elections.