Uganda landslide near Mount Elgon kills more than 40
A landslide following heavy rains in eastern Uganda has killed more than 40 people.
It is feared that the death toll could rise as a government rescue team reaches the Mount Elgon area.
A river burst its banks and a torrent of mud and water swept villages away. Pictures from the scene show people retrieving bodies from the mud and carrying them away.
A landslide in the same region, Bududa, killed more than 300 people in 2010.
It is a mountainous place with volcanic soils that are rich for agriculture, but it is also densely populated, which puts a lot of pressure on arable land, reports the BBC's Patience Atuhaire in the capital, Kampala.
After previous disasters, people have been told to move away but many return because of the fertility of the land and their attachment to their ancestral home.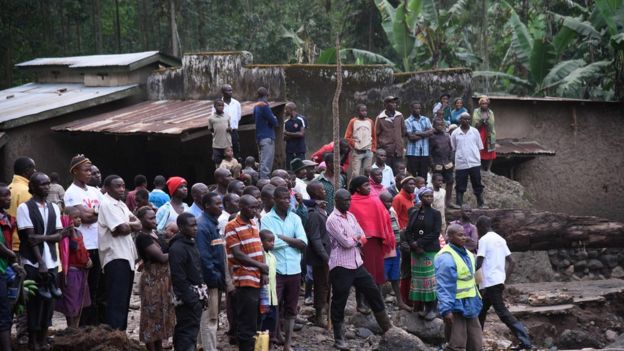 The Uganda Red Cross says that 36 bodies have been recovered, but a local official quoted by the Daily Monitor newspaper has said 40 bodies have been found so far.
"When the water flowed down it brought a number of big stones with it that destroyed people's houses," Red Cross spokeswoman Irene Nakasiita told AFP news agency.
The prime minister's office has sent a team to assist with the search and recovery efforts, which were set to continue on Friday in the difficult hilly terrain.
source: BBC