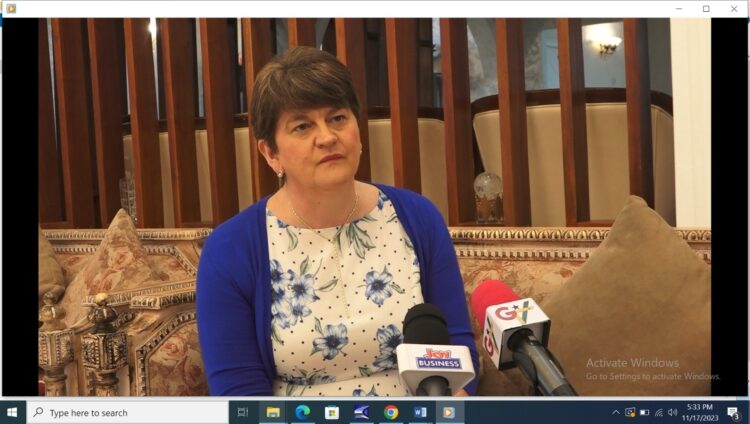 UK companies eyeing investments in Ghana – Former Northern Ireland Prime Minister
Former Prime Minister of Northern Ireland, Baroness Arlene Foster, says businesses in the UK are engaging various key stakeholders within Ghana's economy to improve the United Kingdom's investments into the country.
According to her, financial technology is one of the key areas investors from the United Kingdom are interested in supporting the operations of businesses locally.
Speaking to Joy Business during a visit to Ghana to support the 'Ladies in Leadership Awards' organised by the Accra Business School, she said the agri-business sector must be re-looked at in terms of investments.
"We have a very strong agri-food sector in Northern Ireland and one thing is a lot of companies are coming on board to share their expertise to improve financial technology in Ghana".
"Because we have young people across the world, technology is key. Hence, we need to look at the area of cyber security to train more people," she said.
She also made a strong case for the government to have a clear policy direction to support the informal sector.
According to her, it is relevant for key stakeholders within the economy to consider supporting women businesses and Small and Medium Enterprises (SMEs) through capacity building and access to financing.
"We need to focus on training these women. This is significant to the growth of businesses. They are all over the world," she added. Women-led businesses in Ghana have contributed significantly to the growth and development of the economy, accounting for 44% of all micro, small and medium enterprises (MSMEs) in the country.