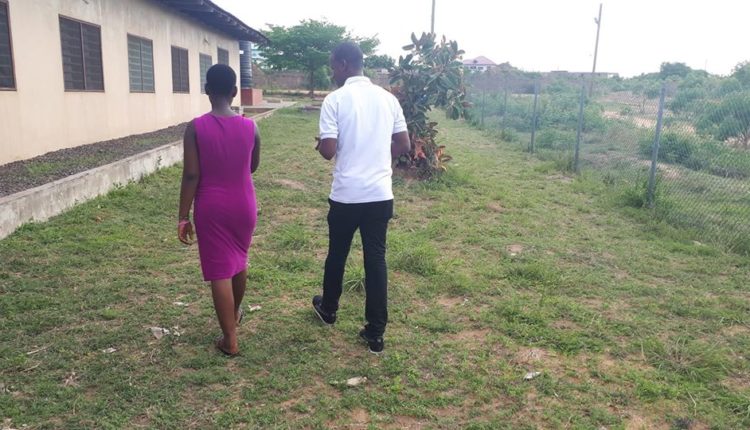 Umaru Sanda writes: How I got a parent arrested so their daughter stays in school
My dad married off my sisters when they were just children (in their early teens). I was probably not born at the time or too young.
But my dad, who is a Mallam (an Islamic teacher), was doing this to save himself from hellfire.
He knew that anything these girls did in the house was going to be on his head. At the time he allowed it, it was the norm in the community and no one complained.
Things have changed. Laws like the  Free Compulsory and Universal Basic Education (FCUBE ) have been passed and people must obey.
Today, my father understands the change and has adapted. At the time, I had no knowledge or power. So, I didn't fight the Early Marriages of my sisters.
Today, thankfully, I've been given education and exposure. I have seen that there is another life aside from marriage and childbirth. For that reason, I have vowed that all my nieces and nephews shall get basic education, at least.
I have threatened my siblings with arrest should they ever force any of my nieces into marriage.
Unless of course, the girl herself brings a man home and says she wants marriage. Even with that, I would put forth my most reasonable arguments against it until I'm either defeated or I win.
As the last born of my (uneducated parents) and the only one among my siblings to have been given a formal education, I see it as a duty to at least, help educate my nieces and nephews and that has been my quest since my voice mattered in the family.
But this is not limited to my family. I'm a #CommunityChild and with the privilege of powerful microphones in Accra, I deem it a communal and national responsibility to ensure what happened to my sisters (out of ignorance or due to the circumstances of the time) is not inflicted on any girl or boy.
It is for this reason that in December last year when I received a call from the Headmistress of my village school (Asutsuare Junction D/A Basic School), I knew I had to act fast.
She called to tell me that a brilliant 13-year-old girl in her school was being forced into marriage by her parents.
The headmistress told me that the girl came to complain to her about her disinterest in the marriage.
However, her parents were adamant. She tried to convince them to allow the girl to finish her Junior High School but they would not listen. She told me that the marriage was scheduled for the weekend.
Without hesitation, I called the District Police Commander and told him to help.
With the help of the District Social Welfare Officers and the Headmistress, the police stormed the home of the girl and took her away.
They left word behind for the parents to report to the police station. The girl was taken to a safe facility and I was happy. But I didn't know this was going lead to a stressful life for me.
Unknown to me, this girl's family and mine were related. My brother had been married to her big sister,  so her parents were our in-laws.
I didn't know this at the time of their arrest but it would have been inconsequential. All I wanted to do was save the girl and I'm glad I did.
In the following days, meetings were called in the (Fulani Chief's House) where my father and elder brother (who is the Imam of the town) were rebuked for my actions.
According to my poor old dad, people raised their voices at him for the actions of his son. They used all the cultural and religious reasons they could find to justify the marriage and condemned my actions.
They said I had betrayed Islam. I wasn't at any of these meetings and I had told my dad not to engage them in arguments.
I told him to tell them to invite me if they needed any explanation. They didn't. Instead, they shouted themselves hoarse and some idle villagers, I'm told, spent weeks gossiping about it.
Those who supported my actions were afraid to speak up. People I thought would see reason in the action, condemned me. But I didn't care.
It's been a year now, and I'm glad to report that this girl has been taken to one of the best education facilities you can have where her teachers tell me she's doing great in her academic and extracurricular activities.
I visit her regularly, and at our last encounter, she told me how happy she was at this new place and how she doesn't want to go back to the village, except for visits.
The Social Welfare Officers have since arranged family visits for her and I hear it's going well.
This is a girl I didn't know (although she knew me). But I helped because I know education is the leveller and when she gets it, marriage and more will come her way.
What's the point of this post? Help people, whether you know them or not. And insist on education for all because that's why I'm able to put this post up.
If you're a Muslim, or from the Zongo, or a Fulani, let no one lie to you that marrying off your children is better than educating them. Both are important, but they come in order of priorities.
Remember the Prophet Muhammad said we should seek knowledge/education even if it means travelling to China (China at the time of the Prophet would have been the farthest place from the Arab world by horse or camel I guess).
If you have a catapult, use it to chase such persons out of your house. If you can command bees, unleash them on these persons.
If I, Umaru Sanda Amadu can make it thus far with the circumstances of my time (alhamdulillah), then you have no excuse! Empower your children and let no one's ignorance affect the future of your child. #MotivateThem#CommunityChild