US embassy issues alert to citizens over new voter register protest
The US Embassy in Ghana has issued a warning to its citizens in the country to be cautious of volatile situations in Accra, as a section of the public demonstrates against the Electoral Commission's planned voter's register.
The protest, which is the third in a series of demonstrations, is meant to pile pressure on the EC to rescind its decision to compile a new voters' register.
Members of the Inter-Party Resistance against the New Voter Register, including the largest opposition party, National Democratic Congress converged at the Kawukudi park in Accra to march to once again register their disagreement to the EC's decision.
But the US says the exercise could be volatile.
"Be advised that any demonstration, even one that is expected to be peaceful (such as this one), is volatile and can become confrontational at any moment", the alert said
.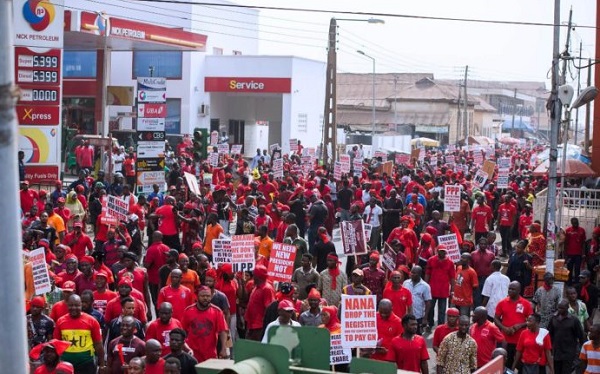 Tuesday's demonstration was triggered by the EC's non-adherence to the numerous opposition to its decision to compile a new register for the December 7 polls.
Despite the resistance n to the new voter roll, the EC has set April 18 as the day to begin the new registration process.
A meeting between the political parties and the EC's Eminent Advisory Committee ended inconclusively. The EC however in a statement said the majority of stakeholders who attended the meeting agreed to a new register.
But in a reaction, the parties said: "The Resistance finds it curious that, less than 12 hours after the meeting, the agreed communique with the Eminent Advisory Committee has not been released but rather all deceptive and misleading verdict of what transpired has been reported by a party in the deliberation, the EC.
"This points to the fact that the EC could be misleading the eminent advisors and using them to advance a parochial interest of embarking on this wasteful self-serving expedition. Clearly, we were not invited to advance a consensus at all.
"We therefore in the interest of transparency and fairness demand the EAC release the agreed communique read and approved by the parties involved in the dialogue and take steps to proceed with the content as agreed," it said.
Several other notable Civil Society Organizations have collectively rejected the EC's justification for a new voters register.
This is not the first time the US Embassy is issuing an alert in Ghana. On March 15, 2016, the U.S. Department of Defense issued a travel advisory that places restrictions on unofficial,  that is, personal, travel by Department of Defense personnel to Senegal, Burkina Faso, Cote d'Ivoire, Ghana and Guinea until June 30, 2016.