US proposes rule banning asylum for illegal migrants
Illegal migrants entering through the southern US border will no longer be eligible for asylum under a new rule, the Trump administration has said.
Announced by the Departments of Justice and Homeland Security, the ruling would stop asylum for those who breach any presidential restriction on entry.
The president can stop migration in the "national interest", a statement said.
Immigration was a major focus in President Trump's 2018 mid-term election campaign.
Frequently attacking a caravan of thousands of Central Americans making their way north through Mexico, Mr Trump ordered troops to the border and declared the migrants to be an "invasion".
What is the new rule?
Acting Attorney General Matthew Whitaker and Homeland Security chief Kirstjen Nielsen announced what is known as the Interim Final Rule on Thursday.
The joint statement said presidents have the power to "suspend the entry of all aliens" and to impose "any restrictions he may deem to be appropriate on them" if they are judged to be "detrimental" to US interests under the Immigration and Nationality Act.
Accordingly, if the president issues a suspension or ban on entry through the US/Mexican border, those who illegally manage to enter the US will not be allowed to apply for asylum once there.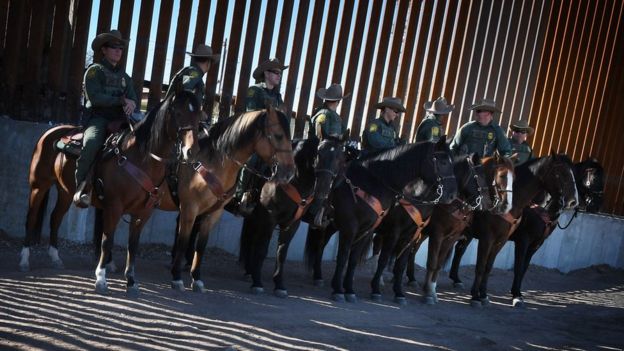 "Today, we are using the authority granted to us by Congress to bar aliens who violate a Presidential suspension of entry or other restriction from asylum eligibility," the statement said.
The rule will not apply retroactively. President Trump is expected to sign it shortly.
Under US law, there is a legal obligation to hear asylum claims from migrants if they say they fear violence in their home countries.
Those seeking asylum must be fleeing due to a serious fear of persecution. Under international law, these are considered refugees.
If an asylum seeker enters the US illegally, they have been – until now – still entitled to a hearing of their claim.
source: BBC