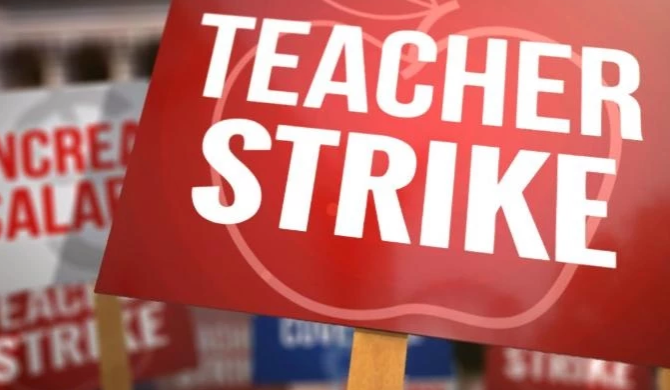 UTAG to resume strike on Friday after gov't silence
The University Teachers Association of Ghana (UTAG) has asked its members to resume a suspended strike from Friday, October 8, 2021.
UTAG insists the decision had become necessary due to the government's failure to meet demands made by lecturers concerning their conditions of service.
The directive was contained in a communique issued to its members on Tuesday, October 5, 2021.
"Following the signing of the Memorandum of Agreement with the Employer to complete the negotiations on the Conditions of Service of University Teachers within one (1) month by resolving all outstanding issues, which formed the basis for suspending the strike, it is sad to report that the one-month moratorium has elapsed and the negotiation has almost reached a stalemate.
"Unfortunately, within the one-month moratorium, the Employer never shifted its position even though UTAG made a number of concessions. For this reason, the National Executive Committee of UTAG at its meeting held on October 1, 2021, resolved that if the Employer's position remains unchanged by Friday, October 8 2021, members should resume the suspension of teaching and related activities until further notice," the release explained.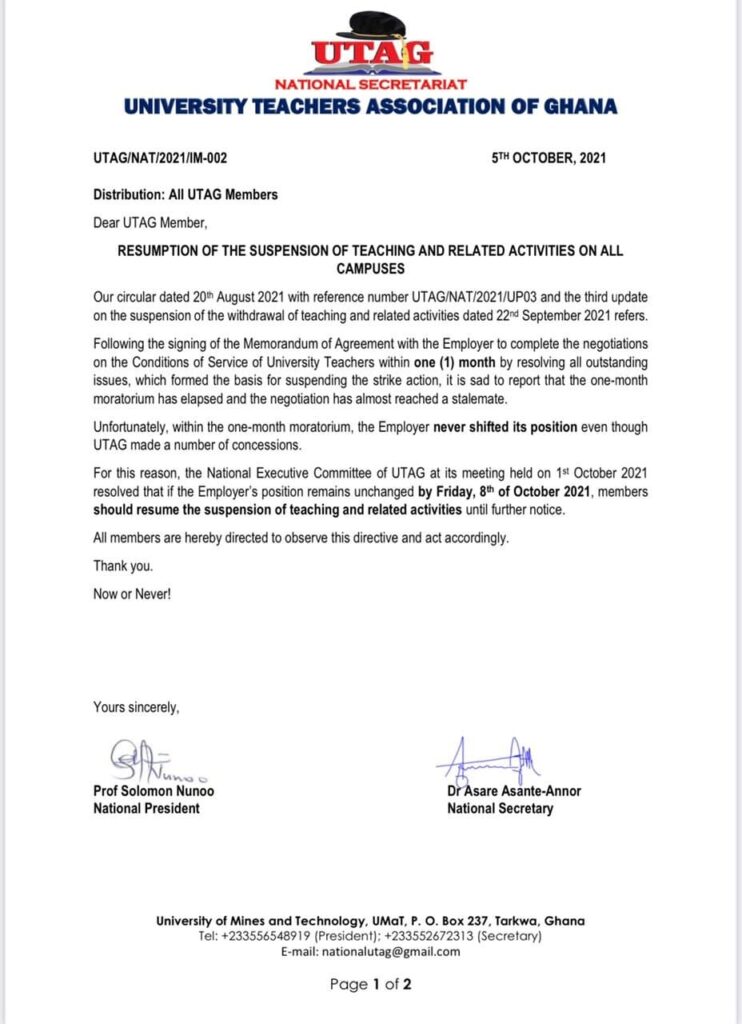 Earlier Strike
The National Executive Committee (NEC) of UTAG directed members to withdraw all teaching and related activities beginning Monday, August 2, over poor conditions of service.
UTAG members complied with the directive and laid down their tools.
Per the 2012 arrangement, the basic plus market premium of a lecturer has been pegged at $2,084.42, but UTAG had lamented that the current arrangement had reduced its members' basic premiums to $997.84.
After two weeks of the strike, they reached an agreement with the government to suspend their strike action and resume negotiation for a mandatory 30 days with the hope that their concerns would be addressed.
READ ALSO: End Nationwide Strike And Meet Us On Thursday – NLC Tells UTAG, SSA-UoG
The strike by UTAG severely affected academic and some non-academic work at the various tertiary campuses, which ended in court.
The High Court's Labour Division advised the National Labour Commission (NLC) and UTAG to settle their issues out of court.
But after returning to the table, the parties were not able to come to a compromise.