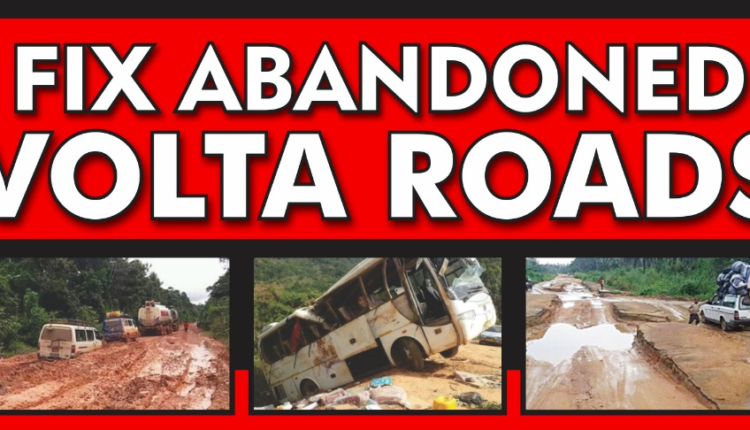 V/R: Angry residents in Kpeve demonstrate against bad roads
What began as a peaceful demonstration in Kpeve in the South Dayi District over deplorable roads in the Volta Region has resulted in the burning of car tyres on parts of the eastern corridor road that runs through Kpeve.
The demonstrators most of whom were clad in red attires were seen carrying placards with inscriptions such as: "Fix Volta roads abandoned", "The abandoned roads are killing us",  "Nana Addo, you have lost the fight against corruption."
The group campaigning for the fixing of abandoned roads in the Volta Region have said they will undertake a series of demonstrations until work resumes on the roads.
The MP for the area, Rockson Nelson Dafeamekpor in an interview with Citi News' Volta Regional correspondent Benjamin Aklama explained that the Akufo-Addo government has deliberately neglected parts of the Volta Region including his constituency.
He questioned Government claims that the contracts for some of the roads are being audited for possible infractions.
He called on Government to show proof of the road contracts which have been audited already.
"Government operates in a single continuum. So when a Government starts a project and is unable to finish and a new person comes to Government, he ought to continue. You don't come with a government policy of discontinuation that is what the person detest. The President came to Parliament to tell us, that he has ordered all these projects to be audited and because of that the projects should be halted. It is 3 years now and we are asking, haven't they finished with the audit ?"

"Where are the audit reports ? At least some projects would've been cleared if indeed there were issues. But they haven't done anything. Most of those projects are found in the Volta Region. When you get to places likes South Dayi, it is as though we are not part of Ghana." The visibly angry MP added.
Speaking in an interview, convenor of the 'Fix Abandoned Volta Roads' campaign, Joshua Tetteh  explained that the demonstration is not politically motivated.
"We are waiting, we want to hear from Government, if we don't hear from Government we will take the law into our own hands. The same thing was done in Ashaiman, Adenta, Ledzokoku constituency.. The citizens demonstrated and the Government listened to them. The roads are bad and the people of the Volta region are suffering. I want to emphasize that this is not a partisan demonstration… There will be a constant demonstration until Government fixes our road."