Video: Sunyani residents chased down and beaten for 'not wearing black attire'
Residents in Bono regional capital, Sunyani, have been assaulted for failing to observe a traditional edict to wear a black attire.
The Sunyani Traditional Council issued the edict as part of the funeral and burial rites of the late queenmother Nana Yaa Nyamaa Poduo II.

Photo: The deceased queenmother
The residents are to be seen in public wearing funeral-themed attire, usually black or red until the funeral is over on Saturday.
But disturbing videos show 'traditional warriors' chasing down and beating residents seen flouting the directive. In some cases, the police are seen assisting with the beating.
Someone is heard during the filming of the video shouting 'these people are stubborn.'
JoyNews' Bono regional correspondent Precious Semevor said the police in the region are yet to comment on the assault.
Nana Yaa Nyamaa Poduo 11 died on August 1,2019 at the regional hospital. She was 64.
Is it a force to obey traditional laws?
Sunyani people were expected to be in black attire, and those who didn't wear black were beaten. pic.twitter.com/Aj0AEvBwRi

— Felix Mayes 🇬🇭🇺🇲 (@Jnr_Mayes99) February 25, 2020
Ghana's democratic system does not shun traditions. Incorporated in Ghana's 1992 constitution are customary laws and a respect for traditions.
Chapter four of the 1992 constitution lists customary law as part of the common law, which is one of the sources of Ghana's laws.
It defines customary law as "the rule of law which by custom are applicable to particular communities in Ghana."
It is, however, unclear the extent to which some customary laws are enforceable.
Meanwhile, the police have begun an investigation into the matter.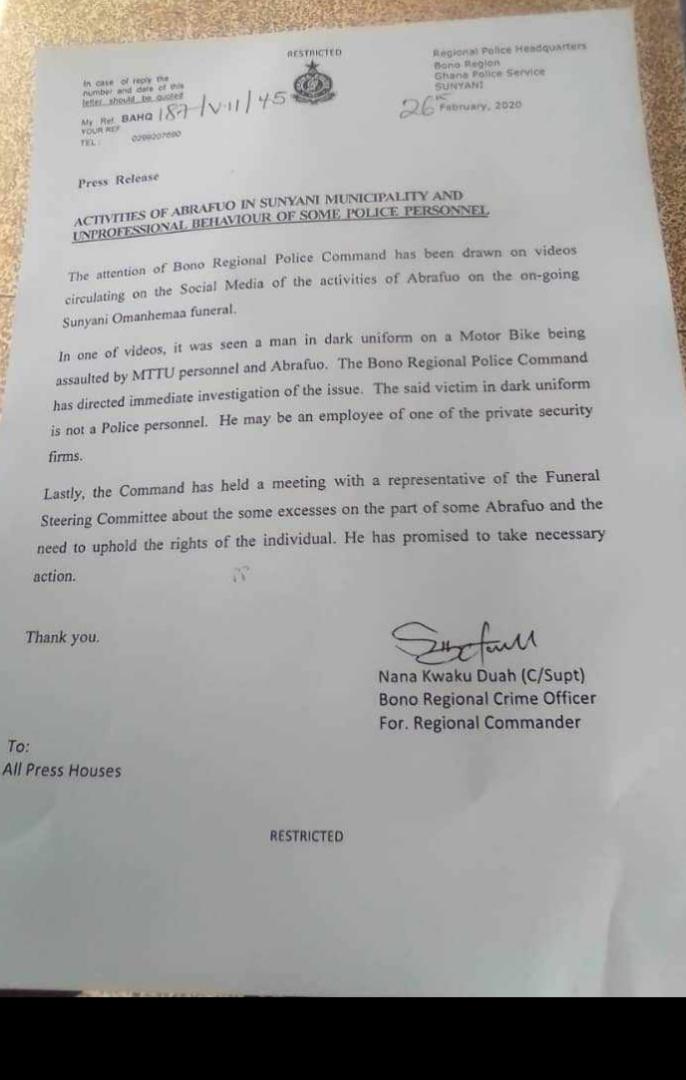 Some traditional customs observed during funerals of royals
Curfews are observed during the final funeral rites of important chiefs.
For instance, the Asante Traditional Council, in December 2017, imposed curfew on residents of Kumasi from 9pm to 2am in respect to the final funeral rite of the late Asantehemaa, Nana Afia Kobi Serwaa Ampem.
Ban on noise-making, funerals
Ban on drumming or noisemaking cuts across all the ethnic groups in Ghana.
Noisemaking or drumming are normally banned a week before the celebration of a festival and during the funeral of a royal.
For example, in accordance with Asante custom, a ban was placed on all funerals, drumming and noisemaking throughout Asanteman until after the funeral of the Asantehemaa.
In September 2015, the Chief of Asante Asiakwa, Obrempong Taa-Asiakwa Agyemang Adjei IV, placed a ban on one-week celebrations for the dead as part of stringent measures aimed at reducing the high cost of celebrating funerals in the traditional area.
The affected communities include Barekese, Poano and many others which fall under his authority.