'Wɔkpɛnɛɛ' demo: NDC, other anti-new register parties hold third demo
Hundreds of protestors have climaxed a series of demonstrations in Accra to compel the Electoral Commission (EC) to drop a proposed new voter roll.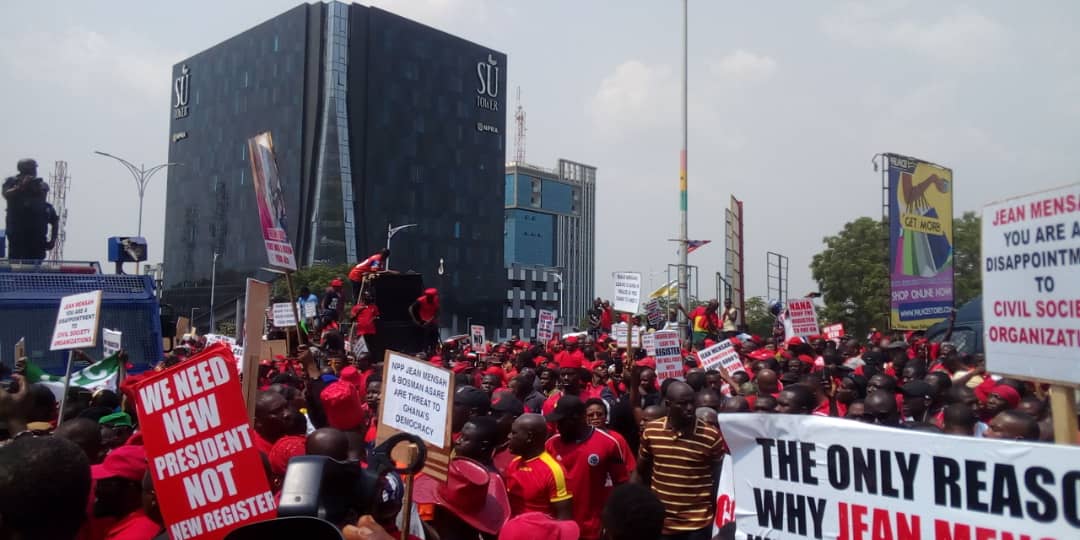 The march on Tuesday was organised by the National Democratic Congress (NDC) and other opposition parties forming the Inter-Party Resistance against the New Voter Register. This group holds a strong view that the current voter roll is fit for the 2020 general and parliamentary polls and needless for a replacement at a huge cost to the taxpayer.
The protest was initially halted for some discussions but was carried out after a roundtable discussion by members of the coalition on Monday.
An inconclusive Inter-Party Advisory Committee (IPAC) meeting the previous week with officials of the EC, EC's Eminent Advisory Committee and the political parties triggered the march and petition to the Jubilee House.
The EC had stated its resolve at the stakeholder meeting to go ahead with the plans to organize fresh registrations despite the compilation of biodata of citizens by the National Identification Authority (NIA).
No demo will stop EC from compiling new register – Commissioner
However, the coalition finds it unnecessary since the same register compiled in 2012 was used for the last two general elections, the referendum to create new regions and the local government elections to elect assembly members of the various assemblies and unit committee members in 2019.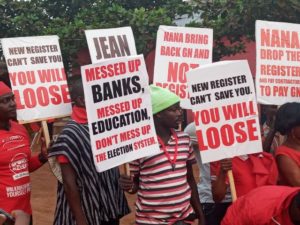 To justify the proposal, the EC said a new register was critical for the 2020 polls as they need a new Biometric Voter Management System to replace what they say has become obsolete. The EC subsequently requested and parliament approved about GH¢444million for the exercise.
The demonstration, dubbed 'Wɔkpɛnɛɛ' demo, to wit 'we will not agree' is the third after the 'Tikusayi' demonstration in Tamale on Jan 11 and 'Yɛnpene' march in Kumasi on January 21.
Just as the previous ones, Tuesday's march drew a large crowd of hundred individuals who were dressed in red attire, headgear and armbands. Some of them carried placards which read: "We need new President not new register"," Jean Mensa, you are a disappointment to civil society organisations"," NPP Jean Mensa and Bossman Asare are threat to Ghana's democracy"," Pay striking teachers, don't waste the money on needless register".
Photos: Scenes from the Kumasi demo against the new voters register
The march was carried out along the principal streets of Accra starting from the Kawukudi Park at Nima.
Dr Kwaku Afriyie, Minister of State at the Presidency received the petition of the group and promised to forward it to President Akufo-Addo when he returns from his tour of the Savannah Region.
The demonstrators also march to the EC office.
A pro-government think tank, the Danquah Institute, has questioned the rationale behind the protests.
But other key figures have also called on the EC to rescind its decision.
Don't blow GH₵400 million on voter's register, find alternative—West Africa Nobles Forum
Drop "useless adventure of compiling a new voter register" – Pratt tells EC