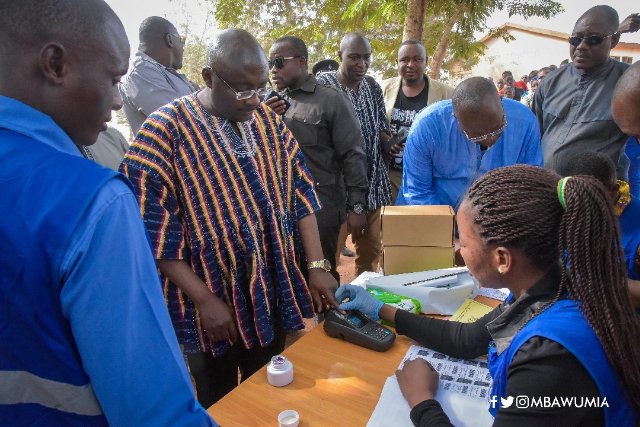 WABONS: Vice President Bawumia votes in North East Region
The Vice President, Dr Mahamudu Bawumia, has cast his vote in the ongoing referendum on the proposed creation of six new regions.
Vice President Bawumia cast his ballot at about 9:20am at the Kperiga Presby JHS 'A' Polling Station at Walewale in the proposed North East Region.
Speaking to the media after voting, the Vice President urged voters in all six proposed regions to turn out in their numbers to exercise their democratic right to vote.
He was confident of a smooth and peaceful vote which would affirm the wishes of the people on the proposal to create new regions.
For the proposed North East Region, there are 252,575 registered voters in that area. They need at least 126,288 registered voters out of that figure to cast their ballots and 101,030 should vote in the affirmative for the proposed North East Region to be created.
Dream come true
Meanwhile, the Paramount Chief of Krachi (Krachiwura) Traditional Area, Nana Mprah Besemuna, has described the ongoing referendum in the Oti enclave which could affirm the creation of the Oti Region, as a dream come true.
According to him, the expectations of the people have always been to have a region of their own so as to equalise the development pattern that southern Volta has seen over the years.
The Krachiwura made the comment shortly after he took his turn to cast his ballot.
The DCE for the area, Douglas  Osei -Nti noted that the creation of the Oti region will bring development to his area.
According to him, it will make his work as DCE more simpler and quicker.
Joy News reporter monitoring the polls in the Oti enclave, Ivy Setordzi reports that, the turnout is so high that as at 11am most people had already cast their votes.
Free transport
From Techiman, Anass Sabit reports that operators of tricycles have partnered the Techiman Traditional Council to convey voters to their various polling stations without paying for transportation.
Chairman of the association Mr. Awal Mohammed says all members are committed to providing their support for the new Bono East region.
Riders who fail to comply with the directive would be sanctioned, Awal Mohammed added.
Precious Semevoh reports from the Goaso Methodist JHS A, in the new Ahafo region, special treatment is extended to the elderly, nursing mothers and the disabled.
According to the Presiding Officer, Augustine Bediako, voting has been smooth so far with a lot of people in the queue even as at 9:40am, Semevoh added.
Source: Myjoyonline