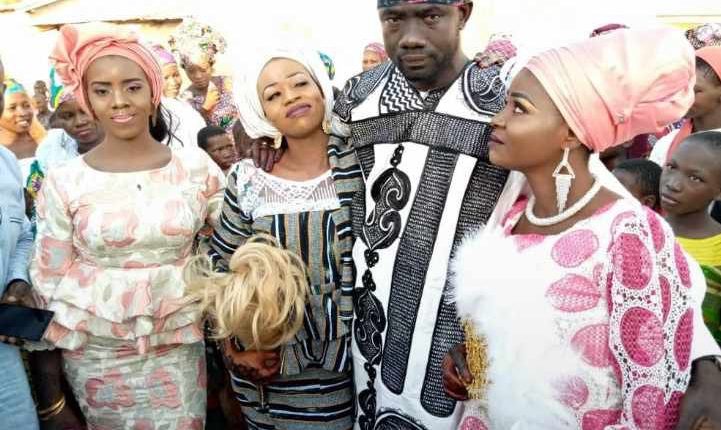 Walewale man marries three women on the same day
One, two, three wives on the same day. That's the record a man from Walewale in the North East Region set over the weekend as he wedded three women.
Osman Hafiz set social media ablaze with a wedding invitation of the forthcoming marriage ceremony involving one man and three women on the same day and venue.
The  triple wedding ceremony attracted a huge crowd who feasted their eyes on the unusual spectacle.
Although polygamy is allowed in traditional and Islamic religions in Ghana, its rare for a man to marry more than one woman on the same day.
While some dismissed it as a internet prank, others took it for a joke while others commended him for demonstrating his prowess.
Come the D-Day, the Barzini's House, the venue for the event was packed to capacity.
Hafiz walked into the flamboyant event to tie the three knots.
It was a ceremony that eyewitnesses said lasted for an hour and half.
At the end, flanked by his smiling  three wives— Sikena Yidana, Kimara Ali and Huzaima Yakubu, the crowd could not get enough of the couples(s) as cameras and phone cameras flashed nonstop to capture the memorable ceremony that lasted  an hour and 30 minutes.
Those pictures will flood social media later. But for now, Hafiz might be off to a triple honeymoon.
However,  Hafiz may be late to coming to the record table in Africa.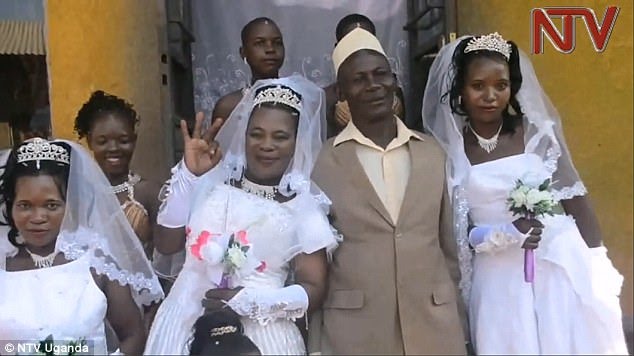 On December 20, 2017, a Ugandan man
became the first person in recent history  to wed three women at the same time.
Uganda – which has a Muslim minority – is one of the few predominantly Christian countries to legally recognize polygamous marriages.  
On December 14, 2012, Nigeria's Wedding Digest reported that a man in Congo Kinshasa got married to three women on the same day in church and it was officiated by a pastor.
On November 17, 2017, a man from Nigeria's Delta State baffled many people after he reportedly married three women on the same day.
Woman married three men
On the flip side, in November this year, a Ugandan woman, Ann Grace Aguti, 36, from the Ngora district of the country was trending on social media, over her decision to marry three men—Richard Alich, John Peter Oluka and Michael Enyaku at the same time.
All the men live in the same compound as her.