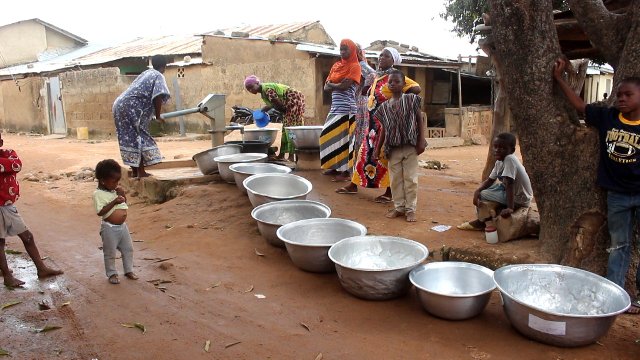 Water crisis hits Wa Municipality
Over 150,000 residents in the Wa Municipality of the Upper West Region for the second time this year have been hit by water shortage.
For the last six days, they have not gotten a drop of water from their pipes.
As a result, many of them have had to purchase water at commercial mechanised boreholes in the municipality at a higher cost.
Clement Kuukaayeng, Upper West Manager of the Ghana Water Company Limited (GWCL), says their inability to pump water to the Wa township and its surroundings is due to an electrical fault at a pump station at Dorimon in the Wa West area.
He explained that the electrical fault is due to frequent power fluctuations from the Volta River Authority (VRA)/Northern Electricity Distribution Company (NEDCO).
The residents now have to bear the brunt and comb through queues of people who are all looking to fulfil their basic life necessity at the commercial water points in the area.
A queue begins to lengthen early in the morning
The water shortage crisis has brought along inconveniences to the citizenry.
"I woke up at 3 am to get water for my house, it's been over four hours and I am not making any headway," a disappointed mother of three, shared her frustration with Joy News.
She added that since Monday, "the earliest I have been to the office was 11 am. I am appealing on the authorities to fix the problem at Dorimon immediately to save us"
Though GWCL has reactivated their underground water systems, they are unable to reach or satisfy all their customers especially those living in high lying areas.
Mr Kuukaayeng revealed that there a team of engineers working to correct the anomaly and are hopeful that in the days to come, they would be able to fix the challenge to provide water for the community again.