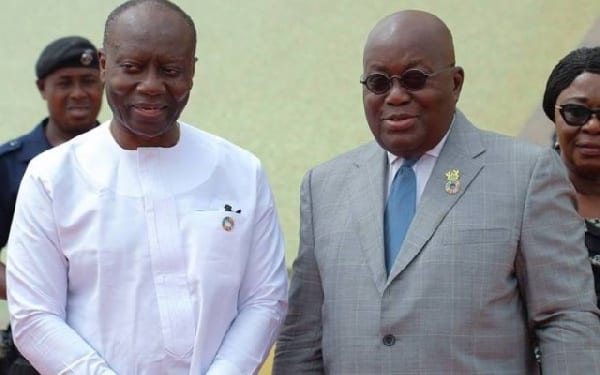 We are good protectors of the public purse – Akufo-Addo
President Akufo-Addo insists his administration has protected the public coffers, in spite of the corruption allegation scandals that have dogged his government.
Presenting his first state of the nation address (SONA) in parliament on assumption of his second term, the president claimed that his re-election is evidence that the electorate believe in his policies and management of the economy.
"We are good managers of the economy and we are good protectors of the public purse," he said.
He said despite the economic repression the country has faced due to the COVID-19 pandemic, his administration managed to maintain an average of 7% single-digit inflation.
"We will emerge from the COVID-19 pandemic with a stronger and resilient economy…I indicated at the time that we know how to bring the economy back to life. The government did not hesitate to institute measures to protect the lives and livelihoods of Ghanaians, even if it was to the temporary detriment of our much sought-after fiscal stability," he said.
Admitting the hardship businesses have had to face due to the pandemic, the president outlined measures his administration has put in place to boost the economy.
One of such interventions is the Ghana COVID-19 Alleviation and Revitalisation of Enterprises Support (Ghana CARES).
"Mr. Speaker, the pandemic has exposed the need to expedite the process
of moving Ghana to a situation beyond aid. That is why Government has
developed and is currently implementing the one hundred-billion-cedi
(GH¢100 billion) Ghana CARES 'Obaatampa' Programme to transform,
revitalise and modernise our economy, and return it to high and sustained
growth for the next three years.
The key projects under the CARES Programme include the following:
a). supporting commercial farming and attracting educated youth into
commercial farming
b). building the country's light manufacturing sector
c). developing engineering/machine tools and ICT/digital economy
industries
d). fast tracking digitalisation
e). developing Ghana's housing & construction industry
f). establishing Ghana as a Regional Hub;
g). reviewing and optimising the implementation of Government
flagships and key programmes
h). creating jobs for young people, and expanding opportunities for the
vulnerable in society, including persons with disabilities.