We are not impeding media freedom – Parliament
Parliament has refuted suggestions that it is impeding press freedom of journalists in the country.
This follows a backlash and a barrage of criticisms directed at the Speaker of Parliament, Professor Aaron Mike Oquaye, who threatened to ban parliamentary press corps members who cover press conferences by legislators while parliament was in session.
Speaker bars journalists from covering press conferences while parliament is in session
"The Office would like to put on record that at no time either in his capacity as Speaker or in his personal capacity has Prof Aaron Michael Oquaye sought to prevent the media from doing its work," a release by the Director of Public Affairs of Parliament, Kate Addo, refuted.
According to the statement, the Speaker was rather concerned about the need for the press corps to focus on parliamentary proceedings in the chamber and not side meetings.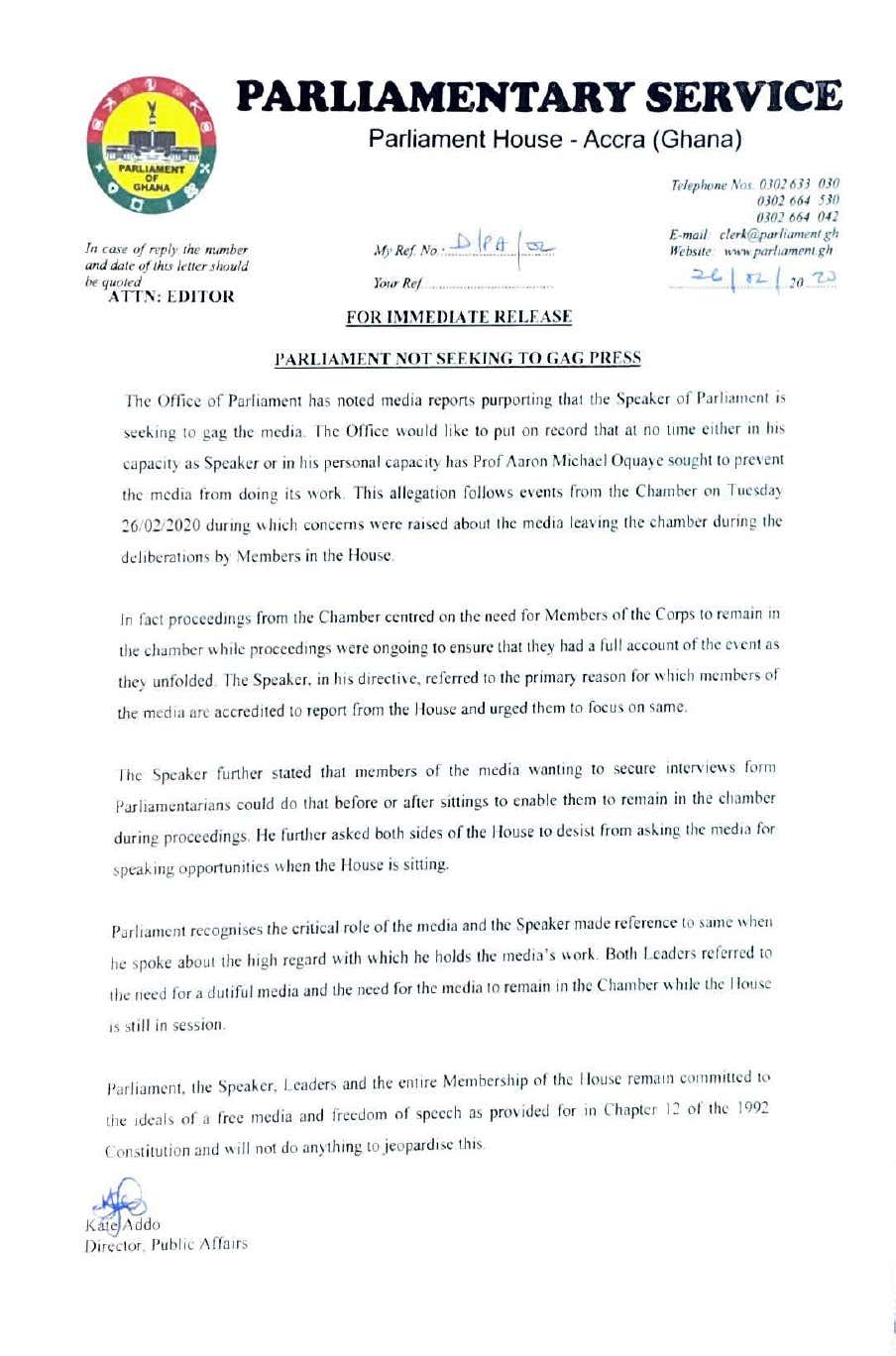 The directive follows the half-empty chamber when the Minority boycotted the State of the Nation Address (SoNA) on Thursday, February 20. They proceeded to go and have a presser while parliament was in session to justify the walkout.
In issuing the order, Professor Oquaye said it is "forbidden" for journalists who have been accredited to report on plenary sessions to "abandon" the house to conduct interviews.
The Speaker warned that any journalist who disregards this order will become an "unwelcome guest". "Your welcome will be duly withdrawn," he said and stressed he takes a "serious view" of the matter.
However, the development has irked private legal practitioner Samson Lardy Anyenini who indicated that the action of the Speaker was "disgusting".
In his view, "the Speaker has absolutely no business conducting himself in the manner that he has done."
The Media Foundation for West Africa (MFWA) has also criticized Parliament, likewise Minority legislators such as Sam George Nartey and Alhaji A.B.A. Fuseini.