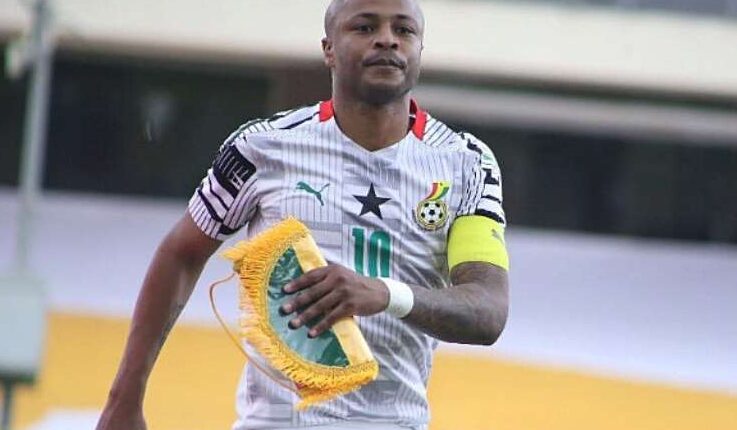 We are ready to make the nation proud- Andre Ayew promises
Ghana captain Andre Ayew has reiterated the Black Stars' readiness to make the nation proud ahead of their 2022 FIFA World Cup qualifier opener against Ethiopia on Friday, September 3.
Ayew believes the team is well prepared for the task ahead, having had series of training sessions since Monday, and very optimistic of a win over the Ethiopians at the Cape Coast Stadium.
Having missed the 2018 edition, the Al Sadd forward says he and his teammates are fully aware of the magnitude of the task ahead and are well prepared to face the qualifiers.
Speaking to the media ahead of today's game, Ayew also emphasised the importance of starting the campaign with a win.
"Yes training has been very good since Monday, I could see that, There's a very good team spirit, a lot of competition and a lot of talent, so we cooperate and assure that the players, who are going to represent the nation are all ready to make the nation proud". He told the media at the pre-match conference.

"It's a marathon game, we're playing six matches in our group but we make sure to win tomorrow's game. 'I know that the players are ready.
The current Black Stars team is a much-changed side from the team that featured at the 2014 World Cup Brazil with only four members of Ghana's current squad have previously played at the world cup.
But Swansea City attacker, who has two world cup campaigns under his belt, says he has enough confidence in the new crop of players in the Black Stars team.
"I've been with two different generations of the squad. I'm very happy with the boys that are here. We work really well, the group is gelling well. We've been in camp since Monday. Everything is okay. You can see that there's a lot of quality, there's a lot of talent," Ayew added.

"So, I'm convinced and sure that the players who are going to represent the nation are all ready to make the nation proud. So to be frank, the boys here are very talented, good players, determined to succeed. So I believe that with patience, with hunger, we'll be able to succeed."
The kick-off for today's game is 19:00GMT.