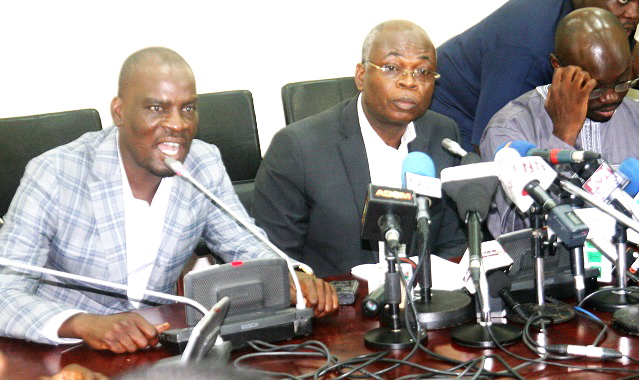 "We are surprised Nana Addo is a promoter of LGBT ideals" – Minority
Minority in parliament have expressed their disappointment in the Akufo-Addo-led administration for the manner in which it is handling the issue of Homosexuality with regards to the Comprehensive Sexuality Education (CSE).
According to them, it appears President Akufo-Addo has not given his stance on the matter, considering the fact that he carries himself as the builder of the cathedral of righteousness.
Addressing the media in Parliament on Friday, spokesperson for the Minority, Haruna Iddrisu noted the Akufo-Addo- led administration is pushing an agenda to promote homosexuality in the country.
"It is more shocking that the President who carries himself as the law builder of the cathedral can engage in this incongruous behavior. In one breath he is promoting  lesbianism and homosexuality," he said.
"We know the stand of President John Agyekum Kuffuor on this matter, we know the stand of Professor Mike Ocquaye on this matter and our leader and flagbearer  president John Dramani Mahama. It is therefore important that the President comes clear with his position on this very issue."
He further said the Tamale South MP had cataloged series of agreements between the Ghana government and international organizations such as UNFPA and UNESSCO among others over the introduction of CSE into Ghanaian schools.
"We wish to place on record that we are on all force with the leadership of moral society, Religious leaders, parents, civil society groups and members of the Ghanaian public in general who have voiced legitimate and justified revulsion over the introduction of the comprehensive sexuality education into the curriculum of basic schools in Ghana.
"In page 7 of the State Of the Nation Address, in September 2019, in new standards I'm quoting the President 'this curriculum will be rolled out from kindergarten to class 6 in primary  schools'.  So we didn't know that it was sexuality curriculum he was talking about," they disclosed.