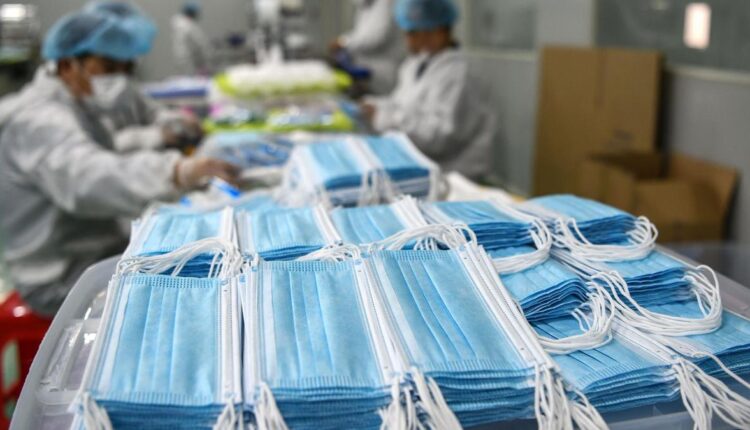 Wearing face masks no longer mandatory – Akufo-Addo
Wearing face masks in public places is now optional, President Akufo-Addo has declared.
The president made the announcement following a huge decline in COVID-19 cases and a significant number of vaccinations.
Mandatory wearing of face masks, hand washing, and social distancing were introduced in March 2019 at the height of the pandemic.
"Based on the low recording cases, I review all COVID-19 protocols. Wearing of face mask is no longer mandatory. However, I encourage all of you, though, to continue to maintain enhanced hand hygiene practices, and avoid overcrowded gatherings," President Akufo-Addo said while addressing the nation on Sunday, 27 March 2022.
Additionally, the president said all in-person activities, such as conferences, workshops, private parties and events, cinemas and theatres, may resume at full capacity, as long as the audience and/or participants are fully vaccinated.
"Handwashing and hand sanitizing points should be made available at these venues," he ordered.
"All outdoor functions such as sporting events, entertainment spots, political rallies and funerals may resume at full capacity, again, as long as all persons at these events are fully vaccinated," he noted in his 28th update on measures being taken to address the COVID-19 pandemic.
President Nana Addo Dankwa Akufo-Addo also used the opportunity to appeal to Ghanaians who are yet to take the Covid-19 vaccine to do so.
"It has been over a year since my wife and I got the COVID-19 vaccine and touch wood; we are hale and hearty. So, please get vaccinated," he said.
According to him,  over  13.1million vaccine doses have been administered while an additional  29million doses have arrived to enable the country to meet the target of vaccinating 20million people.
Ghana's vaccine roll-out plan
Ghana has a vaccine roll-out plan aimed at inoculating over 20 million of its population. The first phase targeted persons most at risk and frontline state officials. This group included healthcare workers, frontline security personnel, persons with underlying medical conditions, persons 60 years and above, and frontline members of the Executive, Legislature and Judiciary.
The second phase targeted other essential service providers and the rest of the security agencies. It included water and electricity supply services, teachers and students, supply and distribution of fuels, farmers and food value chain, telecommunications services, air traffic and civil aviation control services, meteorological services, air transport services, waste management services, media, public and private commercial transport services, the Police Service, Armed Forces, Prisons Service, Immigration Service, National Fire Service, CEPS Division of the Ghana Revenue Authority, and other members of the Executive, Judiciary, and Legislature.
The third phase targeted the rest of the general public, that is, all persons over 18 years, except for pregnant women.
The final phase included pregnant mothers and persons under the age of 18 as special arrangements were made for persons with disabilities who fall within these groups.
With many members of the public yet to receive the jabs, the vaccination programme continues until government attains its target.
Other restrictions lifted
"From tomorrow, Monday, 28 March, fully vaccinated travellers into Ghana will not take PCR tests from the country of embarkation to allow them entry into the country through the KIA, and will not be tested on arrival," President Akufo-Addo announced.
"Citizens and foreign residents in Ghana, who are not fully vaccinated, would, however, need to provide a negative PCR test result of not more than 48-hours, will undergo an antigen test upon arrival at KIA, and will be offered vaccination there.
"As from tomorrow, Monday, 28 March, all land and sea borders will be opened. Fully vaccinated travellers will be allowed entry through the land and sea borders without a negative PCR test result from the country of origin. Citizens and foreign residents in Ghana, who are not fully vaccinated, will have to produce a negative 48-hour PCR test result and will be offered vaccination on arrival," he added.