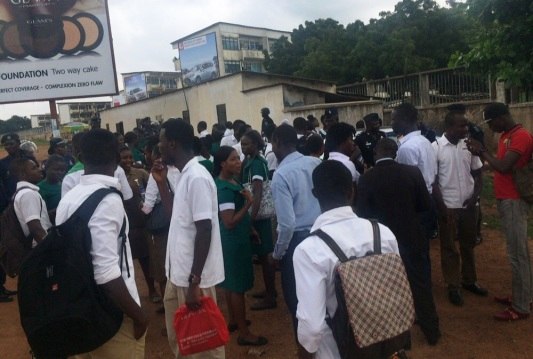 We'll not write our exit exams until allowances are paid – School of Hygiene students vow
The leadership of the Coalition of Schools of Hygiene students has said that its members will not write their final examination if their three-year locked-up allowances are not paid.
The final year students on Thursday, August 6, thronged the premises of the Sanitation Ministry to picket over the government's failure to pay them their allowances.
According to the agitating students, their allowances have been completely scrapped, without reason, although the government has restored the allowances of their colleague nursing trainees.
The National Vice President of the Coalition, Kenneth Adongo, said his members will not avail themselves for their exit exams until their monies are paid.
"We are indicating that without the allowance we will not write the exam. This will be until we receive the allowance."
Students of Schools of Hygiene were not included in the category of trainees who had their monthly allowances from the government restored.
This compelled the principal of the School of Hygiene at the Korle Bu Teaching Hospital in Accra, Raphael Komla Nutsukpui, in 2018, to call on the government to restore the allowances of the trainees.
In 2017, about 200 students of the School of Hygiene staged a demonstration on some principal streets in Accra to demand the restoration of their allowances.
The demonstration, which began from the Obra spot at the Kwame Nkrumah Circle, ended at the Hearts of Oak Park near the Arts Centre.
President Nana Akufo-Addo during the campaign for the 2016 elections promised to restore teachers and nurses trainee allowances.
The Mahama administration scrapped the allowances, arguing that they are better channelled into improving infrastructure in the various training colleges to increased access.
The students were asked to apply for loans from the Students Loan Trust to finance their education.