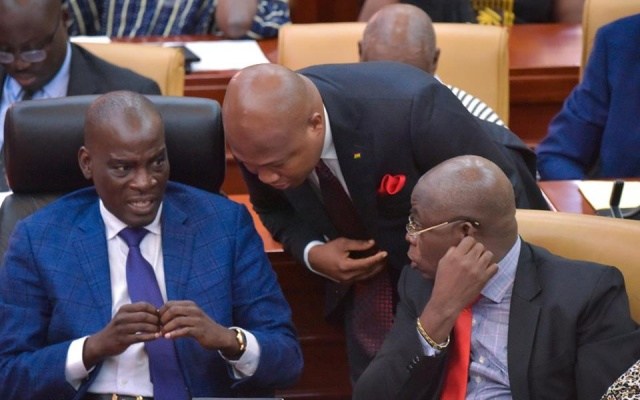 We'll Resist Any Attempt To Bring Back Agyapa Deal – Minority
Members of Parliament from the Minority NDC have kicked against any attempt by the ruling NPP government to bring back the controversial Agyapa deal to the 8th Parliament for re-consideration.
The Minority side of the house have taken to various platforms to warn government against any such move.
MP for Yapei Kusawgu, John Jinapor, reiterated that the National Democratic Congress (NDC) MPs will resist any attempt to reintroduce the Agyapa Minerals Royalties deal in Parliament.
In his words any such move will be "considered dead on arrival" by the NDC side.
President Akufo-Addo, in his state of the nation address, hinted that his government will soon be coming back to Parliament with a revised Agyapa deal to ensure that Ghana's mineral resources are fully exploited for the benefit of ordinary Ghanaians.
"Mr. Speaker, let me at this point assure the House that in the course of this session of Parliament, government will come back to engage the House on the steps it intends to take on the future of the Agyapa transaction"
The House on Wednesday begun a debate on the President's state of the nation Address, among other objections the minority raised was against any attempt to bring back the deal.
Earlier on Tuesday after the president's presentation, the Minority leader Haruna Iddrisu in an interview with journalists also warned that his side will not participate and will consequently fight back any attempt to bring back the deal for consideration.
Background
On August 14, 2020, Parliament approved the Agyapa Minerals Royalties Investment Agreement and four related documents to allow for the monetisation of Ghana's future gold royalties.
Under the agreement, Agyapa Mineral Royalties Limited has been incorporated in Jersey near UK to receive and manage royalties from 16 gold mining leases over the next 15 years or so.
In exchange, the firm will be listed on the London and Ghana Stock Exchanges later this year and raise at least $500 million for government to invest in infrastructure, health and education.
The listing will allow private people to buy a 49 percent stake in the firm.
However, some 22 civil society organisations called for a suspension of the deal, insisting it was not in the interest of Ghana.