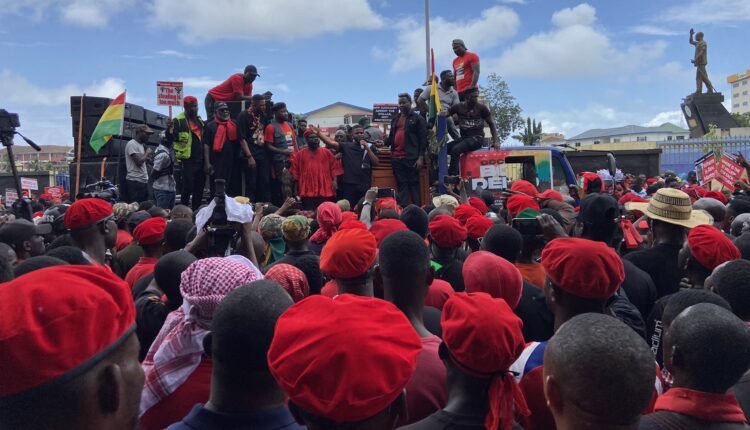 What A Tirade By "OccupyBoGProtest"
Codenamed "OccupyBoG", it manifested itself as unprecedented public protests pinpointed at the Bank of Ghana, particularly the Governor and Deputy Governors.
Their beef throws up the word "unprecedented" for the second time in this report. The protesters said the losses incurred by the Central Bank of Ghana in the last financial year are unheard of and unprecedented.
Other flashpoints that occasioned this demonstration are claims by the political opposition that the Central Bank loaned monies to the government by printing new currency without recourse to parliament, and the expensive construction meant to rehouse the bank as its headquarters.
The nitty gritties are as follows. The financial loss to the bank was 60 billion Ghana cedis, the additional money released to the government without the approval of parliament  77.6 billion Ghana cedis, and the cost of the new headquarters building was pegged at a minimum of 220 million dollars but has since ballooned, allegedly.
The Minority in Ghana's parliament are joined by other pressure groups in their demand for the immediate resignation of the Governor of the Bank of Ghana and his deputies. They also caveat that they are prosecuted and if found guilty serve penal servitude. The Minority in Parliament says this is not one of those things misinterpreted to be "politricks", to wit, gimmicks to court public sympathy and score political points.
Protest leaders say the government has plunged the citizens into intolerable and untold hardships that won't be easily let go but would continue to use legitimate means to register their aversion to measures. "Sanitary pads attract taxes, and it is suggested cost of dialysis for kidney patients is going to go up," a rehash by one of the demonstrators.
The MP for Korley Klottey constituency, Dr. Zanetor Rawlings questioned where the 200 million dollar COVID foreign assistance fund had gone, and a former Chairman of the Peoples National Convention, Bernard Mornah alleged that owners of some billion dollar investments are products of political gluttony.