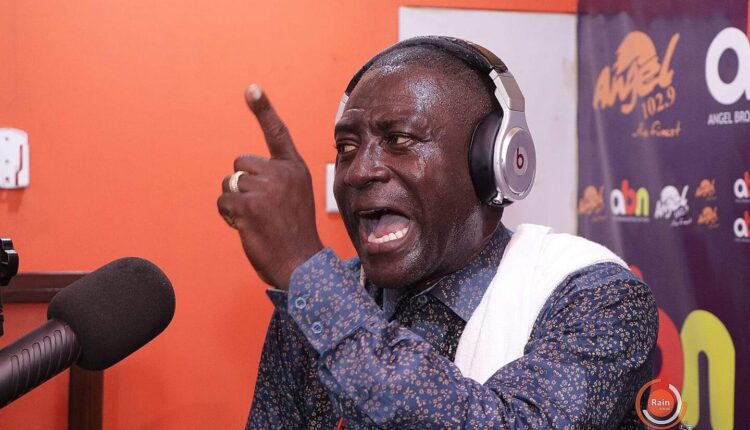 Why Captain Smart was suspended by Angel FM
Angel FM radio presenter Blessed Godsbrain Smart, also known as Captain Smart, has been suspended indefinitely for criticising the government.
He was taken off air from hosting the flagship Anopa Bɔfoɔ Morning Show on Thursday, May 5.
His suspension was confirmed by the General Manager of Angel FM, Kwadwo Dickson.
Mr Dickson explained that the Chairman of the Angel Group of Companies, Dr Kwaku Oteng, sanctioned Captain Smart for unpleasant comments against President Akufo-Addo, Vice President Dr Mahamudu Bawumia and the Minister for Trade and Industry, Alan Kyerematen.
The General Manager of Angel FM, Kwadwo Dickson, confirms the suspension of Captain Smart and says the reason for his suspension is that he has "spoken against government officials such as President Akufo-Addo, Vice-President Dr. Bawumia, Allan Kyeremateng and the IGP." pic.twitter.com/LHJLNxxm6X

— Manasseh Azure Awuni (@Manasseh_Azure) May 6, 2021
Captain Smart is said to have violated cautions by Dr Oteng and persisted in his verbal attacks on government officials.
Captain Smart's criticisms follow heavy pressure from the public on social media for government to address developmental challenges.
#Fixthecountrynow has been trending for days over tax hikes, economic hardship and underdevelopment.
Captain Smart has been an employee of the radio station barely a year after quitting Adom FM.
He has a history of controversies as he faced a similar suspension at Adom FM for criticising management.
He was reported to have chastised management for failing to replace even "common faulty bulbs" in the station's studios.
Discussions over the suspension have dominated social media, topping Tweeter trends since morning.
Social media users argue that the development reinforces the culture of silencing people who demand accountability.
A few weeks ago, an elder statesman, Dr Sam Jonah, raised concerns about gagging dissenting minds.
Below are some reactions.
1. Had a worrying conversation moments ago. Captain Smart's boss has allegedly asked him to go off air for a while as a result of undue pressure that has been piled on him by 'high ranking officials in government'.

— Franklin CUDJOE (@lordcudjoe) May 6, 2021
2.Captain Smart's crime, allegedly, is that his usual critical commentary on national affairs, is making government unpopular. Really? I hope it is not some over zealous politicians who made those calls. Either way, it paints a gravely intolerant picture. #Fixitnow!

— Franklin CUDJOE (@lordcudjoe) May 6, 2021
Eiii Ghana, Captain Smart suspended because he criticised the government.😭😭 pic.twitter.com/USOaiT45U1

— MR MAN (@CFCsheed) May 6, 2021
This is Ghana. The culture of silence must end. Captain Smart | #FixTheCountryGhana pic.twitter.com/Oc40gt7mvW

— #FixTheCountryGhana (@AnaabThomas) May 6, 2021
What happened to Captain Smart is not just a Culture of Silence but a Military Rule.

— 🇬🇭Dez🇺🇸🇬🇧 (@BoldDezmund) May 6, 2021
They will take down influential people to minimize the heat of the situation…
Captain smart is gone …who's next?
Watch your back y'all !!!#FixTheCountryGhana

— Dj O'Brien (@1RealDjObrien) May 6, 2021
In Nana Addo's government if u speak the truth is a sin. Look at what they've done to Captain Smart. #fixthecountryghana

— Abaa D3d333d3🥒 (@Adjeman19) May 6, 2021
Captain Smart just go back for your Cement ! #FixTheCountryGhana pic.twitter.com/qCsYMEJjcV

— Jesus Saves 💯❤️🙏🏾 (@GhanaSocialU) May 6, 2021