Why four regions failed to elect female MPs in 2020 election
Ghana's 2020 election made history–it elected the highest number of women in the Fourth Republican history. 
But four regions do not have a single female MP.
As the country's gender activists clamour for more female representation in Ghana's Parliament, Ghanaian electorates responded, albeit marginal.
A total of 40 women, including 16 first term and 25 retained female lawmakers were sworn in on January 7.
However, no woman from the Upper West, Bono, Western North and Northern regions will answer to the roll call of the Women Caucus in the House.
The 2020 female victors are three more than the 2016 figure–37. The upward election of women to the House is a bipartisan success. For the first time in Ghana's history, the two leading parties have elected the same number of women to Parliament–20 each.
The 40 were among  126 candidates who contested the elections. The newly elected female MPs are just 15% of the 275 new legislators sworn-on on January 7.
It could have been worse. The number went up because the NPP took steps to protect some of its female MPs in the party's primaries.
The representation of women in Ghana's Parliament had always been low.
Of the almost 2,000 candidates elected to Ghana's Parliament since the return to constitutional governance in 1992, only 134 are women.
It is a statistic that raises serious questions about the politics of inclusion, especially when women constitute more than 50% of Ghana's population.
Theghanareport.com brings you data on regions that did not elect any woman to Parliament on December 7, elections.
From just five women in 1992, there appears to be a gradual increase in feminine representation. The data shows that in the last 29 years, the number of female MPs has shot up by 700%.
The lack of female representation in Parliament also has a consequence for the appointment of female ministers and deputies since the constitution required that the President appoints the majority of his men and women from the House.
Here is how the four regions performed:
With 11 constituencies in the Upper West Region, only Wa Central constituency had a woman contesting — Hajia Humu Awudu of the New Patriotic Party (NPP).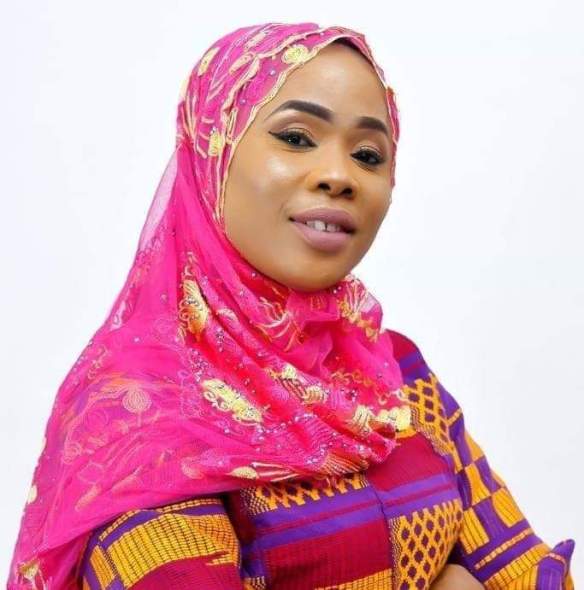 Hajia Awudu faced the National Democratic Congress (NDC) five-term MP, Dr Rashid Pelpuo; Progressive People's Party Mohammed Sharif and Liberal Party of Ghana's Kuuyne Edgara Yelyaga.
Dr Pelpuo won the race with 39,542 votes against Hajia Awudu 's 33,340 votes.
Only two out of the nine constituencies had women contesting in the race.
Ernestina Oppong (CPP), Martha Kwayie Manu (NPP) both in the Juaboso Constituency and Louisa Nkuah-Kwayie (Ghana Union Movement) in the Sefwi Wiawso constituency.
After a keenly contested race, NDC's Kwabena Mintah Akandoh won the Juaboso constituency with 22,304 votes. Ms Manu followed with 19, 199 votes while Ms Oppong placed a distant fourth in the four-candidate race.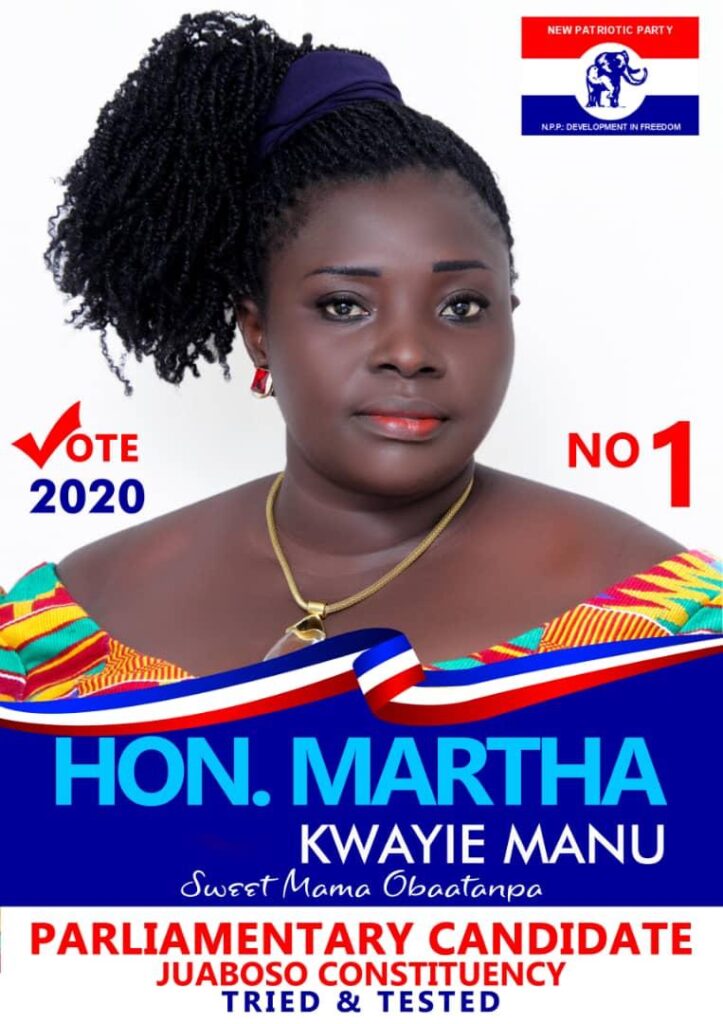 The same script was written in the case of Louisa Nkuah-Kwayie, who competed against four men and came last.
Her competition was NPP's Dr Kwaku Afriyie, NDC's Evans Paul Aidoo, Independent candidate Bonye Martin Kofi and Great Consolidated People's Party Prince Akomeah Stephen.
With 12 constituencies, the region had the most women representation with five constituencies. Dormaa East, Dormaa Central, Jaman South, Sunyani West and Sunyani East each had women contesting.
Rachel Owusuaa contesting on the ticket of the NDC came in second with 11, 383 votes against the NPP's Paul Apreku Twum-Barimah who won the Dormaa East seat with 16, 679 votes.
In Jaman South, Joyce Asare Bediako of the National Democratic Party garnered 178 votes while her contenders Williams Okofo-Darteh (NDC) and Yaw Afful (NPP) had 24, 422 and 22, 519 respectively.
NDC's Millicent Yeboah Amankwah and PNC's Matilda Adongo contested in the Sunyani West constituency. The Minister for Employment and Labour Relations Ignatius Baffour Awuah beat both women.
In Dormaa Central, one woman stood against four others, including the Health Minister Kwaku Agyemang Manu. The Health Minister won the seat with 28, 542 votes while Madam Angela Twumasi Yeboah garnered 597 votes.
Madam Gifty Takyiwaa contested in the Sunyani East constituency. She came in fourth with 893 votes.
For all the 18 constituencies, the Northern Region had only one woman contesting on the ticket of the New Patriotic Party.
Madam Felicia Tettey garnered 26, 434 against her arch rival Alhassan Bashir Fuseini, who won with 34, 989.
Women challenges
Despite these gains, women face significant obstacles in seeking elective office.
While their male counterparts spend more terms in parliament these women are limited by interrelated barriers.
Theghanareport.com engaged with the Convener of Women's Right Coalition, Hamida Harrison who expressed concern over the issue.
"It is difficult to keep women in parliament because there are so many interrelated barriers that women cannot effectively compete…socio-cultural issues, religious, finances" she noted in September last year.
According to her, the monetisation of political parties means positions are up for the highest bidder.
The Convener of Women's Right Coalition, Hamida Harrison also pointed to patriarchy.
A patriarchal society is one in which men hold the power and women are largely excluded from it and one which allows men to project their values and aspirations as the reality of the society.
This system, according to Hamida, has prevented a lot of women from vying for political positions.
"Also financial constraints, family life; the multiplicity of chores doesn't leave much time for women to be involved in political activities". she added.
Legislation
Ms Harrison said legislation was the only way to get more women to participate actively in politics.
Citing examples, Hamida said, the Nkrumah government in 1960 appointed 10 women into parliament through legislation after it noticed no woman was elected in the 1960 elections.
"It was because women helped him in terms of mobilization during the campaign but when the elections were done, no woman was elected" she explained the Nkrumah government's move to get women into parliament.
As of October 2020, IPU Parline, which collates global data on national parliaments, ranked Ghana 150 out of 190 countries in terms of women representation in the legislature.
Currently, in Africa, Rwanda boasts by far the best record for female representation in parliament, with nearly two thirds of its seats currently held by women.
Other African countries with high percentages of women MPs include Namibia (46.2%), South Africa (42.7%) and Senegal (41.8%), according to a UN report.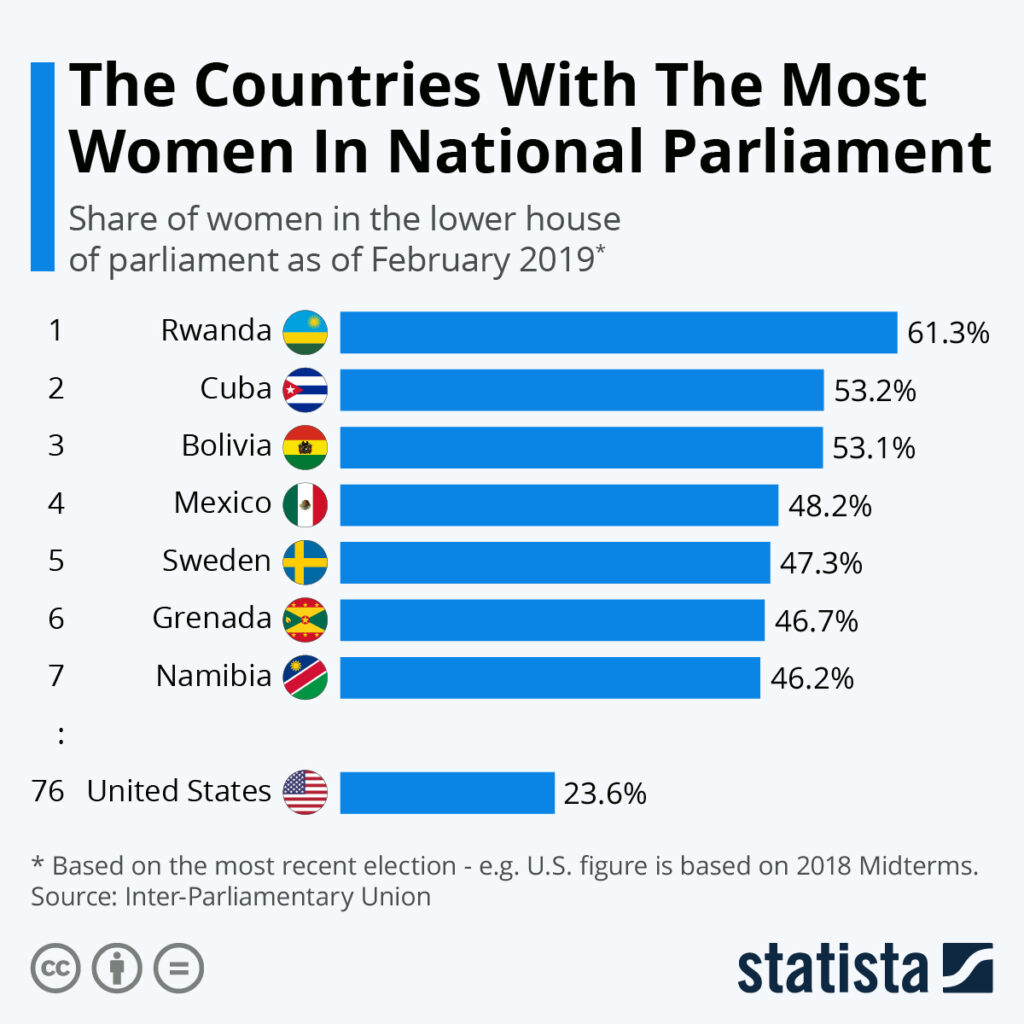 Among the top African countries with a high percentage of women in ministerial positions are Rwanda (51.9%), South Africa (48.6%), Ethiopia (47.6%), Seychelles (45.5%), Uganda (36.7%) and Mali (34.4%).
The lowest percentage in Africa was in Morocco (5.6%), which has only one female minister in a cabinet of 18.
Other countries with fewer than 10% women ministers include Nigeria (8%), Mauritius (8.7%) and Sudan (9.5%).