Why Security personnel chased out rioting Zebila SHTS students
 A combined team of police and military personnel on Saturday stormed the Zebilla Senior High Technical School (SHTS) in the Upper East Region to chase rioting students out of the campus.
 The security personnel were called to maintain law and order after the final year students went on a rampage, destroying school property while pelting some teachers with stones.
What triggered the chaos was that the students brought phones to campus against Ghana Education Service regulations, TV3 News reported.
To keep charging their phones, they illegally connected electricity into their dormitory.
But they ran out of luck when a teacher spotted the illegal connection and asked occupants of the dormitory to name the culprits of the illegality.
But the students allegedly refused to provide the names.
The school authorities set up a committee to investigate the illegal connection.
However, before the committee could submit its report, the students allegedly went on a riot on Saturday night, demanding their seized phones.
They vandalised the headmaster's private car, his wife's car, the school PTA Toyota Hilux and the school bus.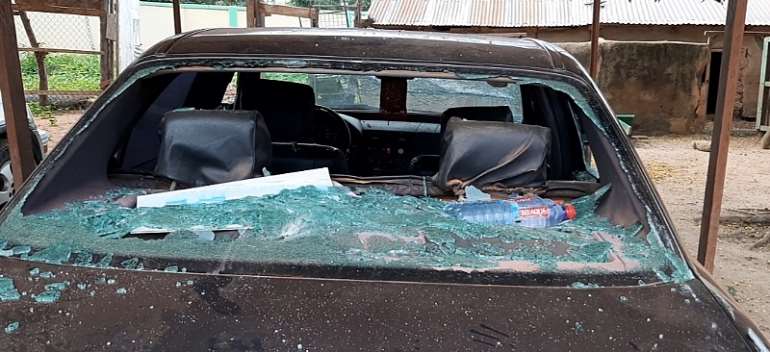 That was not all. They also went after the school properties, including a new digital notice board, veronica buckets, fluorescent light bulbs, louvres of the dining hall, tables, chairs, and a tricycle.
The Headmaster of the school, Richard Ayabilla Akumbas, said the security personnel were called to assist after the school authorities struggled to bring the situation under control.
According to him, he was in his bungalow, where around 10 pm, a student knocked at his door.
The student reported that some of his colleagues on campus had gathered at a dormitory, angry over the seizure of their phones and the punishment given them.
The headmaster and the senior housemaster quickly rushed to the dormitory where the students had gathered, demanding their phones.
Sensing danger, they called the security personnel. But the student also attacked the security personnel with stones. The soldiers and police were compelled to fire warning shots to disperse the students.
The students went to seek refuge inside Zebilla Chief, Naba Beliabelim-win Azumbilla Ndaugo's palace.
The traditional ruler ordered the headmaster to report to the palace, where he explained to the chief that apart from the destructions, the students allegedly also looted the school's provision shop.
A search on the student revealed stolen items, including biscuits, toothpaste with brushes, sugar, gari, soap and pomade, from the vandalised shop.
Meanwhile, the ring-leaders have been whisked to the police station while the remaining students were dragged to the school to receive their punishment.