Why Western nations fear India-Canada row
Western ministers and officials will be working hard to try to ensure the diplomatic row between Canada and India does not bleed into other international relationships.
The last thing the United States and other western powers want now is a row that divides them from India.
On the grand geopolitical chess board, India is a key player.
Not only is it a growing power – the most populous country in the world, the fifth largest economy. But it is also seen by the West as a potential bulwark against China.
This was apparent at the recent G20 meeting in India when Ukraine's Western allies agreed a final communique which did not condemn Russia by name for its invasion.
They chose to protect their relationship with India by avoiding a row over the statement, a choice which angered some in Kyiv.
The other fear among Western diplomats will be the risk that countries start taking sides in the Canada-India dispute.
Tensions between the two nations deepened considerably this week when Prime Minister Justin Trudeau accused India of being behind the assassination of a Sikh activist in western Canada in June.
In recent months India has been trying to pitch itself as the leader of developing countries – sometimes called the Global South. Many of these countries have refused to condemn Russia's invasion of Ukraine.
The US and some European countries have been making real diplomatic efforts to win over these countries, telling them the war matters to them and their economy.
Diplomats will not want this row to upset those efforts if it is somehow spun as a North v South battle between two Commonwealth countries, a confrontation between a transatlantic power and a developing nation.
Canada's foreign ministry said Mr Trudeau had raised the issue with US President Joe Biden and British Prime Minister Rishi Sunak.
For now Canada's allies are staying loyal but cautious.
The White House said the US was "deeply concerned" about the allegations of the murder, saying it was "critical that Canada's investigation proceed and the perpetrators be brought to justice".
For countries like the UK and Australia, which both have large Sikh communities, there is always the potential for a diplomatic row like this to have domestic political consequences.
UK Foreign Secretary James Cleverly said Britain would "listen very, very carefully to the serious concerns that have been raised by Canada".
He told the BBC he had spoken to Canadian Foreign Minister Mélanie Joly about the allegations on Monday, and the UK took "very seriously the things that Canada are saying".
He refused to say if Britain would suspend trade talks with India – but said the UK would wait until the Canadian investigation was complete before deciding what further action to take.
"Both Canada and India are close friends of the UK, they're Commonwealth partners," Mr Cleverly said.
A spokesperson for Australia's foreign ministry said Canberra was "deeply concerned' by the allegations, and had "conveyed our concerns at senior levels in India".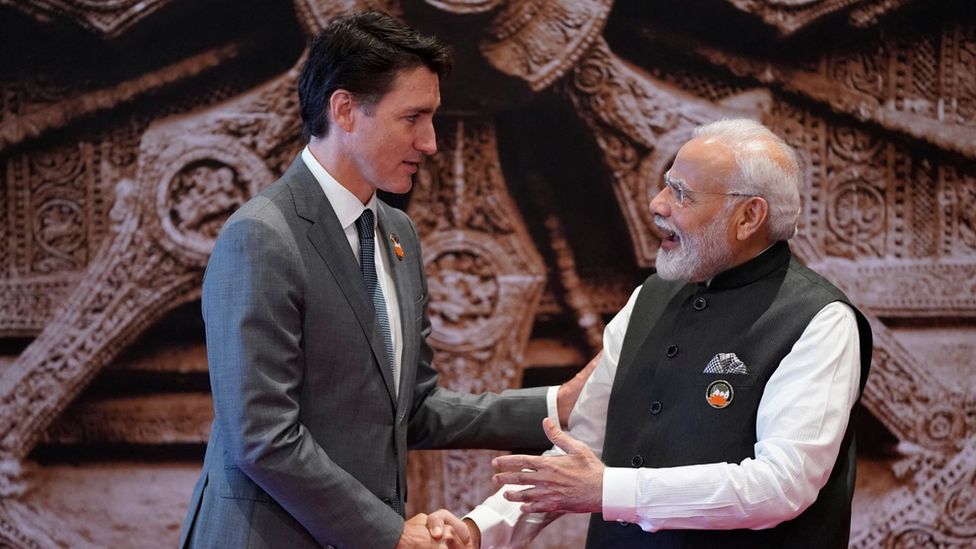 So for now, the West will wait and watch as the investigation progresses.
Some allies may be given access to what Canadian intelligence knows. What would change the situation is if firm proof was established.
If that happened, Western powers would have to make a choice between backing Ottawa or New Delhi, a choice between supporting the principle of the rule of law or the hard necessity of realpolitik.
In the past, Western nations have condemned alleged extraterritorial assassinations carried out by countries such as Russia or Iran or Saudi Arabia.
They will not want India to join that list.