Withdraw your book – Volta Caucus to Prof Ahwoi as it calls for calm
The Volta Caucus of the opposition National Democratic Congress has demanded an immediate withdrawal of the 'Working with Rawlings' book.
"It is the ungrudging suggestion of the Volta Caucus group that Prof Kwamena Ahwoi humbly withdraws the book since the claimed inaccuracies have now become the source of the raging controversy.
"It is the greater interest of the NDC and Ghana that we are seeking this and anticipating peace will prevail," the group said in a statement.
The 262-page book published by Professor Kwamena Ahwoi, according to the group, has generated much controversy between the two political leaders.
The former President has not taken kindly to the content of the book, which he said was a Machiavellian attempt by Prof Ahwoi and his 'cronies' to take control over NDC.
On Wednesday, the former President issued a statement giving his version of the truths in the controversial book.
READ: * 'I Never Lacked Vision' – Rawlings Lists Achievements In Response To Ahwoi Book
The book has painted a gloomy picture of the former president as a leader who relied mostly on his charisma rather than expertise.
But the former president stated that the book which has dominated political discussions in the country is riddled with countless fabrications.
According to the former president, the book has a hidden agenda to sully his family name.
The Volta Caucus, saddened by the turn of events ahead of the 2020 elections, said it was unfair to the former president and all the sacrifices he had made for the party.
"We as a group feel saddened that this issue will come up in such a crucial time as this when Ghanaians are crying for an electoral rescue from the maladministration and misrule of the Nana Akufo-Addo led government.
"It is also important to make the point that under H.E Jerry John Rawlings as a leader of this country, Ghana had toiled and made sacrifices culminating in immense contributions, bringing the country to the stage we see today described as a beacon of hope for West Africa and Africa," the statement said.
The group has therefore urged all factions involved to bury their differences and work for the collective good of the party.
Below is the statement to that effect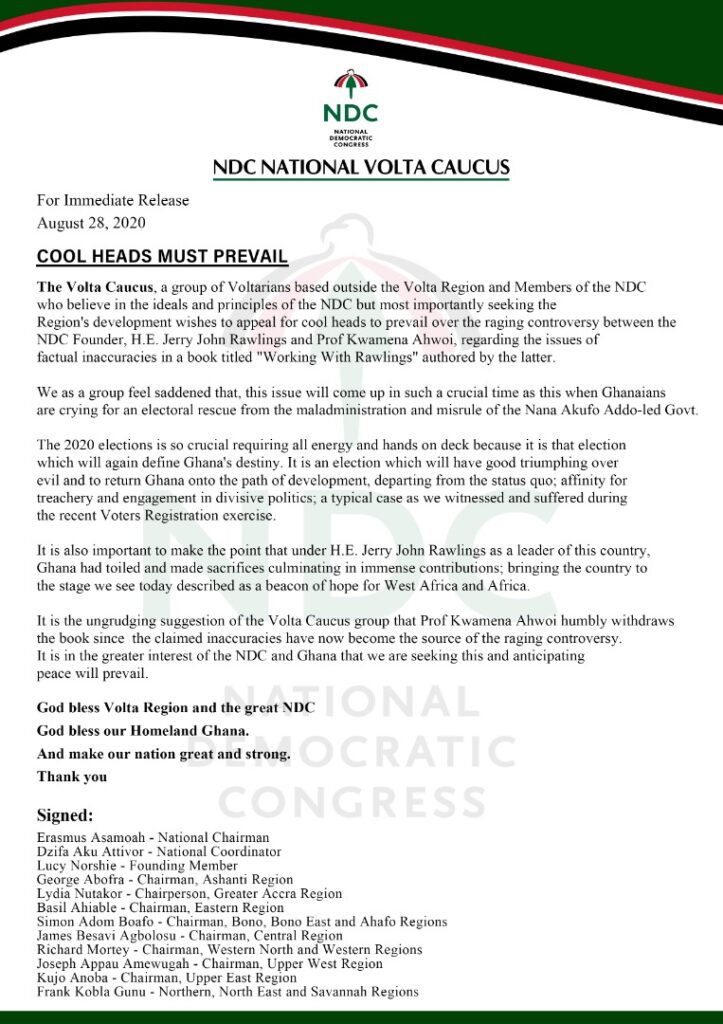 Nwe