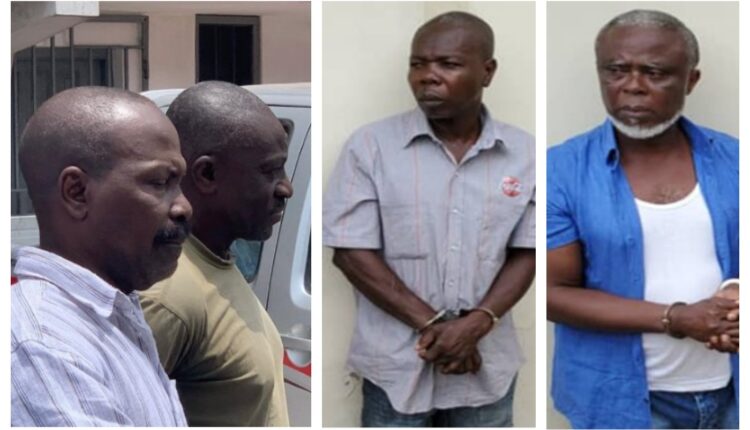 Witness reveals how 'coup plotters' planned to overthrow Akufo-Addo
The first prosecution witness in the alleged coup plot case has made some startling revelations on the plan to oust President Akufo-Addo over corruption issues.
Director of Operational Intelligence at the Defence Operational Department at the Ghana Armed Forces, Colonel Isaac Amponsah, told the Accra High Court that the 10 accused persons slapped with high treason were overwhelmed with the level of corruption in the country.
On Tuesday, June 8, he said that the accused persons believed the president would have dealt drastically with corrupt activities in his first term but failed to do so.
This revelation was uncovered when his boss, Major General M.P. Andoh informed him on June 14, 2018, that a soldier at the military training school had been approached by the then Staff Sergeant Esther Saan, now Warrant Officer Class Two (WOII), to recruit some people in an operation to overthrow the government.
His boss had mentioned that Dr Frederick Mac Palm who is the financier of the operation, together with Bright Allan Debrah, freight forwarder, both accused persons, had already met some of the soldiers and their next meeting was on June 22, 2018, at the Next Door Beach Resort.
The prosecution witness said he then called Corporal Awarf Sule, now Sergeant, for further briefing so his team could prepare adequately for the task ahead.
As part of his investigations, he listened to a recorded conversation, both audio and video, of the accused persons' grand plot.
Colonel Amponsah realised that the first video covered half of the plans, but the audio had a complete version.
After listening, Corporal Abubakar Seidu Sadiq, Lance Corporal Ali Solomon, WOII Esther, Lance Corporal Sylvester Akanpewu, and other soldiers were captured as attendees of the said meeting.
Suspect Debrah chaired that meeting. Debrah was heard convincing the soldiers on the need to oust the government due to corruption, including the alleged GYEEDA and SUBA scandals.
He said the NPP administration had failed to deal with it, contrary to their position when the party was in opposition.
He was of the view that the NDC and NPP parties were the same.
The witness also mentioned that Debrah told the soldiers that what they were about to do was for their children's future.
"If nothing was done, it would be disastrous, and people would start drinking water like this," pointing to a certain water that was not visible in the audio.
He added that "many thought it was impossible to overthrow a government because there were so many radio stations, but on that day, all the stations would be jammed," Debrah had said in the audio.
Colonel Amponsah then told the court that a soldier asked about their security, and Debrah told them that they would be given insurance taken care of by their "big men".
He also suggested at another meeting that they shared their phone contact to communicate, but an attendee suggested that it could be tapped, so the group resorted to using GoTa.
Other meetings also discussed the allowances that personnel deployed would be entitled to.
At one of the said meetings, another accused person, WOII Esther, stated that President Akufo-Addo should be eliminated.
She was heard giving a sketch indicating areas to be blocked on the day the group would execute their plans.
Areas such as Ammunition Depot Base, Base Ordnance Depot, 66 Artillery Regiment in Ho, the Police Headquarters, Police Training School, Air Force Base-Burma Camp, roads from Tema to Accra, Kumasi to Accra, Takoradi to Accra and Jubilee House, were earmarked.
The said meetings took place between June 22, 2018, and September 19, 2019.
The witness said the meetings were mostly held at the Next Door Beach Resort at Teshie, Osu and other locations.
Recordings captured Sergeant Awarf and Debrah disagreeing on the number of soldiers to carry out the operation.
Dr Mac Palm feared too many people would lead to information leakage.
At another meeting, the witness said Debrah told Sergeant Awarf that the President should be captured and made to sign his resignation.
At that particular meeting held by Dr Mac Palm at the Citadel Hospital, the group also discussed how to acquire their weapons.
Awarf proposed that they could get some from Bawku between GHC8,000.00 and GHC10,000.00.
Dr Mac Palm later introduced Donyo Kafui, alias Ezor, a blacksmith and an accused, to Awarf that Donyo was an expert in weapon manufacturing and that they would be working together to provide the explosives (bombs) and locally made pistols.
Per the recordings, which are yet to be played in open court, the accused persons decided to look for an occasion where the President, Vice-President and the Chief of Defense Staff would be present to carry out their grand scheme.
Background
It has been over a year since the high-ranking police officer, ACP Benjamin Agodzor, was charged with abetment to treason felony.
A medical doctor, Dr Frederick Yao Mac Palm, has been accused of being the plot's mastermind.
The eight other accused persons are Colonel Samuel Kodzo Gameli, Donya Kafui, Bright Alan Debrah Ofosu, Johannes Zikpi, Corporal Seidu Abubakar, Lance Corporal Ali Solomon and Corporal Slyvester Akanpewon.
The accused persons were earlier slapped with six separate charges, including treason felony contrary to section 23 (1) and 182 (b) of the criminal and other offences Act, 1960.
Dr Mac-Palm, Dornyor Kafui, Allan Debrah Ofosu, Dekuwine, Abubakar, L/Cpl Akanpewon and Zikpi are on charges of conspiracy to commit treason felony and treason felony.
Dr Mac-Palm and Kafui have been separately charged with conspiracy to possess explosives and ammunition without lawful excuse and possession of explosives and ammunition without lawful excuse.
Col Gameli and ACP Dr Agordzo have been charged with abetment to treason felony.
Alleged Coup Plot
In June 2018, security agencies arrested members of the 'Take Action Ghana' for an "elaborate plot targeted at the Presidency".
As part of the plot, Dr Mac-Palm, Kafui and Debrah planned on kidnapping the President, the Vice-President, the Speaker of Parliament and the Chief of the Defence Staff and force the President to announce his overthrow.
In furtherance of the plot, Dr Mac-Palm invited Kafui, who was a blacksmith at Alavanyo, to Accra to manufacture explosives and pistols for the group.
Regarding ACP Dr Agordzo, he is said to have donated GH¢2,000 to TAG to aid its cause and drafted a speech for Dr Mac-Palm to be read at a planned demonstration by TAG.
The case is currently being tried before an Accra High Court with Justice Hafisata Amaleboba, Justice George Oppong and Justice Afia Serwaa Asare-Botwe, presiding.
The case has been adjourned to June 14, for continuation.