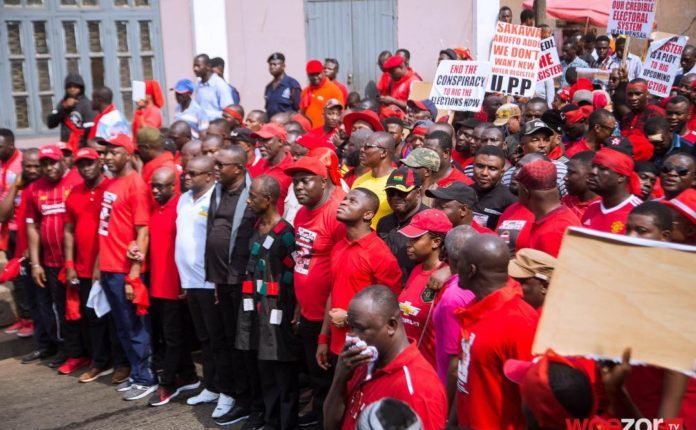 'Yenpene' demonstration suspended temporarily
Inter-Party Resistance Against New Voter Register demonstration scheduled for January 28, 2020, in Accra has been suspended.
According to the group, the decision is to enable the Eminent Advisory group to sit with the Electoral Commission.
"We will suspend the demonstration and wait on the outcome of the eminent personalities meeting with the commission' Chairman of the National Democratic Congress, Samuel Ofosu Ampofo said.
Addressing a group of demonstrators in the Ashanti Regional capital, Kumasi, Mr Ampofo said, the Electoral Commission must be mindful of its actions
"During the tenure of Afari Gyan as Chairman of the commission, IPAC and all other stakeholders collaborated to organise peaceful and fair elections, Jean Mensa must be mindful of her action, she should sit with the stakeholders and stop organizing press conferences everywhere" he added.
Background
Clad in red attire, headgear and armbands, some aggrieved protesters hit the streets of Kumasi carrying placards with the inscription "Nana Addo, we still need more hospitals, roads, schools, electricity and potable water for our communities"," We don't need a new voters to register"," Sakawa Akufo-Addo, We don't want new voter register, UPP"," Nana, drop the register" all in the name of drumming home their resistance against the acquisition of a new voters register by the Electoral Commission.
Tuesday's march is the second of a series of protests and follows the "Tikusayi demo" in Tamale about a week ago.
theghanareport.com is learning the next protest scheduled for January 28, 2019, in Accra has been suspended.
"Some high-profile personalities in the country have reached out to us, so we will suspend the demonstration and wait for the outcome of their meeting with the EC then we will know the next action to take," Ampofo told eyewitness news monitored by theghanareport.com