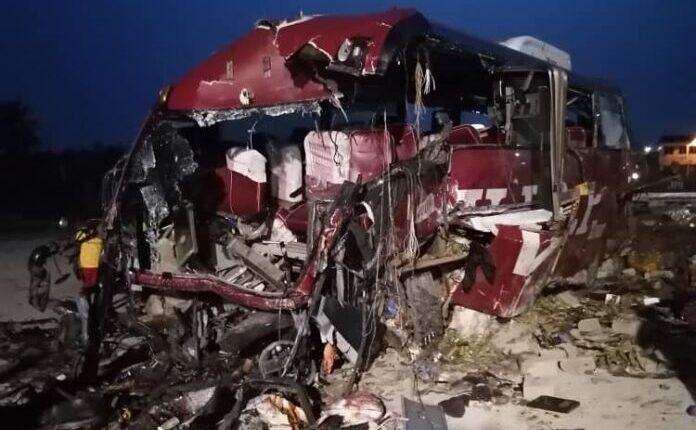 16 feared dead in ghastly crash on Accra-Kumasi Highway
Sixteen people are reported dead in a crash at Akim Asafo on the Accra-Kumasi Highway.
According to a police report, 13 males and 3 females died.
The road carnage happened at about 1:30 am on Friday, February 26.
It was a head-on collision between two  KIA Granbird buses at the Akim Asafo Junction stretch of the highway.
An eyewitness narrating the incident to Accra-based Okay FM monitored by theghanareport.com said, "I was in the VIP bus bound for Kumasi and the other Granbird bus was bound for Accra"
Another eyewitness who was in the bus from Accra said "When we got to Akim Asafo Junction, our driver made an unsafe overtaking".
"He crashed head-on with another KIA Granbird bus with registration number GE 5510-15. The driver, also deceased, was coming from Kumasi direction".
Several passengers sustained various injuries and have been rushed to the Suhum Government Hospital.
The deceased persons were also sent to the mortuary of the same hospital for preservation, identification and autopsy.
Police personnel from the Suhum and Bunso Kibi Police Command, Suhum MTTD Patrol team and Akim Asafo were at the scene of the crash to direct traffic.
The buses involved in the crash have been towed from the scene to aid vehicular traffic flow.
Provisional data for 2020 showed that 2,589 lives were lost to road crash across the country despite movement restrictions due to COVID-19.
This figure represents a 13% rise compared to the 2,284 registered in 2019.
You might also be interested in: