2020 polls: EC to declare winner Wednesday as Jean Mensa apologises for delays
The chairperson of the Electoral Commission, Jean Mensa has promised to declare the results of the December 7 general elections on Wednesday, apologising for the delays.
'We are not able to give the exact time' she addressed a Wednesday dawn press conference as anxiety creeps in following the two main political parties claiming victory.
It is important to note that the law allows the EC 72 hours within which to declare the results. But the EC had promised to announce the results within 24 hours after voting has ended. That deadline expired at 5pm Tuesday.
Since then the governing NPP and opposition NDC have held at least two press conferences each, claiming victory.
While the NPP has projected a 51.4% of the presidential ballot, the NDC has claimed it has won 10 out of the 16 regions and has also obtained a 'working majority.'
The NDC presidential candidate and former president, John Mahama, has claimed without evidence that the Akufo-Addo government is trying to steal the ballot.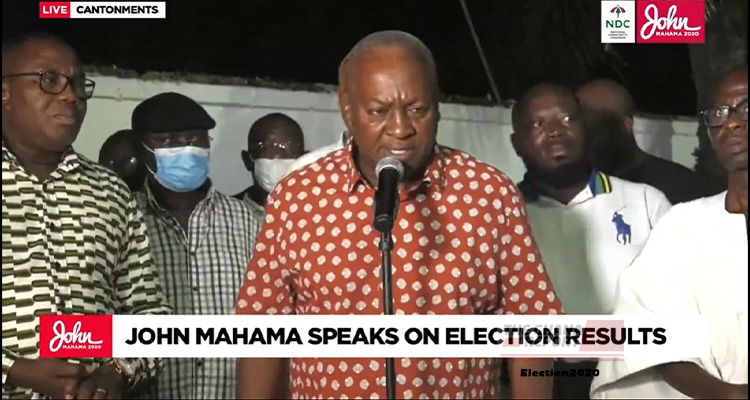 Several hours after this claim, Jean Mensa has broken her silence, calling any rigging claims 'false'.
She explained that the electoral process makes it 'impossible for anybody to rig the elections'.
She explained her inability to declare the results as promised was due to 'unexpected' rains in some parts of the country and challenges at the collation centre.
Nonetheless, the EC has received results from 14 regions but has certified results from seven.
'We are expecting the two in the early hours of the morning," she said and assured that once the remaining two regions' results are confirmed, she will go public with the results.
The two remaining regions are Bono East and the Northern region. The results of the seven certified regional results, that is results signed by party agents, are as follows;
Regions                Akufo-Addo         John Mahama
Upper West  –      121, 230                 238, 972
Volta             –       100, 481                 606, 508
Ahafo           –       145 584                  116, 485
Bono –                  292, 604                  203, 329
Oti –                       103, 865                 181, 021
North East –         122, 742                 102, 306
Central                  613, 804                  538, 829