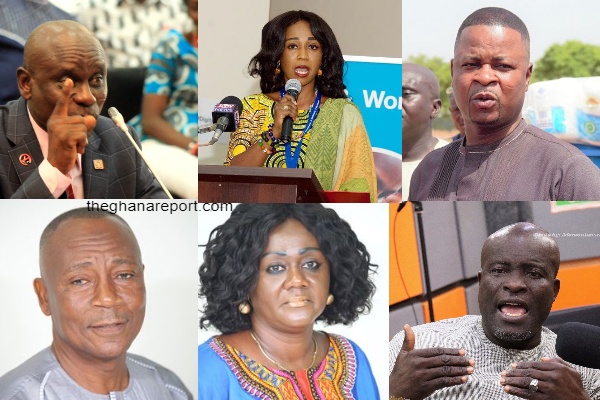 21 Akufo-Addo ministers suffer losses in 2020 parliamentary elections
At least 21 ministers and deputy ministers in the Akufo-Addo administration have lost their bid to become or to remain Members of Parliament.
The pack includes eighteen incumbent MPs, five of whom are ministers, and fourteen are deputy ministers.
The tsunami of political losses swept through President Akufo-Addo's 124-member executive, criticized as the largest ever in Ghana's history.
| | | |
| --- | --- | --- |
| NAME |              MINISTRY |                      CONSTITUENCY |
| Derek Oduro |  Deputy Minister for Defence |  Nkoranza North Region |
| Joseph Dindiok Kpemka | Deputy Attorney General Minister | Tempane |
| George Andah | Deputy Minister of Communication | Awutu Senya West |
| Barbara Ayisi | Deputy Minister of Works and Housing | Cape Coast North |
| Boniface Abubakar Saddiq | Minister of State in the Office of the Vice President | Madina |
| Paul Essien | Deputy Minister Chieftaincy | Jomoro |
| Elizabeth Afoley Quaye | Minister for Fisheries and Aquaculture | Krowor constituency |
| Bernard Okoe-Boye | Deputy Minister of Health | Ledzokuku |
| Titus Glover | Deputy Minister of Transport | Tema East constituency |
| Barbara Oteng Gyasi | Deputy Minister for Lands and Natural Resources | Prestea Huni-Valley |
| Prof. Gyan Baffour | Minister of Planning | Wenchi constituency |
| Michael Yaw Gyato | Deputy Oti Regional Minister | Krachi East |
| Frank Adongo | Deputy Upper East Region Minster | Zebilla Constituency |
| Tangoba Abayage | Upper East Regional Minister | Navrongo Constituency |
| Kofi Dzamesi | Minister for Chieftaincy | Ketu North |
| Anthony Karbo | Deputy Minister for Roads and Highway | Lawra |
| Prof. Kwesi Yankah | Minister of State-in-charge of tertiary education | Agona East |
| Kofi Amoakohene | Bono East Regional Minister | Atebubu-Amanten |
| Francis Kingsley Ato Codjoe | Deputy Minister Fisheries | Ekumfi |
| Siaka Stephens | Deputy Bono Regional Minister | Jaman North |
| Yaw Afful | Deputy Aviation Minister | Jaman South |
| Alexander Abban | Deputy Communication Minister | Gomoah West |
Two others, the Upper East Regional Minister, Paulina Abayage, and Kofi Dzamesi, Minister for Chieftaincy who has been contesting the Ketu South parliamentary seat since 1996 without success was vanquished again.
Eight out of the 19 Ministers are from the Greater Accra Region and the Central Region where the main opposition National Democratic Congress unseated the Ministers.
Three are from the Upper East regions and two from the Western region. There was one apiece from the Volta, Upper West, and Oti regions.
Three  each from the Bono and Bono East Regions
The list includes first-term MPs George Andah, Francis Kingsley Ato Codjoe, Barbara Ayisi, Paul Essien, Elizabeth Afoley Quaye, Benard Okoe-Boye, Micheal Gyato, Anthony Karbo, and Barbara Oteng Gyasi.
In what appears to be a referendum on MPs who have to split time between their constituencies and their ministries portfolios, three other experienced hands; Boniface Abubakar Saddque, Joseph Dindiok Kpemka, and Derek Oduro have lost their seats.
The electorates appear to say 'give us our seat and take your appointment'.
Ghanaians have always expressed concerns about the scores of ministers cum MPs who find little time for the constituents but spend more time on their executive job.
Not many expected such an incursion of losses in Akufo-Addo's government.
The president should he win will be forced to look for another set of MPs to meet the constitutional requirement that stipulates that the majority of ministers must come from parliament.
In a ministry such as the Chieftaincy and Religious Affairs Ministry, none of the two political heads will be going to Parliament after the minister and his deputy both contested for seats in NDC strongholds.
Despite the losses, President Nana Akufo-Addo's 17-member cabinet remains largely untouched as many triumphed in their respective parliamentary races.
The Tourism Minister, Barbara Oteng-Gyasi, is the only cabinet minister to have lost her seat. The Energy Minister, Peter John Amewu, on the other hand, is the cabinet minister who has now become an MP after a shocking victory in an NDC stronghold, Hohoe constituency of the Volta region.
The story is being updated…..