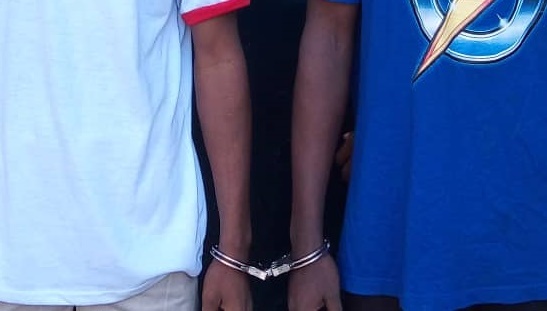 38 Burkinabe nationals arrested for entering Ghana illegally
Some 38 Burkinabes have been apprehended by the immigration patrol team for entering Ghana through unapproved routes.
The arrested migrants comprised 34 males and 4 females, with their ages ranging between three and 39.
The Ghana Immigration Service (GIS), in a statement, said the 38 Burkina Faso Nationals who sneaked into the country were heading for Bono, Kumasi and Sunyani respectively when they were stopped by the patrol team in the Nadowli-Kaleo district in the Upper West Region at about 1:17 am "on board two coaster mini buses and a sprinter vehicle with registration numbers GC-1621-19, AW-749-14 and GS-5675-19".
The statement added, "The migrants were in Ghana for visits, education and commercial purposes".
The immigration service commended "the people of the Upper West Region who collaborated with the border officials in their line of duty".
It also warned that it will deal with persons breaking the laws on migration.
"We wish to indicate that prior to the presidential directive on land borders closure as part of the measures to combat COVID-19, undocumented migration was and remains an illegality. As personnel mandated to combat illegal migration, the Ghana Immigration Service is determined in the fight against the menace of irregular migration.
"Drawing our inspiration from the impeccable support of the Controller General of Immigration, Kwame Asuah Takye and our Regional Commander, Chief Superintendent William Peter Andoh, we can assure the irregular migrants and their accomplishes that they can run but they can't hide," the statement added.
The statement comes on the back of an earlier report of two Burkinabes who were arrested at Bitchabe, a border community near Tatale in the Northern Region.
Per the statement, the two even offered a bribe of CFA 2,000,000.00 which is equivalent to GH¢20,000.00, but the officers declined the offer.
The two suspects are currently in custody pending investigation.
Although there has been some ease in movement since the beginning of January 2021, Ghana's borders and many indoor entertainment facilities remain closed after 17 months, with no end in sight.
President Nana Akufo-Addo announced the closure of the borders in March 2020, as part of measures to stop the spread of the novel coronavirus.