55-year Secondary School leaver crowned 2020 National Best Farmer
2020 National Best Farmer, Solomon Kojo Kusi
A 55-year-old man from Jomoro, Mr Solomon Kojo Kusi, has been adjudged the 2020 National Best Farmer for his numerous contributions to agriculture.
Mr Kusi, who is married with nine children and has his huge farms scattered at the location including Kwesikrom, Nanakrom in the Western Region.
He was handed the sword of authority as the 'King of Farmers' and a cheque of GHC 570,000 at the 36th National Farmers Day Celebration at Techiman in the Bono East Region.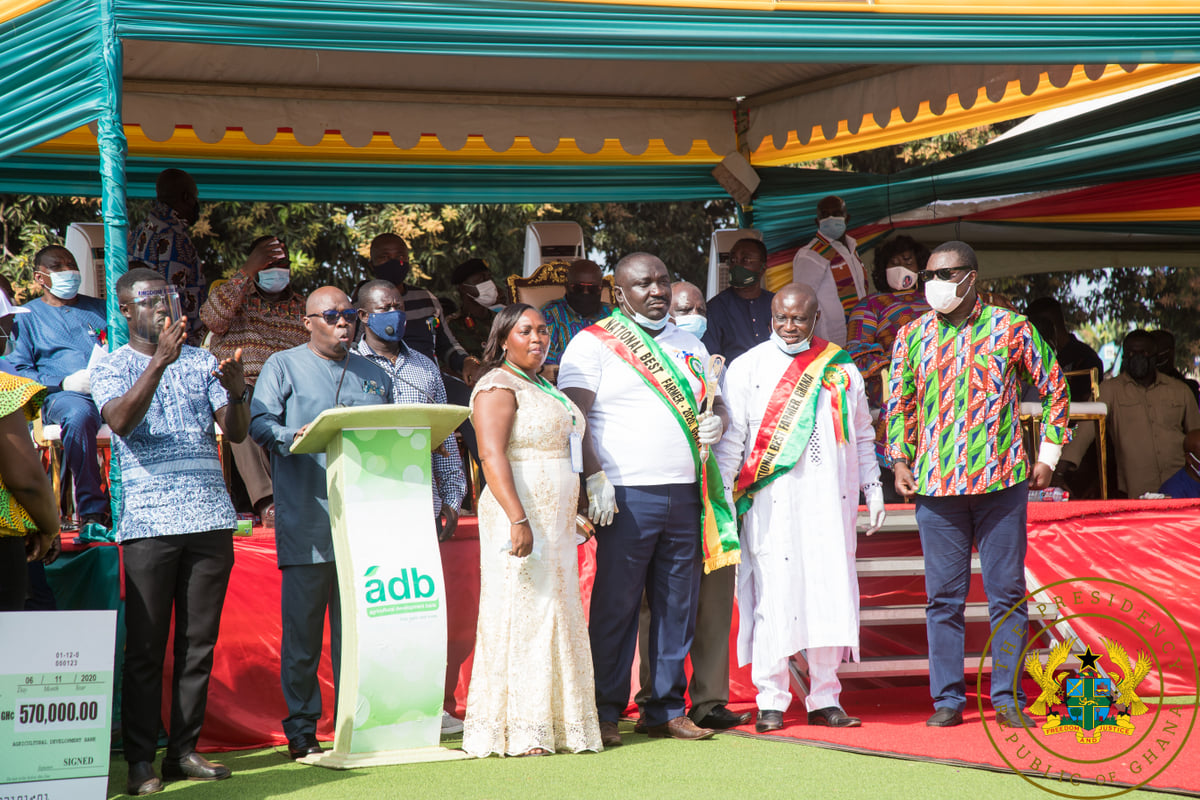 First Runner-up for Overall National Best Farmer Award was Nana Kofi Drobo IV while the Second Runner-up for Overall National Best Farmer Award position was taken by Mahamud Mohammed Awal.
Mr Kusi has completed secondary education and been in the farming business for 10 years.
This is the fourth win for the Western Region with the Ashanti Region contributing the highest with eight winners since the inception of the awards in 1985.
He employs 222 workers out of which 105 are full-time employees and 120 casual workers.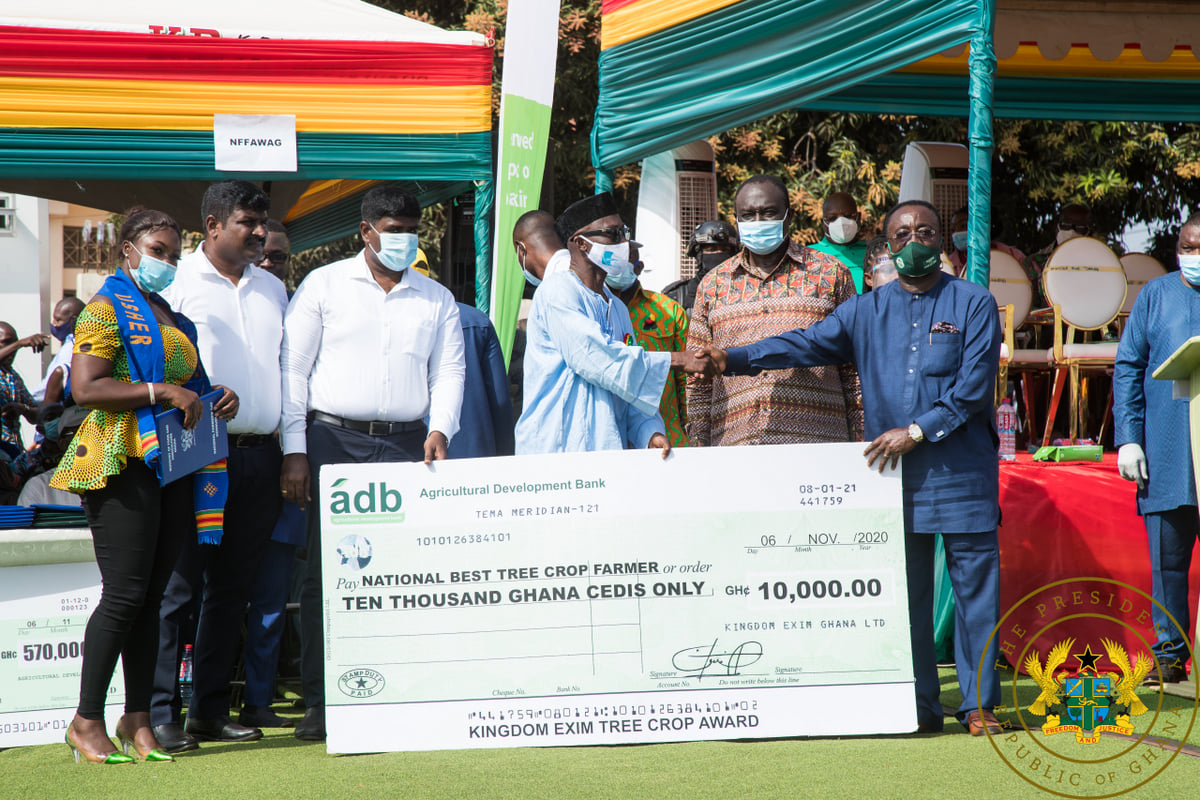 Among his farming exploits include 82 boxes of beehives with bee colonies, 10 fishponds stocked with tilapia, and catfish.
He also has 720 acres of rubber, 380 acres of cocoa, 250 acres of coconut, 180 acres of oil palm, 10 acres of cassava, 75 acres of plantain, 35 acres of maize, 5 acres of garden eggs, 5 acres of okro, and 10 acres of pepper.
Furthermore, Mr Kusi owns 11,000 poultry birds, 50 cattle, 80 sheep, 40 goats, 350 local fowls, 56 grasscutters and 1000 snails.
Additionally, he boasts of 10 acres of ginger, 2 acres of tomatoes, 200 stands of Odum forest wood, 8000 stands of Emire, 300 Dahoma, 3000 Mahogany and 300 Framo.
Leftovers from crops are used to feed the livestock and droppings from animals used as farmyard manure.
Mr Kusi is known to have a good knowledge of crop husbandry and employs organic and inorganic methods of fertilization.
Among other things, the judges scored Mr Kusi high for good sanitation on his farms.
He is known to have a good criterion for selecting livestock for production and relies heavily on veterinary advice. He also adheres to strict vaccination programmes.
Mr Kusi identified excessive rainfall, drought and bushfires as major challenges to production.
Poor road network, poor markets and access to credit are the other problems he listed.
He is not new to winning awards as he picked up the District Best Fish Farmer 2018.
Among the social interventions for his community are three mechanised boreholes and the construction of a six-kilometre road.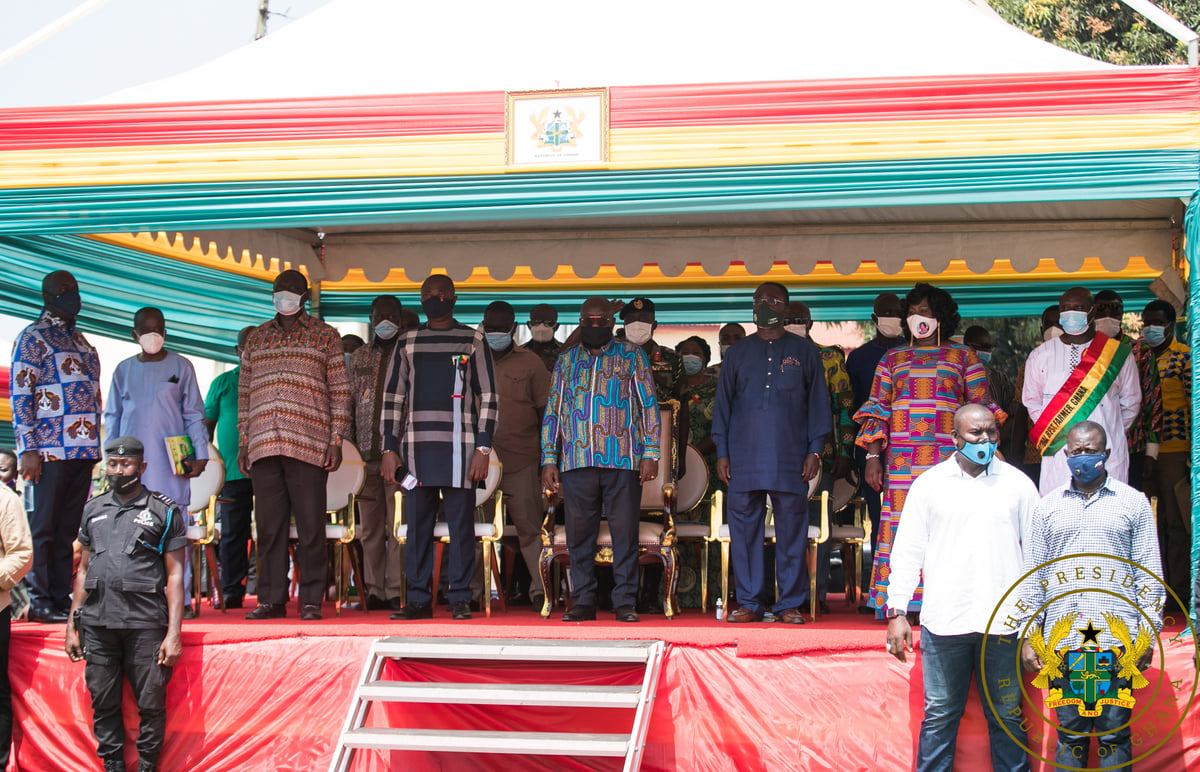 He is also credited for upgraded five-metre feeder road and several other social support.
Some of the other winners are presented below:
National Best Promising Young Cocoa Farmer – Pay Ramos
National Best Most Enterprising Cocoa Farmer – Rita Boateng Apraku
National Best Coffee Farmer – Kwabena Sarfo
National Best Sheanut Picker – Barikisu Ibrahim
National Best Cocoa Farmer – Nana Kwabena
National Best Fish Processor – Mawutor Femoh Korsinah
National Best Fish Farmer – Evans K. Danso
National Best In-land Fish Farmer – Ben Agborsor Ahu
National Best Marine Fisher – Oscar Forson
National Best Overall Fisher – Nana Kofi Aggyir
National Best Senior High School in Agriculture – Sefwi Wiawso Senior High School
National Best Digital Farmer – Alhaji Alidu Abubakar Jiwa
National Best Irrigation Farmer – Nana Owusu Achiaw Brempong
National Best Agroforestry Farmer – Edward Asadu
National Best Tree Crop Farmer – George Lawson
National Best Quality Maize Farmer – Benjamin Kemicher
National Best Agroprocessor – Kojo Nunoo
National Best Female Farmer – Nana Akosua Tawiah
National Best Physically-Challenged Farmer – Kofi Vinyoh
National Best Youth Farmer – Richmond Gyasi
National Best Crop Farmer – Godfred Sarpong
National Best Livestock Farmer – Dramani Viworkor
Farmer's Day
Farmers' Day is celebrated on the first Friday of December every year to reward hardworking farmers and fisherfolks.
The celebration is in recognition of the vital role farmers and fishermen and women play in the economy, especially the highly commendable output of farmers and fisherfolk in 1984.
Farmers Day was instituted in 1985 by the Ghana government after the agricultural sector posted a 30 per cent growth in 1984.
This was a significant improvement over 1982 and 1983 when the country suffered a severe drought. The first Farmers' Day was celebrated in Osino, located in the Eastern Region of Ghana, where the drought was most severe.
Unlike today marked by a celebration of glitz, pomp and ceremony and big prizes, the first award was given to the "best" farmer had two machetes, a pair of Wellington boots and a preset radio as the reward.
Since that time, the prizes have grown more valuable and included bicycles, power tillers, tractors and pick-ups.
From 2002, the winning farmer received a three-bedroom house built at a location of the winner's choice.