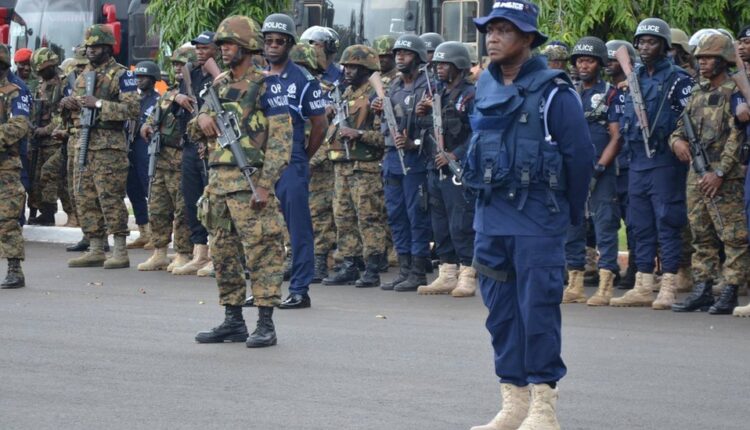 6,000 security deployed for Akufo-Addo inauguration
A joint security of 6,000 police, military and other agencies are expected to be on duty to ensure an incident-free inauguration of President-elect Nana Akufo-Addo on January 7.
Mr Akufo-Addo is expected to take the oath of office in Parliament, a departure from the event usually held at the Independence Square.
Ahead of that, 275 legislators and a Speaker of Parliament would be sworn in to commence the Eighth Parliament of the Fourth Republic.
Last week, the Majority Leader, Mr Osei Kyei-Mensah-Bonsu, had said although the presidential investiture was an extension of the sitting of Parliament, the lawmakers often struggle for space at the heavily crowded event.
"It is hard to relate that often before the sitting is suspended for the House to reconvene at the Independence Square, the public would have generally taken over the sitting of the relocated Parliament.
"In the event, MPs are dislodged from what is supposed to be their own house. MPs, especially those from the party that might have lost the elections, are subjected to vile language in their own house.
"That is not a good practice and, accordingly, the House has decided that the President-elect must, henceforth, subject to security considerations, be sworn in within the precincts of Parliament before Parliament and in Parliament".
Although the changes have been made, the security services are not taking chances.
Security agencies are making adequate preparation for the busy day and the police said in a statement that the boots on the ground will be "augmented by technology to ensure maximum security".
"All VVIPs would be offered close protection as appropriate".
Additionally, the State House Complex, Accra International Conference Centre, Accra Sports Stadium and the Black Star Square would also be secured and patrolled by security personnel.
"Crash barriers would also be mounted at certain areas to cordon off and control movements to these venues, with security personnel directing movement. Only persons bearing invitation cards or accreditation would be allowed entry into the specified venues on 6th or 7th January 2021. Meanwhile, there would be overt and covert operations in the communities surrounding the State House Complex," the release said.
Duties by the police on the day include bearing of the state sword, performance by the police band, escort by the Police Mounted Squadron and motorcade in addition to providing security.
Information on road closures and diversions are expected to be released on January 5.
The current 7th Parliament of the 4th Republic of Ghana will then be dissolved on January 6 with newly-elected legislators taking their seats on January 7.
Parliament has issued a public notice for uninvited persons to stay away from the event grounds. Persons attending the ceremony are also required to observe strict COVID-19 protocols.
Below is the full release: