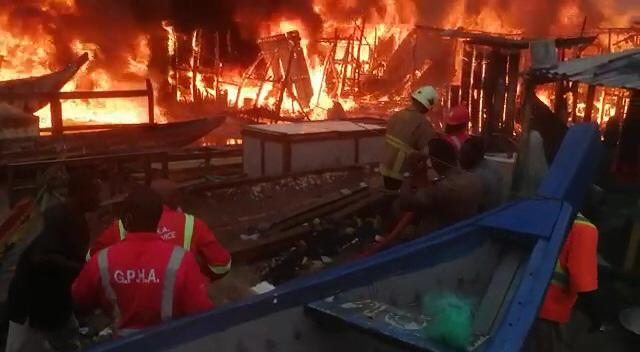 A/R: Fire destroys six shops, several vehicles
A fire outbreak has razed six shops at Asafo in the Ashanti Region.
Three Ford buses and an Opel salon car, including other valuables, were also burnt in the fire incident at about 11: 30am on Tuesday, 20 September 2022.
Reports indicate that the fire started after some petroleum products spilt and spread ontocles that were being worked on at a mechanic shop.
The cause of the fire is yet to be unravelled, but the Ghana National Fire Service (GNFS) intervened to douse the flames.
This brings the number of fire incidents in the region to two in a day after a mother and her two children met their untimely death at Asuoyeboah.
The incident, which occurred around 12:30 pm, left one person injured.
The 48-year-old mother, identified as Felicia and her two children – Obed Owusu, 11; and Christabel Owusu, 9 – could not survive the wrath of the fire despite an initial effort by residents to save them.
"We are in shock with the intensity of the fire even though it was raining at the time of the incident. We thought the rain would minimize the impact, but within minutes, the entire 10-bedroom apartment was engulfed with fire, and our effort to try and save them proved futile," an eye witness, Edward Osei,  narrated.
According to him, the victims got trapped and could not escape through the window because of the burglar-proof. However, the husband managed to escape because he was in a separate room.
Reports indicate that he decided to go back and rescue his family but to no avail and sustained severe burns.
He was later rushed to the Komfo Anokye Teaching Hospital (KATH) for treatment.
Meanwhile, the bodies of the deceased have been deposited at the KATH morgue awaiting autopsy.
Several fire incidents have been recorded in the region within the month.
It includes the one at Ohwim where a pregnant woman and her two sons were burnt to death in their 3-bedroom apartment on 16 August.
Another fire outbreak at Aburaso claimed the life of a 74-year-old former director of the Audit Service in his 5-bedroom house on 10 September.