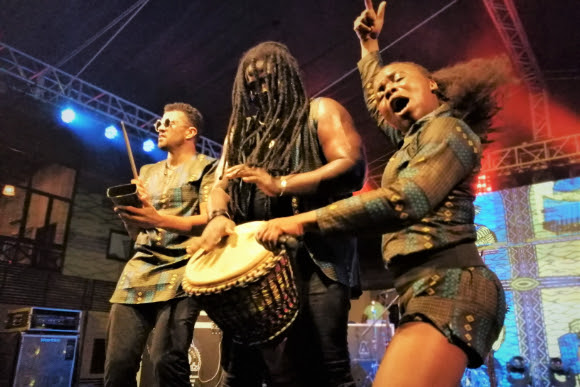 ACCES 2019 Day 2: Efya and Samini present the secrets to their success
Friday was yet another eventful day at ACCES with a wide variety of programming on offer. The day started with a fascinating dialogue between University of Ghana professor John Collins and musician Kyekyeku about the history and development of highlife music. The conversation then went to algorithms and playlists and their significance in the streaming era.
The first ACCES 2019 pitch session took place next, after which Reeperbahn Festival presented a panel on navigating the recording and distribution industries in a changing environment, where the speakers spoke about the dynamics between artists, distributors, and major and independent labels.
Ghanaian superstars Efya and Samini were up next, presenting the secrets to their success to the ACCES audience, before players in the alternative music space discussed the role that non-mainstream arts play in the musical landscape on the continent.
Another eclectic night of showcases went to the Gold Coast Hub where Bholoja (eSwatini), Santrofi (Ghana), Cina Soul (Ghana), Gato Preto (Germany/Ghana/Mozambique) and FOKN Bois (Ghana) took delegates and concertgoers on a musical journey through Africa and the diaspora.
ACCES continues on Saturday with more panel discussions, workshops, pitch sessions, and the conference's networking segment where delegates will get to meet a selection of networkers representing the various parts of the music industry.
The conference will conclude with a third night of showcases at Alliance Française Accra, featuring the incredible Sibusile Xaba (South Africa), Lúcia de Carvalho(France/Angola/Brazil), FRA! (Ghana) and Mokoomba (Zimbabwe).