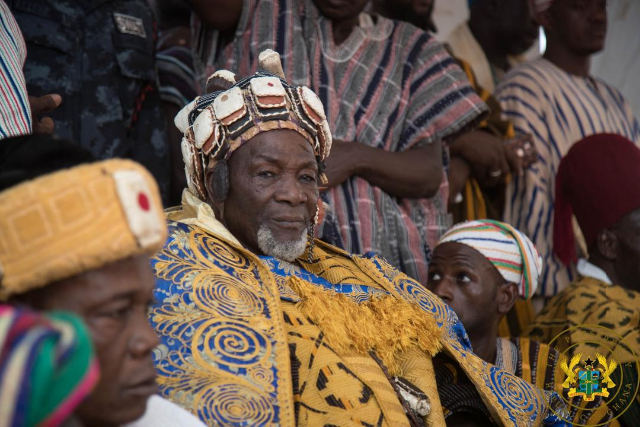 Address Dagbon Overlord as 'Ya-Na Abukari II' not 'Ya-Na Abukari Mahama II'–Gbewaa Palace
The Dagbon State says its Overlord should be addressed as "Ya-Na Abukari II" and not "Ya-Na Abukari Mahama II"
It also has concerns about the kind of photographs of the King use in media circles.  
"The office of the King and Overlord of Dagbon, Ndan Ya-Ya Abukari II, wish to humbly draw the attention of all Media Houses that, the office has observed with keen interest the constant use of a particular picture of the king anytime they want to carry news relating to Naa Gbewaa's Palace," said.
The Secretary to Ndan Ya-Naa, Abdul-Rahaman Mohammed, of the Office of the Ya-Na in the Gbewaa Palace, said.
The Ya-Na was enskinned in January last year, 17 years after his predecessor was assassinated.
With the media mixing his name and appropriate images to use lost on the media, the Gbewaa Palace has decided to set the record straight.
"According to the Dagbon tradition and customs, the said picture though is that of the King, actually portrayed that the regalia worn indicated that the King was in the process of performing his father's rites."
"We wish to use this opportunity to inform all our cherished Media Houses that, the said picture should not be used, according to Dagbon tradition and customs, since he is no more in a state of funeral performance."
"Also, he should be addressed as Ya-Na Abukari II and not Ya-Na Abukari Mahama II.
Before becoming the Overlord of Dagbon, he was the Yo-Na of Savelugu [Paramount Chief of the Savelugu Traditional Area] and was known as Na Alhaji Abukari Mahama.
Prior to his investiture, he was the head of the Andani family and succeeded his late nephew, Ya-Na Yakubu Andani II.