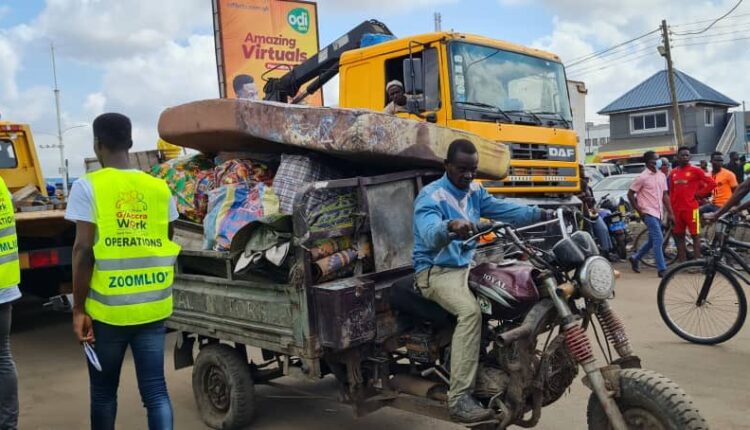 Agbogbloshie decongestion sees warning shots and teargas dispersion
Scrap dealers at the Agbogbloshie market in Accra have rejected attempts by the Greater Accra Regional Coordinating Council (RCC) to enforce a decongestion exercise that will see the dealers having to move.
Scrap dealers at the market, along with cattle rearers, onion sellers and others, are being relocated to Adjen Kotoku, a suburb on the outskirts of Accra in the Ga West Municipal Assembly.
The exercise has been dubbed "Make Accra Work". According to the RCC, the exercise is to make the central business district (CBD) free for movement and clean for habitation. Make Accra Work is led by regional minister Henry Quartey.
But as the exercise commenced on Thursday morning, scrap dealers were said to have set used vehicle tyres ablaze in protest against their removal from the spot they have been for nearly two decades. They claimed they were served no eviction notice.
The dealers also pelted security personnel with stones.
Security personnel at the scene, in response, fired tear gas and warning shots to disperse the opposition.
According to the Operation's Commander, Deputy Superintendent of Police (DSP) Kwesi Ofori, the firing of shots was a crowd controlling strategy to disperse some "criminal elements" who tried to disrupt normal business in the area.
He further stated that the security task force was deployed to the area to ensure peace and to protect the traders as well as their belongings from thieves, and allow the decongestion exercise to go on smoothly.
"The market women have fully cooperated and they are not even here currently because they are even setting up at Adjen Kotoku. But it is some criminal elements that want to take advantage of the situation to mar the operation," DSP Ofori said.
"You can see the security forces taking every step to protect the traders wherever they are. Some groups of criminals have intended to burn and disrupt their businesses and cause mayhem".
A determined minister
The Greater Accra Regional Minister has earned plaudits from many corners of polite society for his efforts engineered towards decongesting the central business district of Ghana's capital city.
In the middle of June, Quartey claimed that he had uncovered a plot by some Agbogloshie traders to kill him to stop plans to relocate them from the market.
The traders, mostly onion sellers who were unhappy with plans of eviction from their current place to the abandoned Adjin Kotoku site, had vowed to take action to defend their interests, according to Quartey.
But the minister said he was unperturbed and will remain strong in his quest to make Make Accra Work.
"Whether they like it or not, we will move them because we have made an alternative arrangement for them. I have heard they have gone to some mallam [spiritualist] to kill me. They are kidding.
"They should tell the mallam [spiritualist] to return to his hometown because so far as God exists, nothing will happen to Henry Quartey, and by July 1, 2021, we shall move them," he said on an Accra-based Net 2 TV.
On June 28, the RCC provided GH¢500,000.00 to traders as transportation cost to relocate from the Agbogbloshie Market in Accra to the Adjen Kotoku Market.
According to Quartey, the money was to be divided in this way: Onion sellers would receive GH¢300,000.00, cattle rearers would get GH¢100,000.00; scrap dealers, GH¢50,000.00, and truck pushers, GH¢50,000.00.