Akufo-Addo apologises to Buhari over High Commission demolition
President Akufo-Addo has rendered an apology to President Muhammadu Buhari over the demolition of a structure at the Nigerian High Commission in Ghana.
"In a telephone call, the Ghanaian leader told President Buhari that he has directed  full investigation into the incident," the Nigerian government said in a statement issued on June 23.
"President Nana Akufo-Addo of Ghana Tuesday spoke with President Muhammadu Buhari, expressing his sincere apology for the demolition of a building on the premises of Nigerian High Commission in Accra, Ghana.
It added, "earlier in the day, it further emerged that some suspects had been arrested, and will be arraigned in court."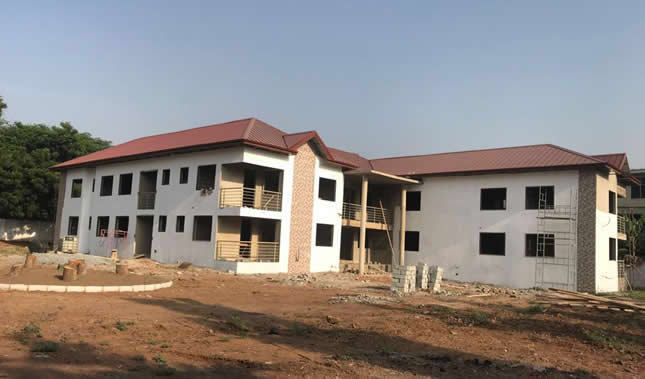 An apartment within the Nigerian High Commission has been pulled down by armed men who said they had the backing of national security.
The incident happened Friday night when bulldozers moved in, protected by the men who threatened to shoot staff of the embassy, JoyNews reported.
The Nigerian High Commissioner, shaken by the incident, reportedly ran away.
The block of apartments was being constructed as a shelter for visiting diplomats and staff of the commission.
Helpless during the destruction, Emmanuel Kabutey who is the head of security at the High Commission said they were warned by an armed man that "if any of us try, he will clear us off."
Police were called in after the incident but Mr. Kabutey said their posture was worrying.
"When the police came, they did not come to us or any other person but rather went straight to the man [leader of the armed men] they had a friendly chat, exchanged numbers with him and allowed him to go.
"When they came back in, they took pictures but did not ask me or my boys anything," JoyNews has reported him as saying.
Hours after the demolition exercise, the Paramount Chief of the Osu Traditional Area, Nii Okwei Kinka Dowuona VI defended the pulling down of the structure purported to be belonging to the Nigerian High Commission.
The traditional leader in a statement said the parcel of land was different from the building the Nigerian High Commission was currently occupying.
Osu chiefs defend demolition of 'Nigerian High Commission' building
Nii Okwei Kinka Dowuona VI indicated that the demolished property belonged to an individual who was hiding under the political influence of the Nigerian High Commission.
"This is the second attempt to forcibly take over land that belongs to Osu Stool by unknown persons acting under the political influence of the Nigerian High Commission." The statement read.