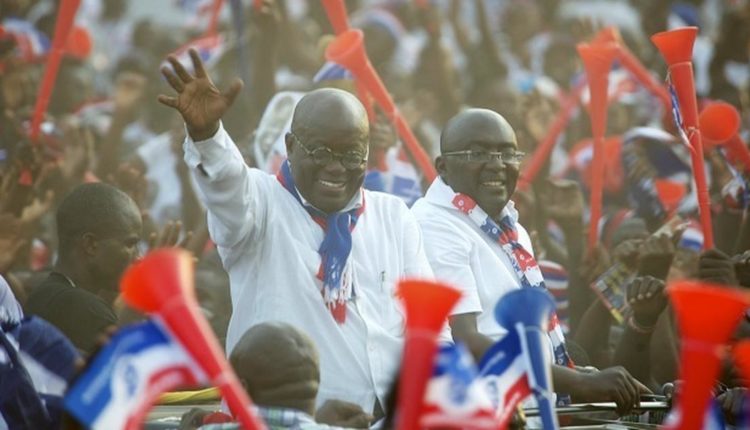 Akufo-Addo jabs Mahama over choice of running mate
President Nana Addo Dankwa Akufo-Addo on Saturday took subtle jabs at the National Democratic Congress over what he says is a difficulty in finding a running mate for the country's major opposition party candidate, John Mahama. 
Beaming with smiles as he formally introduced Alhaji Dr Mahamudu Bawumia, as his Vice-Presidential candidate for the December 7 elections, he said, "we have no such difficulty. We have the most fitting person to feature on our ticket."
"With your endorsement, the party will complete its presidential ticket, a feat that appears to elude some of our opponents," he said to cheers from the party's handkerchief waving National Council members at the Alisa Hotel in Accra.
"I accept in all humility your decision. The rules of the electoral commission and the constitution of our country, which requires that at the time of filling my nomination, I should indicate the identity of my running mate, who will be the vice president of the republic," he said.
The NPP held its national conference to endorse President Akufo-Addo as its candidate for the 2020 elections.
It was an event supervised by the Electoral Commission.
Although the NDC elected its Presidential candidate in February last year, it is yet to announce a running mate for its candidate.
Mahama's task had been made even more difficult with the death of Paa Kwesi Amissah-Arthur, who became Vice-President in 2012 when President Mills died and subsequently partnered President Mahama for the 2012 and 2016 elections.
The subject has often become fodder for its arch-rivals in the NPP, who say the former President is struggling to find a candidate for his comeback move.
Showering accolades on the man he has chosen four times—since 2008—he described Dr Bawumia as an excellent and hardworking Vice-President in the last four years.
"I give you Mr Digital, 'Mr You and I were not there', the economic prophet, the Adam Smith of Walewale, my good and loyal friend, Alhaji Mahamudu Bawumia," the President said in his acceptance speech.
The NPP Constitution in Article 13(3) requires that the running mate be selected upon the nomination of the Presidential candidate in consultation with the National Council.
Running mate won't make a difference
When he took his turn to accept his nomination, the Vice-President could not resist needling Mahama who he described as indecisive.
"The best running mate in the world will not make a difference, if the President is indecisive or incompetent.
"I am thankful that in President Akufo-Addo, I have a strong, decisive, incorruptible and competent leader.
"I wholeheartedly and with all humility, I am ready and prepared to serve. I say to President Nana Akufo-Addo and Ghanaians that I am reporting for duty as running mate of President Nana Addo Dankwa Akufo—Addo," he said to cheers from the delegates.