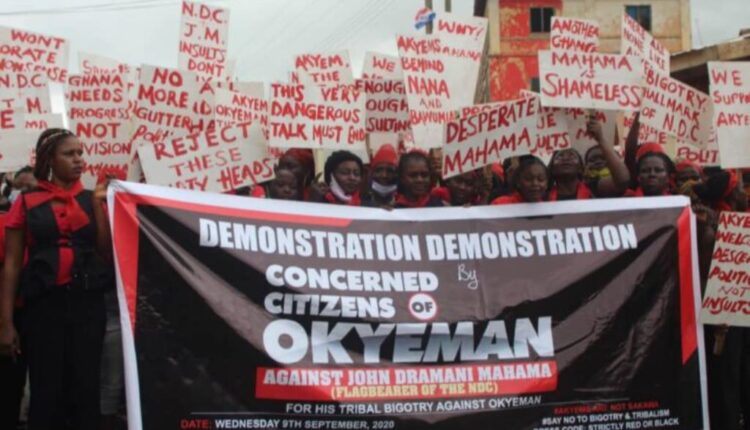 Akyem communities demonstrate against Mahama
Hundreds of chiefs and people of communities in Akyem communities in the Eastern Region took to the streets to register their displeasure at comments made by former President John Mahama.
Clad in black and red calico, the chiefs and their subjects carried placards condemning the flagbearer of the opposition National Democratic Congress (NDC) for comments the demonstrators described as insulting.
The demonstration, which took place at Asamankese in the Eastern Region,had some chiefs from Akyem Abuakwa, Bosome, and Kotoku in attendance.
The group on Wednesday, September 9, 2020, staged a demonstration against the NDC's flagbearer for a post he shared on his Facebook page.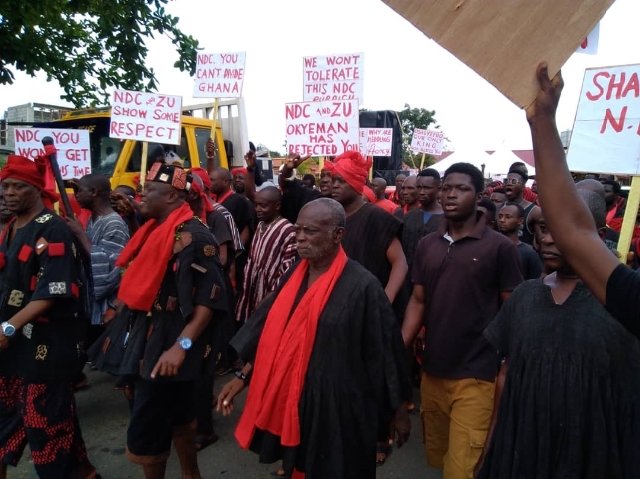 The demonstrators demanded an apology from the former president for endorsing a statement that described them (Akyem's) and the ethnic group of presidents Akufo-Addo as 'Sakawa' boys.
"This is not the first time they are doing this to us Akyem's, first it was Kwame Zu, then Stan Dogbe and we forgave them but it seems this is a deliberate attempt to attack us because of politics," a leader of the demonstrators said while pouring liberation.
They threaten to ban the National Democratic Congress from campaigning in any of their communities if former president Mahama does not retract and apologize.
Background
The Bolgatanga Central MP, Isaac Adongo, wading into the debate surrounding the controversial Agyapa Royalties deal, accused President Nana Akufo-Addo and his kinsmen of forming a family-and-friend government to capture the country's mineral resources.
The member of Parliament described them as "Akyem Sakawa boys".
Former president Mahama shared the post, and it has since sparked anger among supporters of the New Patriotic Party and the President's hometown.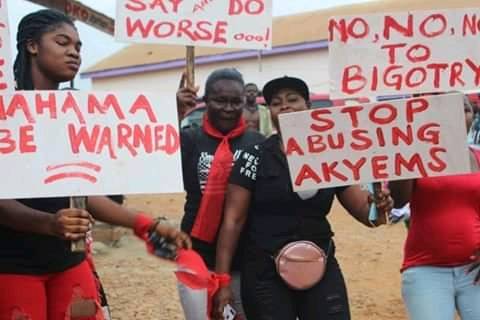 The president, Nana Akufo-Addo commenting on the development described it as very disturbing.
He said, "that is the kind of language we don't want in our politics"
He stressed; freedom of speech must be guided.
Vice president Bawumia has also condemned the comments
"Ethnocentrism will not win you the elections," he said.
But former President Mahama insisted he would not apologise for the post as the President had made similar comments in the past.